Is Akshay Kumar the ultimate Indian hero?
His films are a constant reminder of why one needs to keep flaunting his patriotism.
India is under attack. Its national security is under threat. Bearded men across the border are once again hatching the "perfect" plan to destroy our island of civilisation and equality surrounded by a sea of hatred. India needs a hero more than ever before. And only one man can rise up to the occasion to save his motherland. His favourite choice of weapon - films. His name? Rajiv Hari Om Bhatia – aka Akshay Kumar.
Not since Manoj Kumar has India had a tinseltown hero who wears his patriotism on his sleeve like Akshay. His characters have added steroids to Manoj Kumar's brand of nationalism and repackaged it to meet the growing "drawing room" angst of the Indian middle class against many issues, including national security. While some may give the title to Sunny Deol, maybe he was too much of brawn to really handle the intelligent spy work.
Akshay has meandered through Bollywood by succeeding in various genres such as mindless action films of the 1990s to mindless comedies of the 2000s. However, it's his last few films which have given rise to a new genre – a seemingly mindless sense of nationalism.
Akshay Kumar in a still from Baby.
In his last few films such as Holiday, Baby and now Airlift, Kumar reminds us that there is no love greater than your country. The only problem is that there is no law that can't be broken to prove your love, especially if you are chasing the bad guy, which more often than not, is from one particular religion in his films. His character from Holiday - army officer Virat Bakshi - sees no problem in pushing a corrupt police officer to suicide, kidnap a terrorist, obviously because the self-righteous officer doesn't find the police efficient enough and then keep on illegally killing terrorists along the way with his band of Army brothers because he doesn't trust the law of the land enough to let it prove these men guilty.
In Baby, among the many things we learn is that when a Hindu spy changes sides he is called a rogue agent, while if it's a Muslim he can conveniently be called a traitor. In this film, Akshay's character - another upper caste Hindu – Ajay Singh Rajput threatens to kill his former Muslim subordinate's family if the "traitor" doesn't disclose details of the planned attack. Pretty sure Rajput would make former police officer KPS Gill very proud by taking terror back to the terrorists and their families.
In his films, human rights obviously can't take precedence over national security. It's only the soft-hearted, left-liberal, "sickular" people who think that had human rights been addressed at the right time, maybe national security would have never been a threat in the first place.
I will be frank enough to accept that I found it odd that the lead character of Airlift, a film on the biggest evacuation that took place during the Iraq-Kuwait conflict, isn't based on a Malayali character, considering that almost 1.5 lakh Malayalis reside in Kuwait. Maybe pot-bellied Malayalis don't look good enough on the 72mm screen. Akshay has apparently not charged a penny to be a part of this film, instead he has asked for 80 per cent of the profit that the film generates. His confidence in the fate of this film must emanate from the fact that he has a carved a dedicated fan base of people, many of whom who presumably flaunt being a "proud Indian" on their Twitter profile, through a plethora of films which offer an instant-noodle solution to many Indian problems.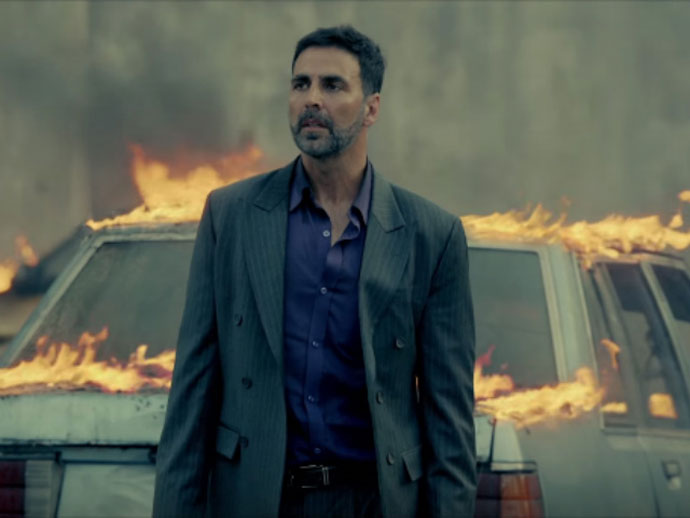 Akshay Kumar in a still from Airlift.
Akshay should be given more credit than what he usually gets. The big three Khans of the film industry had already monopolised the mind spaces of cinema-goers and the various images they have of an actor by the mid-2000s - the "romantic king", the "bhai" and the "thinking man's actor". Akshay was quick enough to seize the opportunity to re-establish himself as an action hero who was India's best bet against terrorism.
Akshay isn't the only one in Bollywood to use terrorism as a plank, but he is certainly among the most successful ones. The big three Khans tried their hands at the genre, but sparingly, largely owing to relatively humble response such films generated for them. Apart from them, other actors who have tried it include the ever comeback-making Saif Ali Khan (Qurbaan, Agent Vinod and Phantom). Some hope that with three flops Saif may finally be willing to accept that he needs to look beyond this genre.
But one question Bollywood may want to ask itself is why in all its anti-terrorism films, maybe except Shah Rukh Khan's Main Hoon Na, the principal antagonist always happens to be a Muslim. Or is Bollywood of the opinion that no Hindu can ever be anti-national? Did the Samjhauta Express bombing never take place, or didn't anyone kill people in the Malegaon or Mecca Masjid blasts? Maybe these are difficult questions which if answered may not rake in enough money to make the Rs 100 crore mark.
Gifted with generous dollops of action to compensate for the lack of acting, Akshay has certainly made the most of what he has. But among his biggest successes is the way he brought the sense of national pride, which could be bordering on jingoism too, to the drawing rooms of almost every cinema-watching family in the country. His films are a constant reminder on why one needs to be a proud Indian and keep flaunting it, lest one doubts it.
The views and opinions expressed in this article are those of the authors and do not necessarily reflect the official policy or position of DailyO.in or the India Today Group. The writers are solely responsible for any claims arising out of the contents of this article.