Tarar Square
Why Pakistani film 'Cake' reminded me of 'The God of Small Things'
'Cake' is a simple reminder of all that matters, and all that we take for granted until we don't have it any more.
"...the secret of the Great Stories is that they have no secrets. The Great Stories are the ones you have heard and want to hear again. The ones you can enter anywhere and inhabit comfortably. They don't deceive you with thrills and trick endings. They don't surprise you with the unforeseen. They are as familiar as the house you live in. Or the smell of your lover's skin. You know how they end, yet you listen as though you don't. In the way that although you know that one day you will die, you live as though you won't. In the Great Stories you know who lives, who dies, who finds love, who doesn't. And yet you want to know again. That is their mystery and their magic."
Small things matter: How Cake reminded me of this book I read in 1997 for the first time. (Photo: Book Cover/Amazon)
It was in 1997 when I read these words in Arundhati Roy's The God of Small Things, and I read and reread them many times in the last 22 years. The exquisite book about small things that change lives, and small people who do very bad things to people, and big secrets that have the power to break more than the hearts of those who don't know what they've done, how much it's going to cost them, and who they're going to lose, made me question things I had kept hidden so deep inside me I had forgotten they existed. Today, thinking about Cake that I watched a few days ago, suddenly, I went back to the world of Ammu, Estha, Rahel, and those they loved, and those they loved like a dark secret.
The Pakistani film Cake that I wished to watch when it was released but couldn't for some reason, reminded me of it when an Indian film journalist, a Twitter buddy of mine, posted a review of the film. Meaning to but keep forgetting to read the review, I watched the film on a quiet June night. And there is so much that the film made me think about, people who mean the world to me, and who I don't tell enough that they mean the world to me, that my world would cease to be what it is if they weren't in it.
Cake, a story of family and things they love, and learn to live without; secrets that have the power to push that door wide open that was kept tightly shut to keep the ghosts away; expectations, disappointments, and heartache that exist like tiny lines at the edge of eyes that only become visible when you laugh, when you crinkle your eyes in pain that you hide like a precious jewel in a secret place. It is the story of a family that you have heard many times before, a story that makes you want to reach out to a family member you've not talked to in ages, or hug the one close to you to remind yourself of the love that you take for granted, even though it is what keeps you going when everything around you threatens to fall apart.
Cake is about people who love with conditions, within invisible boundary lines, scared of losing, scared of loss that makes a hole in the heart, scared of letting anyone get close. It is about one family, but it is about everyone who knows what it is to love and hurt, and be joyous and be angry, and learn the secret of silence and let secrets infect love that is meant to last forever.
Cake on Netflix is that delicious little treat that makes you long for more. The kind of a simple story that is told with so much sensitive finesse it is like notes of music you heard a long time ago but couldn't get out of your mind.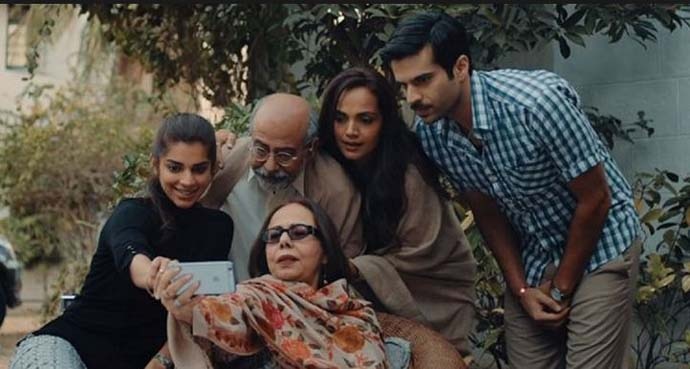 Cake is a movie that you watch alone. Cake is a movie that you watch with your family. (Photo: Twitter)
Written and directed by Asim Abbasi, Cake was Pakistan's 2018 Oscar entry, and a rarity of a film that received huge appreciation in Pakistan and elsewhere. Abbasi's writing is without drama, without sensationalism, without sentimental props that are placed with an awkward tilt in a screenplay to draw an emotional response from the characters and the audience. It is one film that uses silence as an expression of much that is hard to describe in words. It has words that make sense when life doesn't. It has bonds that are beyond distance, beyond dark secrets, beyond destruction of time, and those bonds are shown in slivers of everyday life of characters without much ado. Abbasi shows a lifetime of everything within two hours and five minutes, and that is the power of a story told well, very well.
The cast of Cake, some of the biggest names of Pakistan's film and TV industry, is that extra layer of sumptuousness that you don't expect from actors you've seen so many times. In Cake they are like the real people you know and love, and they delight you going beyond what you expect them to do. There is crackling chemistry between all the characters that makes a story of small things an explosion of everything that makes a family everything it is meant to be, and many things it dreads to be.
Aamina Sheikh is terrific as Zareen, the cynical middle sister who looks after her parents and house and lands, and loves a man she is not supposed to. Sanam Saeed as the youngest sibling Zara is stunning in scenes in which she confronts her past and questions her sister. Adnan Malik is the surprise ingredient of Abbasi's Cake. Malik as the low-key Romeo, a man of a few words and a heart that loves without question, of unobtrusive permanence in the lives of those who do not fully value his presence, gives a performance that is to be remembered for everything it doesn't try to do.
Beo Raana Zafar and Mohammad Ahmad as the forever-in-love spouses, Habiba and Siraj, are superb. Faris Khalid as Zain the oldest sibling adds substance to the volatile equation that his siblings share with one another. Mikaal Zulfiqar and Hira Hassan appear briefly, but not without adding their own delightful crunchy bit to the richness of Cake.
Cake uses music for enhancement of a scene in a way that is rare in our cinema and even that of India. In Cake, music is not a superfluous addition, it is a seamless filling up of space and silence with sounds that connect. From Pakistani film song Baharo Phool Barsao to Indian Monica O My Darling to Sindhi poetry that is of incredible charm, Cake's music does what a truly good film soundtrack and the score is supposed to do: tell a story.
Cake is a movie that you watch alone. Cake is a movie that you watch with your family. Cake is a simple reminder of all that matters, and all that we take for granted until we don't have it any more. Cake is about love that is life, and life that without love is full of uneasy silence, uncomfortable secrets, un-exorcised ghosts, hearts that are broken, hugs that never happen.
Also Read: Fathers' Day, Fathers' Way: Why 'No Fathers in Kashmir' made me think not of politics but simply of my dad's love
The views and opinions expressed in this article are those of the authors and do not necessarily reflect the official policy or position of DailyO.in or the India Today Group. The writers are solely responsible for any claims arising out of the contents of this article.