'Ek Ladki Ko Dekha Toh Aisa Laga' Movie Review: Anil Kapoor and Rajkummar Rao are winners. Sonam Kapoor is a close second
At last it's a happy new year at the movies, with a feel-good slice-of-life drama. We give it 4 stars out of 5!
Film: Ek Ladki Ko Dekha Toh Aisa Laga
Cast: Sonam Kapoor, Anil Kapoor, Rajkummar Rao, Juhi Chawla
Director: Shelly Dhar Chopra
At the onset, let me just clarify that this is not Dostana (2008). Or Girlfriend (2004). Or Fire (1998).
Yes, it is still a homosexual love story. Lesbian, actually.
How does that work, you ask?
Well, hello Bollywood, you've finally come of age.
To think of it, none of these films were that far back in the past, yet homosexuality still needed to be either made fun of or sloganeered. Clearly, something snapped in September 2018, when the Supreme Court decriminalasied homosexuality. And something snapped in a good way. Therefore, we see commercial Bollywood films dive into this subject, letting it be a subplot — like that in Kapoor And Sons (2016).
Shelly Dhar Chopra, thank you. Take a bow.
No, it's not a Call Me By Your Name — but for Bollywood, this is a start.
Now, the story, set in Moga, Punjab, follows the life of a small-town girl, Sweety (Sonam Kapoor), who is — and we know what a crossroad this is in life — of marriageable age.
And it takes a village, metaphorically, to get a girl married, except this one doesn't want to get married in the conventional way.
She is 'different.' She 'likes' girls.
No spoilers there, this was in the trailer itself, and if you didn't spot it, this is not your place. Turn around and leave. The rest, take a seat.
Shelly Dhar Chopra has made sure the casting of the film is perfect — first, there's the real-life father-daughter novelty factor with Anil Kapoor and Sonam sharing a screen for the first time, then she has Rajkummar Rao, who's pretty much perfected the small-town-boy persona with back-to-back films where he plays a variation of the same role, and then there's Juhi Chawla playing the bubbly Punjabi aunty, a role tailor-made for Divya Dutta — but Juhi owns it too.
Good casting means half the battle won! (Source: YouTube screengrab)
With a supporting cast of Madhumalti Kapoor (the grandmother), Brijendra Kala (the neighbour/mu-bole chachaji) and Seema Pahwa (the house help who is family now with years of being together), Chopra has ensured that she gets to breathe easy as the first battle is already won.
But then there is Sonam Kapoor.
Though Ek Ladki Ko Dekha Toh Aisa Laga will go down in Sonam's resume as one of her best performances, at par with Neerja and Pad Man (although I am seriously sceptical about her performances in both the films), she still remains the weakest link here. The problem is, she wouldn't have stood out as the sore thumb if, for one, she didn't have such good actors around her — her dad and Rajkummar — and two, if she wasn't given monologues.
Still, it's not all in vain. And we have to thank the story for that.
Two women in love can be seen as human beings, rather than just a topic on a porn site. (Source: YouTube screengrab)
So gripping is the story — not in a smack in the face-way, but in a warm and fuzzy-way — that eventually, as audience, you're swaying to the tunes of the Pied Piper-esque director. Isn't that exactly what a director ought to do?
The story is not OTT, even though they could have gone horribly wrong. It is deliberately kept simple, focussing on the emotional aspect of 'coming out of the closet' especially to your family, instead of letting girl-on-girl romance take centre-stage.
No cheap thrills here, if that's what you're expecting, which, for once, helps two women in love with each other be seen as human beings — rather than objects of titillation or just a topic on a porn site.
The film does get preachy in the end — a deadly flaw in almost all Bollywood movies — with the father breaking into loud self-realisation. The film also ends in a filmi way — like end mein sab kuch thik ho hi jaata hai, Shah Rukh Khan-style. But I'm willing to let go of these little flaws and look at the film holistically.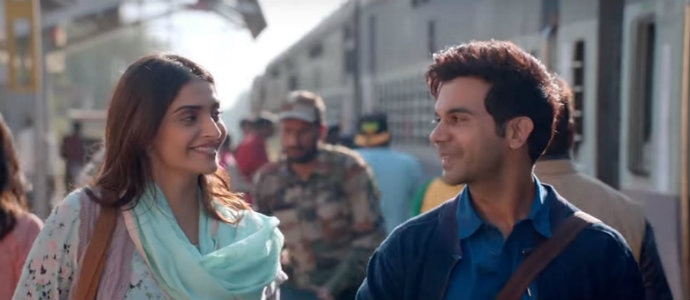 The film does get preachy in the end, but we're willing to overlook that. (Source: YouTube screengrab)
Does it entertain?

Does it engage?

Does it make a point?

Do you come out smiling?
Yes, to all of the above.
We give it 4 stars out of 5.
Also read: From 'Girlfriend' to 'Ek Ladki Ko Dekha Toh Aisa Laga': How Bollywood handles lesbianism
The views and opinions expressed in this article are those of the authors and do not necessarily reflect the official policy or position of DailyO.in or the India Today Group. The writers are solely responsible for any claims arising out of the contents of this article.