A tale of two stars, Vijay and Ajith, in an insecure Tamil cinema ruled by unruly fans
Ajith has opened a new chapter, which may just about check fans from going berserk.
The biggest bane of Tamil cinema is its insecurity. Which manifests in a variety of ways.
The recent verbal attack on the editor-in-chief of The News Minute, Dhanya Rajendran, by fans of actor Vijay – who goes by the title of Ilaiya Thalapathi (junior commander-in-chief) – indicates not merely a lack of control over admirers, but also a seemingly deep-rooted sense of fear. The fear of being unseated from a position, real or imagined, of power.
And in a state like Tamil Nadu, where films have often been the way to political glory (erstwhile chief ministers C Annadurai, MG Ramachandran, Jayalalithaa and Karunanidhi have been part of the cinema industry before they entered politics) and where fans are seen as potential voters, actors — whether they would like to admit or not – have been openly sensitive to the fancies of ticket-paying masses.
This was probably why Vijay kept mum for so many days after the abusive Twitter war that his fans waged against Rajendran. But then justice delayed is justice denied, and when the star finally spelt out his public apology, it appeared not only weak and diluted but also uncomfortably indirect.
Even the other day, during Vijay's audio launch of Mersal in Chennai, he failed to take the bull by its horns, so to say. He averred: "Don't waste your energy on anything that tries to pull us down. Ignore the negativities in your life. Go ahead with your work and focus on your life. That's the only way to shut down critics. We should overpower all evil forces that try to defame us."
It is sad that Vijay should still be talking about shutting down critics!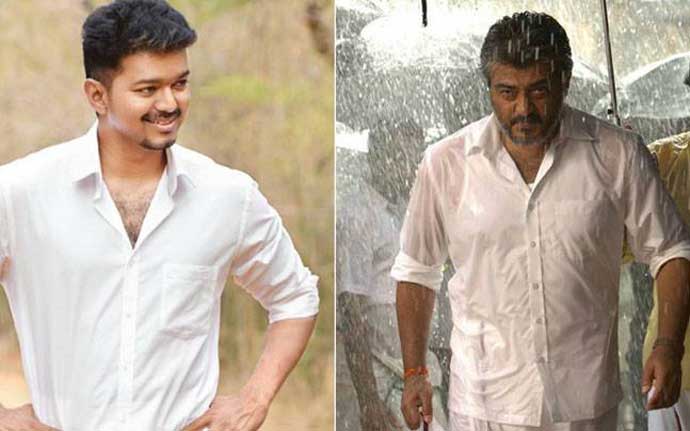 A lesson in contrast.
In this context, actor Ajith's recent message to trollers on the eve of his upcoming movie, Vivegam (August 24), is interesting. He seems to have taken the cue from the media hostility towards the Dhanya incident, and explained that he was not an account holder with any social sites like Facebook, Twitter, Snapchat and Instagram. Also, he does not endorse, like many of his contemporaries, fan clubs. In short, any comment in his name on the sites should not be taken as one coming from him. Also, he has unconditionally apologised, well in advance, for any hurt or harm that may be caused by fan behaviour.
But Tamil cinema has many, many more miles to go before it develops even a trace of professionalism.
Another of its shortcomings is its allergy to critics, and I have been at the receiving end a number of times. Post the Cannes Film Festival – when I was critical of the way Shruti Hassan walked out of Sangamithra just days after she had returned from the French Riviera, and when I described her action somewhat similar to one where Aishwarya Rai had quit Heroine a couple of weeks after she had journeyed to Cannes and launched the movie there along with Madhur Bhandarkar, I was trolled mercilessly by Shruti's admirers.
What is more, a young director took the trouble to call my editor a year ago to complain that I was being unfairly critical of his work!
Be that as it may, this aversion to critics is one important reason why Tamil films seldom have press previews. Moviemakers do not want to take a chance by allowing critics to pan their works before the first weekend is out.
I remember France faced a similar hullabaloo some years ago, when producers decided not to invite journalists for previews. But you cannot keep a French critic down, and members of the fraternity bought tickets, saw the films and wrote.
Why even the Cannes Film Festival – known as the queen of all – once banned someone as illustrious as Francois Truffaut – who was then a critic writing for Cahiers du Cinema - from attending the event because he was considered an acerbic critic of French cinema. But Truffaut being Truffaut smuggled his way into the festival and penned what he wanted to.
But then, the very next year, when Truffaut went to Cannes with his 400 Blows, the festival welcomed him and even gave him a top prize. That was the French sense of justice and fairplay.
Tamil cinema must learn from all this. However, Ajith has opened a new chapter, which may just about check fans from going berserk. Do I see a new kind of maturity emerging?
Also read: The News Minute editor harassed online for comparing Tamil film to Jab Harry Met Sejal
The views and opinions expressed in this article are those of the authors and do not necessarily reflect the official policy or position of DailyO.in or the India Today Group. The writers are solely responsible for any claims arising out of the contents of this article.