Sex, violence aur pyaar: The preposterous pleasures of Manmarziyaan
Anurag Kashyap's latest movie breaks new ground. But it also picks up from earlier conversations about love, erotica and vice.
Rahul Sen
Many laudatory remarks have already been made about the performance, script, music and direction of Anurag Kashyap's Manmarziyaan — and it still seems inadequate. After all, one cannot stop drooling over Vicky Kaushal's incredible beauty and acting, cannot get enough of Taapsee Pannu's grit and ferocity, and the sincere stares of Abhishek Bachchan who does much of the speaking through his carefully crafted silences.
You can't get enough of Manmarziyaan! (Photo: Eros)
But nobody is talking about the violence in the film!
In all its cinematic brilliance and aesthetic splendour, Manmarziyaan is a tale of violence — a violence that isn't directed from outside, but which we inflict upon ourselves, a violence that lures and seduces, often known by its other name — desire.
If there is one thing about Manmarziyaan that is likely to disturb and raise many eyebrows, it is its uninhibited explorations of the dark, dingy terrains of desires — the promises that come with them, yet seldom fulfilled and realised, scarcely triumphing in their (mis)adventures. By opening the masochistic textures that frame the narrative of Kashyap's film, the director exhibits the contradictory drives of the characters with whom the audience perhaps identifies in a cathartic moment.
The screen is shorn of all moralistic impulses, tearing into the ugly, baleful sinews of our desires that cause more agony than gratify. This isn't another run-of-the-mill normative Bollywood love story: in this, love is cruel, dangerous, pleasurable, painful, manipulative – one that unsettles Vicky, Rumi, Robbie, and us, with its passionate excesses and intense paroxysms.
Manmarziyaan is not without its predecessors, though. It can be seen as a continuation of the project that Kashyap started with Dev.D until his segment in the recently released Lust Stories .
Anurag Kashyap explored masochism and pain in Dev.D too. (Photo: UTV Spotboy)
Love, hurt, pain, pleasure, violence run throughout his oeuvre, without any attempt to fence or filter the vestigial elements of romance. These are metonymic, interchangeably captured and played out in the Kashyapian universe. Rumi's fixation for Vicky steers her to marry Robbie; Vicky is a campy fuck-boy, whose marriage-phobia betrays his desire for Rumi; Robbie selects Rumi as his partner for marriage with a priori knowledge of her sexcapades with Vicky!
Love is an impossible possibility in Manmarziyaan , a self-destructive gesture that not merely overwhelms the characters, and determines the erotics of the film, but also reminds the audience of their everyday kinkiness, the drive towards suffering and the pleasurable pulls of self-committed injuries.
Manmarziyaan also speaks to Hum Dil De Chuke Sanam's themes. (Photo: SLB Films)
This is not a novel theme in cinema and literature: people have already analogised Manmarziyaan with Bhansali's Hum Dil De Chuke Sanam . Moreover, it reminds one of the lovers' confusions and irrationalities in Shakespeare's A Midsummer Night's Dream , who, under the influence of a magical love-potion, fell in and out of love swiftly, changing their object of desire, thereby tweaking social conventions with their transgressive excesses. Vicky, Robbie, and Rumi may as well be invoked alongside Tagore's lovers in Shesher Kabita ( Farewell Song ) — Amit and Labannya — who, despite being in love with each other, chose to marry other suitors, fearing that the common-placeness and confines of marriage would ruin the wonders of their romance.
Manmarziyaan squarely positions itself within a legacy of cinema, art, and literature that have made sensate responses to the questions of jealousy and rage, the politics of longing, pain, sexuality, orgasms.
The trope of twinning that runs throughout the film, wrecks distinctions between love-lust, pyar - fyar , pain-pleasure, and marks sex as the site of undoing identities and differences.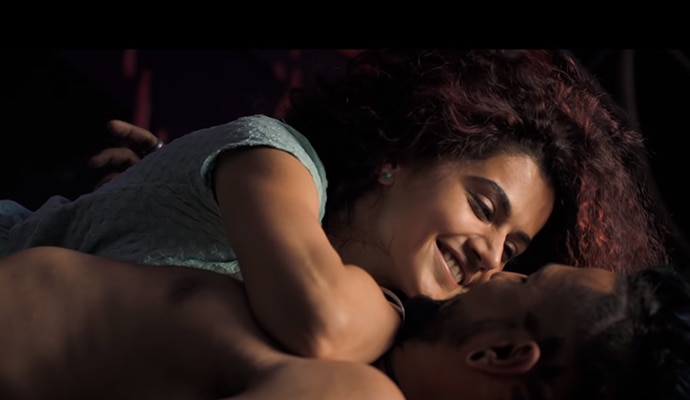 The chemistry there is acrid. (Photo: Eros)
Vicky's most profound dialogue in the film, spoken to Rumi in a moment of heated encounter, is: "J ab yeh Robbie tujhse fyar karta hai… tab ankhein band karke mere bare mein sochti hai… ya ankhein khol kar usko dekhti hai ?" This utterance almost seems to capture the crux of the movie and serves two crucial purposes: 1) The difference between Vicky (flamboyant, libidinal, badass) and Robbie (reticent, meditative, mature) is just a matter of perception or "seeing". The shutting of the eye seems to make all the difference. And 2) If sex is understood as the site where the difference of identities (that between Vicky and Robbie) are reified, then it also holds the potential to sabotage that reification and destabilise identities.
One might start to find links and connections between love and loss, agony and pleasure, and many such seemingly irreducible binaries. Kashyap transforms these dichotomies by a cinematic sleight of hand in introducing a pair of twins, female and male, at scenes that are charged with tension.
Manmarziyaan 's success lies in bringing back illogical pleasures in conversations around sex that have almost started dispelling in these times of moral paranoia. The film does not ascribe a cause-effect relationship in its narrative of desire; we do not know where the desires of the characters originate, what influences them and where they are headed! Driven by impractical and unreasonable impulses, Kashyap's characters offer their audience preposterous pleasures to consume without guilt and moral inhibition.
It is in keeping with this passion, the transgressive, the submissive, the visceral and many other known and unknown configurations of desire, that the film comes closest to the famous lines by Amrita Pritam to whom this film is dedicated:
Maybe I will turn into a spring,
and rub the foaming
drops of water on your body,
and rest my coolness on
your burning chest.
I know nothing else
but that this life
will walk along with me.
When the body perishes,
all perishes;
but the threads of memory
are woven with enduring specks.
I will pick these particles,
weave the threads,
and I will meet you yet again.
Also read: Is it only sex without love? A man in a megapolis talks about the loneliness of gay life
The views and opinions expressed in this article are those of the authors and do not necessarily reflect the official policy or position of DailyO.in or the India Today Group. The writers are solely responsible for any claims arising out of the contents of this article.