Reading Pran Nevile's Lahore in modern-day Pakistan
A Sentimental Journey is a fascinating walk through the streets of a city whose multi-faith personality changed forever.
Lahore remained one of the most enchanting cities of the subcontinent during the British Raj not just for its rich history, but also for its gardens and parks, scents and cuisine and, above all its educational institutions. Lahore's pull has been so powerful that whoever lived - albeit temporarily - in this great city eventually found it impossible to extricate themselves from the irresistible magnetic field created around them by the city and its atmosphere.
A popular phrase on the lips of its residents remains: "Jinney Lahore nai vekhya o jamia ee nai (One who has not seen Lahore cannot be said to be even born)".
Pran Nevile had been one such compulsive Lahoria till 1947 when the Partition meant his childhood and youthful years were suddenly severed forever from his present with the stroke of a pen. Nevile of Nisbet Road gives a fascinating account of Lahore of the 1930s in Lahore: A Sentimental Journey.
Lahore produced great names like the great orator Lala Lajpat Rai, a prominent martyr of the Independence movement, Bhagat Singh and the philosopher-poet Sir Muhammad Iqbal (although born in Sialkot, Iqbal spent most of his life in Lahore).
Nevile very proudly and, understandably, recounts how he entered its prestigious Government College in 1937. Although the European and English lifestyle was what the residents of Lahore were adopting very rapidly in the '30s, yet the daily life in mohallas and koochas moved according to the centuries-old traditions and customs of the subcontinent.
Historically, most neighbourhoods were divided on religious and caste lines, but there were some areas where communal relations and general attitudes were comfortably relaxed, even laid back and based upon goodwill for the "other".
A nonagenarian and frequent visitor to Lahore now, Pran Nevile is a rare witness to crucial events of the subcontinental history as it unfolded before his eyes in Lahore. Minto Park was the venue where the All India Muslim League demanded a separate homeland for the Muslims of India in 1940. He went to watch a youthful Jawaharlal Nehru as the Congress president declaring January 26 as the Independence Day on the banks of the Ravi in December 1929.
Punjabi literary legend Amrita Pritam at All India Radio Lahore. Credit: Lahore City History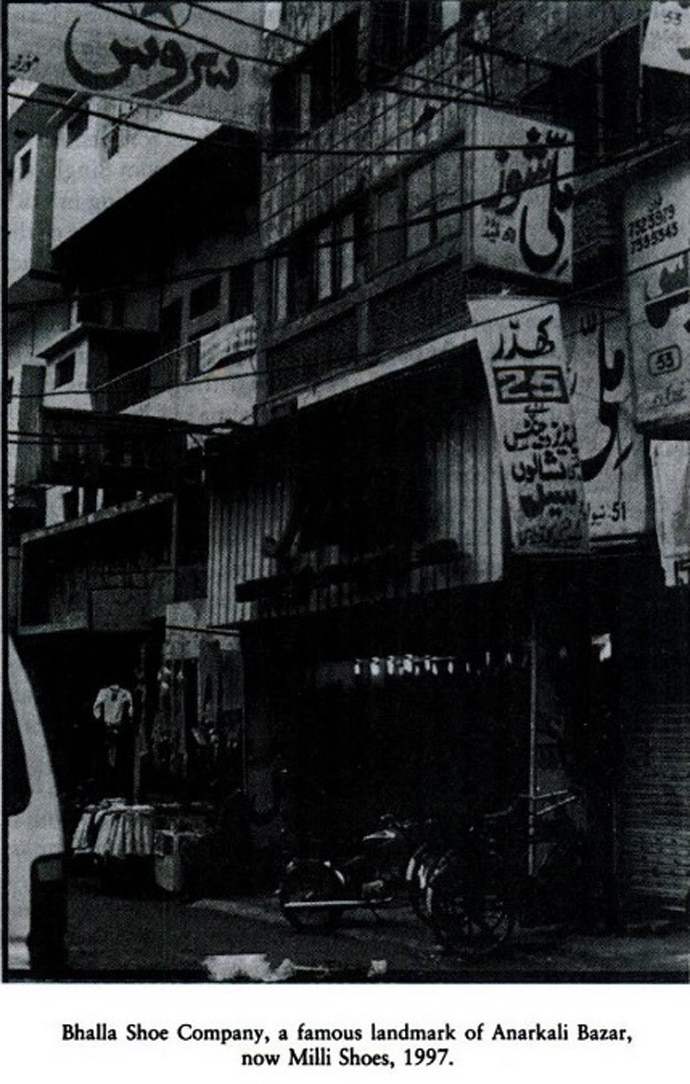 Credit: Pran Nevile
Those Lahorias who had always had an eye on the changing trends quickly adapted themselves to the new order in which English would ruthlessly replace Farsi as the lingua franca. Not willing to lose out on the blessings of the Raj, Lahore gladly embraced European education and lifestyle for better prospects in life in the way of government jobs. The study of Persian was ridiculed, as the saying went: "Padhe farsi te veche tel, dekho ai kudrat de khel (Strange are the ways of destiny; well-versed in Persian, he has turned an oil seller).
As a young man in his teens and twenties, Nevile would walk in Hira Mandi or Tibbi (which still exists, but has lost its lustre over the years for various reasons) and visit a kotha for the song and dance routine by cultured courtesans who, in those days, were reputed to teach etiquette and gentle manners to young men of aristocratic families.
As per the picture painted by Pran Nevile in his book, the forbidden fruit of Hira Mandi - which involved song and dance, and the subtle eroticism that one could smell in the air - was very overpowering and intoxicating.
One could see the elegant curtained windows behind which the dancing girls entertained their patrons, titillating the fertile imaginations of men, young and old. In the side alleys, however, Tibbi used to be the red-light area of Lahore where sex was for sale.
Nevile recounts an interesting encounter with Fazal, the ace pimp of Lahore when the latter shouted his own name to attract the young men's attention, an adept way to snare unsuspecting, innocent young students for "business". A discussion ensues which reveals Fazal's commercial techniques - some subtle, some very overt - in order to win a client by using words like "maal" and "pieces" that describe the prostitutes in his register.
It is interesting to note that copies of advertisements that appeared in newspapers and magazines conveyed, by today's standards, a very basic, straightforward and even bland message to the prospective, target customer.
Consumerism, it seems, was in its earliest stages and advertisement had not morphed into an entertainment form as we know it today. One such advert for "Himani Soaps and Perfumes", reproduced in the book, carries the message: "Says Pt. Jawaharlal Nehru, President, Indian National Congress, Lahore. I have used your WHITE HIMANI SOAP and have liked it. I think it is a very good soap."
Credit: Pran Nevile
It is anybody's guess what it would have cost such a soap manufacturer to secure a similar endorsement for one of its products from a present-day top politician of the 21st century.
Apart from a few raunchy advertisements on "Sex Troubles" that were published during that era, there is one for Faletti's Hotel, Lahore and Simla (The Cecil in Simla) that catches the eye: "Open all the year around. The only Hotel in Simla installed with electric light in all rooms."
A tonga ride on the Mall (thandi sarak as it was sprayed with water everyday) with Nevile's cousins from the mofussil areas (countryside) is a fascinating journey through the Mall's imperial history. Riding past Bhangian di tope (Zamzama or Kim's Gun), the tonga trudges along the Punjab University, the YMCA hostel, Dyal Singh Mansion (built by a Sikh, Dyal Singh Majithia, who turned Brahmo-Samajist; he was a great philanthropist like Sir Ganga Ram) and mesmerises the writer's cousins, with still more imposing structures like the High Court, the General Post Office and the Government House (today's Governor's House).
Zamzama or Kim's Gun.
The tonga moves forward, its dazed passengers are numbed to see smart young girls cycling past their tonga. Famous brand names of Lahore like AN John hairdresser (owned and operated by Amar Nath who learned the art in England, had added John to attract European customers), Kirpa Ram, the optician and a few imperial statues create an ambience for which the Mall was celebrated and cherished in the whole of British India.
The Lahore Club of Delhi is alive and kicking, but it has been whittled down to fewer members with the passage of time. Even death posts and obituaries published in newspapers announced the events with the description of the deceased's Lahore roots.
Like the gentle and cultured character of literary Delhi was transformed almost beyond recognition with the advent of robust and muscular Punjabi refugees in 1947 (as felt by Ahmad Ali, an old Dilliwallah himself and author of the 1940s' novel, Twilight in Delhi), the multi-faith personality of Lahore changed forever, although the Punjabi civilisation seems intact on the surface.
The views and opinions expressed in this article are those of the authors and do not necessarily reflect the official policy or position of DailyO.in or the India Today Group. The writers are solely responsible for any claims arising out of the contents of this article.