400 years of Shakespeare: India and the Bard
Bollywood and Bengal take the lead.
Titas Dutta carefully daubs the paints, readying herself for the task at hand. Her eyes carry a subtle hint of kajal. Minutes later, she would be on stage. Like every actor, she prays she doesn't fumble or stumble. On stage, love-forlorn Duke Orsino (Shakespearean comedy Twelfth Night) is mouthing dialogues with elan.
The production based on the themes of love and mistaken identities lights up the stage with singing, dancing, vernacular tit-bits and laughter. The audience loves every moment as Dutta rubs off the fake moustache, bursting into peals of laughter.
This is a scene from Piya Behrupiya, a Hindi adaptation of Twelfth Night, by a Mumbai-based group. The same play is also being performed in Patna, Bihar, in north India, albeit with dialogues in Bhojpuri, a local language, mixing Shakespeare, Bollywood, nautanki (a folk theatre form of north India), and traditional Indian culture.
The actors deliver dialogues in Hindi interspersed with a smattering of English - an organic fusion of Bhojpuri storytelling traditions, nautanki, Bollywood and, of course, the bard. The rollicking Hindi translation has been performed in other Indian languages as well, such as Punjabi, Bengali, etc.
In fact, the plays have been so Indianised that if the original names were not retained, one would not be able to guess if the play was ever in English.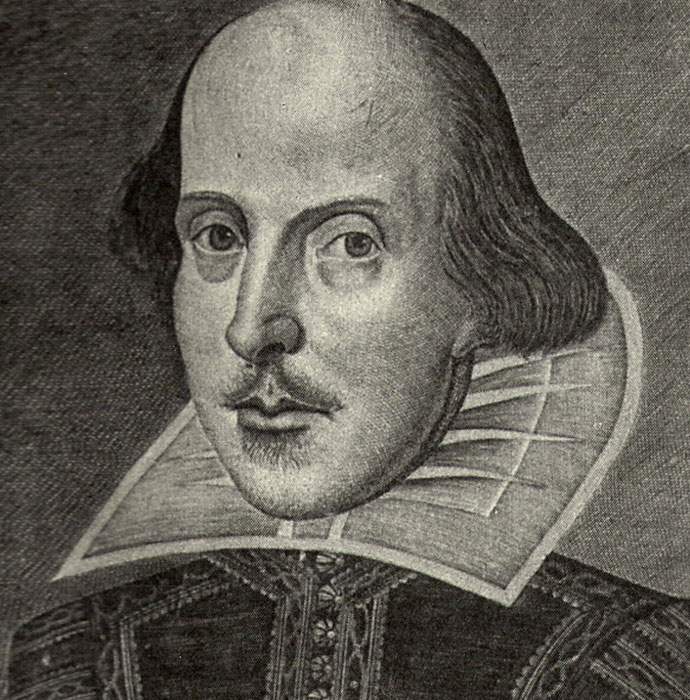 According to a British Council survey, Shakespeare is more popular in non-English speaking countries such as India and Brazil than in the UK.
Can anyone believe that the nautanki-style depiction with local costumes, colours, songs and dance was actually written 400 years ago by a British playwright?
As we celebrate 400 years of the magnificent legacy and towering presence of the English playwright in this day and age, his assimilation in the British Empire's erstwhile colonies comes as a pleasant surprise. In fact, the state of Bengal in India seems to have taken the lead.
Bengali filmmaker Srijit Mukherjee is making the movie Zulfiqar - an adaptation of Shakespeare's Julius Caesar and Antony and Cleopatra. On the other hand, this October, as we speak, citizens of Kolkata are being treated to a breathtaking audio-visual experience during the festivities of Durga Puja (the biggest festival in the region).
Called "The Globe Theatre's Complete Walk", the production is a collaboration between the British Council and Puja organisers - a once-in-a-lifetime experience in which 37 short films based on Shakespeare's 37 plays are being screened.
In fact, the Indian film industry is replete with Shakespeare's adaptations. Actually, it wouldn't be wrong to call Shakespeare the most significant screenplay writer in Bollywood. Adaptations of his plays in the industry are a testimony to the playwright's greatness and universality.
The film was an adaptation of Macbeth.
From Sanjay Leela Bhansali's Goliyon ki Raasleela Ram-Leela (Romeo and Juliet) to Vishal Bhardwaj's trilogy Maqbool (2003, The Tragedy of Macbeth), Omkara (2006, The Tragedy of Othello) and Haider (2014, The Tragedy of Hamlet) - they are all straight adaptations of the bard's plays.
Besides, there are numerous films that found inspiration in his works; so many that it's not possible to list them all out here. In fact, veteran Indian film actor Naseeruddin Shah once famously said: "The roots may look lost, but every big story in the Hindi film industry is from Shakespeare."
He is probably not off the point. According to a British Council survey, Shakespeare is more popular in non-English speaking countries such as India and Brazil than in the UK. A total of 18,000 people from 15 countries participated in the study.
The report titled 'All the World's', says 83 per cent of Indians said they understood and appreciated Shakespeare, compared to only 58 per cent of Britons. It also said Shakespeare was more popular (65 per cent) globally than in his home country (59 per cent).
Omkara was The Tragedy of Othello.
More than one-third of those questioned replied Shakespeare made them feel more positive about Britain in general, with the greatest number of respondents holding this view in India (62 per cent) and Brazil (57 per cent).
"Four hundred years after his death, Shakespeare's work continues to play a vital role in educating and entertaining people around the world," said British Council's Rosemary Hilhorst.
The Council, which is given the responsibility of fostering cultural relations between Britain and other countries, says Shakespeare's influence internationally has helped generate a positive attitude towards the UK, particularly in emerging economies such as India, Mexico, Brazil, Turkey, South Africa and China.
Centuries later, the bard continues to enthrall and entertain audiences all over the world with his comedy and pathos. The fact that he is still being read and enjoyed 400 years after his death is irrefutable evidence of him being the greatest literary genius of all time. His brilliance and ability to touch human souls has transcendedthe boundaries of language and culture.
Also read: Who wrote Shakespeare's plays? We are about to find out
The views and opinions expressed in this article are those of the authors and do not necessarily reflect the official policy or position of DailyO.in or the India Today Group. The writers are solely responsible for any claims arising out of the contents of this article.