If life gives Rs 350/kg lemons, you are the new elite
While extreme heat waves have reduced the lemon supply, rising fuel prices have made the existing lemons super pricey. So how did the free ka kacha nimbu become the prized possession in Apr 2022?
Rising fuel prices, extreme short supply and an increased demand are some of the reasons behind the largest historical hike in lemon prices. Does that mean we should start investing in lemons now?
If I had known that lemon prices would rise as much as Rs 350/kg in a month, I would have invested in lemon stocks (had they existed) instead of Paytm shares. At least lemons would have given a better (read 600 times) return on investment.
Life gave you lemons? Give Thanks. Photo: Getty Images
There was a time when you could walk into the bagalwala sabzi mandi, get some fresh veggies and could sneak a couple of free nimboos into your bag if the sabziwala did not have enough change to return.
But now, try looking for lemons at the vendor's thela. You might find a basket of golden yellow lemons nicely placed (or hidden) close to the sabziwala, covered with a wet cloth and perfect for long distance viewing. The sabziwala has a new found risk these days: What if someone steals his precious and pricey lemons?
Lemon prices shoot up!#LemonPrice #lemon pic.twitter.com/nPGwaE5o7v

— RemicsComics (@RemyFernandes15) April 9, 2022
In a span of a few days, lemon prices have risen out of the blue. It's value has risen so much that people in India are now gifting it to couples as ''wedding gifts'' on their marriage.
Lemon prices across India have shot through the roof.
A single lemon would cost us Rs 2 in Jan 2022 and just 3 months later, the same lemon will cost you between Rs 10 to Rs 15. That is a whopping 600% increase.
Wholesale market prices have touched Rs 300/kg while retail store prices have reached Rs 400/kg.
So why this sudden rise?
Lemon prices go up... #lemonprice pic.twitter.com/ZP7B1Um5mX

— Satish Acharya (@satishacharya) April 18, 2022
Here are three reasons which have lead to this massive price hike:
1. Rising fuel prices: Fuel prices in India have been rising since March 22. This has lead to increase in the cost of acquisition for vegetable vendors too. Vegetable vendors now have to shell out more for pricier vegetables, thus transferring this increased cost to customers like you and me. This has raised the cost of other veggies like onions, tomatoes and chillies too.
2. Reduced supply: Lemons are produced in three consecutive cycles or bahars called Ambe, Mrig and Hasta bahars. The first cycle, Ambe bahar, flowers in Jan-Feb and forms fruits in April, while the second cycle, ie Mrig Bahar, flowers in June-July and is harvested in October. The last cycle, Hasta bahar, blooms in Sep-Oct and is harvested post-March.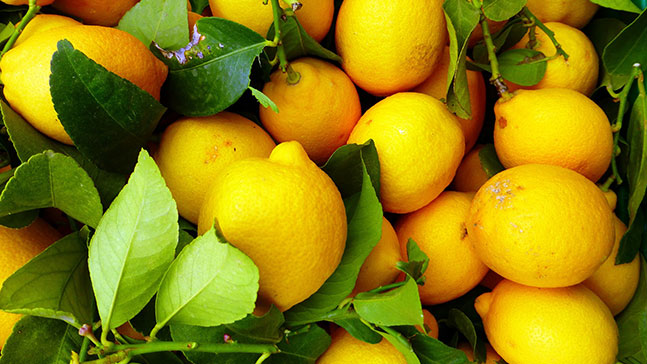 Photo : Getty Images
Now you might remember how 2021 was a year of unusual rainfall and how Sep-Oct 2021 saw rough cyclones and wierdly heavy rainfall in many states like Andhra Pradesh, Maharashtra, and Gujarat. This had significantly affected the quantum of lemon crops which flowered in September and eventually led to less produce in March 2022.
Lemon trees thrive in temperatures between 21 to 38 degree Celsius. But, the recent strong heatwaves across Indian plains, where temperatures are rising to 40-45 degree Celsius, have created a not-so-nice environment for the next cycle of lemons to grow. This means that lemons will remain pricey for quite some time.
3. High Demand: Summer in India is the time when everybody loves drinking nimbu-paani. Extreme heatwaves across India have led to more than usual demand for lemonade and this has only spiked the gap between demand and supply.
So, thank the Lord if:
you are drinking nimbu-pani in this heat
are not sticking lemon stickers on your car instead of hanging actual lemons
have bought a new car and will be using 4 lemons under your wheels when you start your car.
Coz you are a part of the new ELITE now.
The views and opinions expressed in this article are those of the authors and do not necessarily reflect the official policy or position of DailyO.in or the India Today Group. The writers are solely responsible for any claims arising out of the contents of this article.