Put Sanjay Dutt, Asaram Bapu, Sasikala, Ram Rahim all in one Bigg Boss jail
Celebrity prisoners from different fields need to be lockd in a house with CCTVs.
Welcome to Bigg Boss - Jail Version!
Under the mentorship of Modiji's Make in India scheme, the highest court in the country has decided to pool in celebrity prisoners from different fields and put them in a house with CCTVs.
From Bollywood, we have Sanjay Dutt and Shiney Ahuja. Representing Babas are Sarathi Baba, Asaram Bapu and his son Narayan Sai, representing industry we have Ramalinga Raju, from politics we have Pappu Yadav, Suresh Kalmadi, Sasikala and A Raja, and from the liberal arts, we have Tarun Tejpal. The audience can vote for their favourite candidates, but unfortunately, there is no eviction.
Let's plunge right into the action.
Day 2718, 9am
(The inmates of the house are going about their work.)
Asaram and Sarathi Baba are arguing about the Upanishads. Sarathi Baba, the Odiya self-styled baba has become a laughing stock after housemates learnt that he was caught in a hotel with women, beer, and chicken. Asaram Bapu taunts him - "You knew the Upanishads, but didn't know that all the waiters in Hyderabad are Odiya?"
All hell breaks loose, as Pappu Yadav threatens to smother people in their sleep. Ramalinga Raju, nicknamed "Asatyam" - has been sleeping on the floor. Sanjay Dutt's gutkha habit doesn't go too well with Tarun Tejpal. Finally, Bigg Boss calls Shiney Ahuja to the second confession room.
BB: Shiney.
SA: Ji, Bigg Boss?
BB: What's happening in the house?
SA: A lot of chaos. Ramalinga Raju was incharge of the kitchen, and after two days, he says there's no more chicken and daal. We checked all around, but found nothing. Only A Raja seems to know, but he pretends to know nothing.
BB: Okay. Bigg Boss will talk to the other contestants. Is there anything you wish to talk about, Shiney?
SA: Boss... we have all lived in luxury, it is becoming difficult for us to clean the house ourselves. I have been asking for a maid repeatedly…
BB: Yes, we considered the request, but the last maid stopped coming after she heard why you're in the house…
SA: (looks down) Okay, Bigg Boss.
BB: Please, call Tarun Tejpal.
A graceful, bearded man walks in. Sharp eyes, crisp kurta, he takes his seat on the confession couch comfortably.
BB: Tarun, how has the experience been?
TT: (a shadow of exasperation passes through the erudite face) It has been absolute hell. When I talk about conducting a scoop, they assume it is ice-cream I speak of. My bed is placed next to Sarathi Baba, who screams "Bhai, do beer, tandoori chicken half" in his sleep. This is not a house, sir. I daresay this is a "hujoom".
BB: Tarun, there is going to be a wild card entry into the house.
TT: Art thou serious? That's impossible. This house already totters on the edge of insanity, and you wish to add another member?
BB: The decision has been taken; the wild card will arrive today.
TT: Unacceptable. I shall investigate this, shall inform the rest of the inmates.
BB: Please do.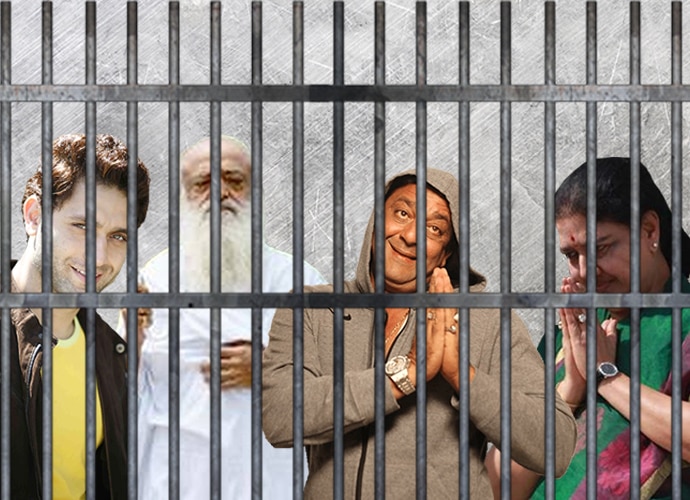 The bearded man gets out of the room, looks at the elevator, and takes the stairs down to the main hall.
When the inmates are informed, pandemonium ensues. The babas crib that the house is getting polluted by the day. Sasikala has begun to bang the floor with her right hand. Kalmadi, a silent observer of late, threatens to sell the house furniture in protest. A few Congressmen begin bidding for the items.
Tarun Tejpal is protesting in the verandah, threatening to quit scotch till his requests are fulfilled. When informed that there is no scotch served in the house, he claims a moral victory. Sarathi Baba is spinning around the house. Mr Dutt has begun to dance to songs from Khalnayak, and the housemates quickly hid all the cutlery.
By evening, the inmates have started threatening to fast-unto-death. Frantic calls are made to Modiji, but the network in Antarctica coupled with an Airtel connection prove useless. The audience begins to tweet and outrage on social media.
The inmates are all out in the verandah, screaming slogans and asking each other if they knew who their fathers are. The question is bizarre coming from Narayan Sai's mouth. This is when Bigg Boss intervenes.
BB: Inmates…
(The inmates all look up. Years of watching mythological shows on TV has ingrained the idea that voices come from heaven).
BB: Inmates, as you should know, the house is set for a new entrant.
Sanjay Dutt picks up a chair, Kalmadi whispers in his ear and he puts it down. Just as the inmates are about to erupt again, Bigg Boss continues...
BB: Inmates, let me assure that the new entrant will not be a hindrance. In fact, he would fit right in.
Shiney: But Bigg Boss, some of us are artists and performers, we are men of art.
BB: This man is an actor too, and he will be visited by a sevak, so that will solve the maid problem too. He is also a businessman and politician, an open supporter of the BJP.
Pappu: (Raises his fists in anger) But only tough people can survive here.
BB: He's accused of murder, criminal intimidation and rape. (Pappu Yadav stares in awe.)
Asaram: Parantu, Bada Mahashay, we are babas, we belong to spiritual practices.
BB: He is also a baba.
Silence prevails. They are all curious, except Tejpal, who leans back on a beanbag.
TT: Is he a man of art? Is he a man of prose?
BB: Mr Tejpal, he has done things with words neither Marquez nor Frost has.
Suddenly, rock music erupts from the speakers. The inmates turn around, as the gates of the house slide open. A large creature appears, as a hoarse voice begins to sing. His voice sounds like a person wailing in pain, a sound that all the inmates seem to enjoy.
As he steps in, the lyrics blast from the speakers.
"You are the Love Charger
You are the Love Charger
Billions battery when goes down
So strong your power love
Your love make spring of the world
You are the Love Chargeeeeeeeeeeeerrrrrrrr…"
Completely charged up, the inmates rush to have a closer look. The man is wearing rainbow coloured pants, an orange shirt, and a cap with 65M TruColour Vivid Display. The inmates rush into his arms, and peace and harmony descends on the house.
***
So that was today's episode. There was some turmoil, but as Modiji said in 2002, "All is well that ends in the well."
Thank you for watching. Remember to link your Aadhaar card with PAN number, phone number and Zodiac sign. Good night.
Also read: Bollywood is turning into a big, ugly Bigg Boss house
The views and opinions expressed in this article are those of the authors and do not necessarily reflect the official policy or position of DailyO.in or the India Today Group. The writers are solely responsible for any claims arising out of the contents of this article.