The Yeti Airlines flight that crashed in Nepal's Pokhara on January 15 included 4 Indian passengers who wished to go paragliding in the central Nepal city. Even if they would've survived, their desire would still be deadly as Pokhara has had quite a reputation for paragliding.
Going by older news reports from Nepal, paragliding was first suspended in Pokhara back in 2020 and more recently, in October 2022, with one death reported in both cases.
In 2019 alone, 20 serious accidents involving paragliders were reported in Pokhara. 
Blame the unpredictable weather: Weather conditions are to blame based on individual cases. For instance, when Indian tourist Sushma Sharma embarked on one such paragliding trip, she and her pilot were stuck in harsh winds and fell off a height of 300 feet. The subsequent police investigation ruled abnormal wind flow and unfavourable weather as the culprit. 
According to the American weather-calculating website WeatherSpark, the average percentage of Pokhara's cloudy sky experiences "extreme seasonal variation" over the course of every year.
Even pilots can cause mishaps: While paragliding companies can point their fingers at the weather, the Kathmandu Post reports that human errors can also lead to paragliding fatalities in Pokhara. To quote Pokhara Police's Inspector Ganesh Subedi from a 2019 report by the Kathmandu Post, "Accidents caused by unfavourable weather conditions are relatively fewer than accidents caused by miscalculations by solo pilots during landing."
Who are these 'solo pilots'? These are the trainees who have to paraglide alone to meet their required quota of flight hours (more than a thousand hours for some) before they can be capable enough to fly with the passenger, becoming tandem pilots in this process. Most paragliding service providers in Pokhara seem confident that only solo pilots cause most of the accidents while the tandem pilots do ensure the passenger's safety.
The two paragliding deaths in Pokhara in 2 years: November 2020 proved to contradict the claim of the paragliding companies, as a 38-year-old pilot died, leaving a then-29-year-old passenger injured. The accident happened after the glider aircraft landed over one and a half kilometres away from the landing area near the Phewa Lake. 
While paragliding was temporarily suspended, the activity resumed later. After all, paragliding is quite the money-maker in the city that is located on the shore of the Phewa Lake. Boating, cable cars, and paragliding are very common with Pokhara's local and foreign visitors, with more than 20 companies and hotels providing paragliding services in the city.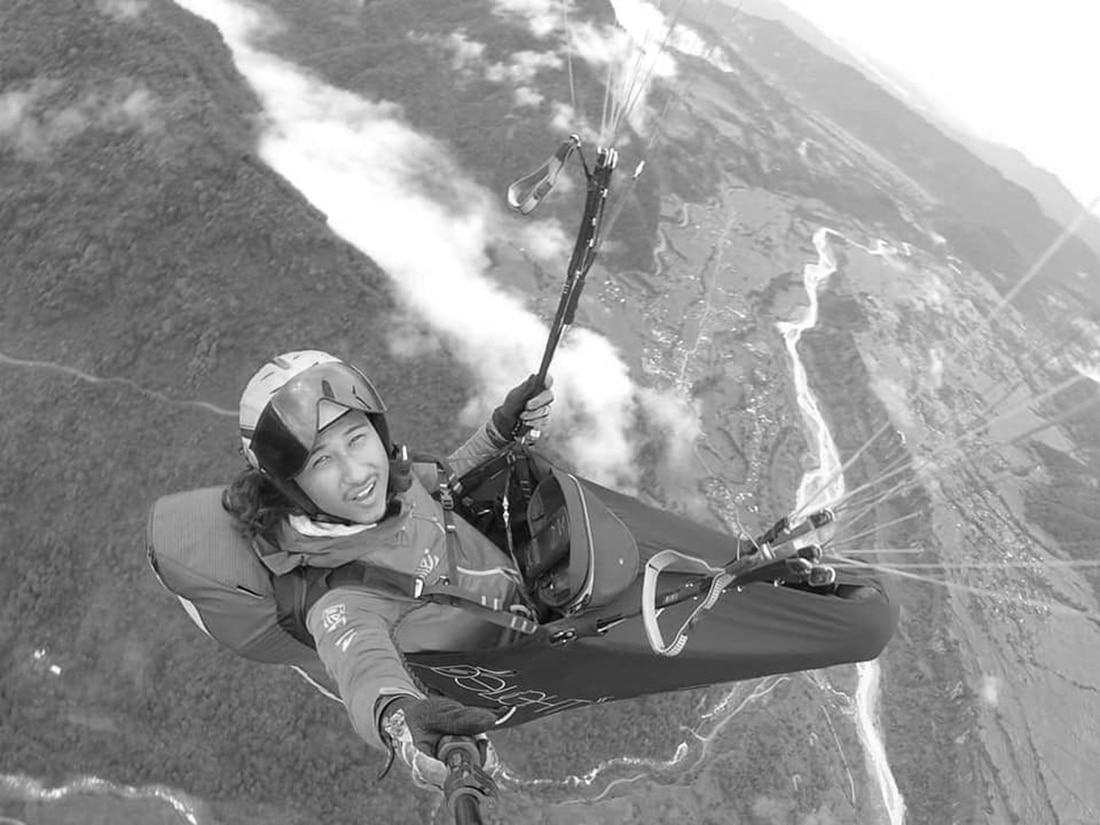 The October 2022 accident: However, another paragliding tragedy was reported last October when a 26-year-old pilot died during a paragliding event in the Ninth National Games in Pokhara.
The late Nisim Thapa was a paraglider for the Nepal Army Club (also known as Tribhuwan Army Club), a Kathmandu-based military team that competes in various sports like cricket, football, and so on. Thapa was competing in a cross-country event before he lost control of his glider and fell to his death in a jungle. 
Thapa's demise in the freak accident shocked Nepal, with the National Sports Council calling off that year's National Games and the Civil Aviation Authority temporarily suspending all paragliding activities in Pokhara and the rest of the country. 
The 'safest paragliding company': If you Google "what is the safest paragliding company in Nepal", you will find a dated answer from 2020 with Source Nepal claiming, "As for now, Blue Sky Paragliding Company in Pokhara is well established and is considered as one of the safest paragliding company of Nepal."
Thapa had been using Blue Sky Company's gear at the time of his death...
Have the paragliding companies done anything? Despite the unpredictable wind conditions, Pokhara's gliding and landing sites don't have many weather towers. Windsocks are aplenty though and for the authorities and paragliding services, they seem to be enough for now. 
Devendra Pandey, the Manager of Recreation Aviation in Nepal's Flight Safety Department told the Kathmandu Post in 2019, "...there is no need to build a weather tower for recreational sports like paragliding. Each flight lasts for 25-30 minutes on average and you can see the landing area from the take-off zone. The pilots are trained to read the weather and clouds."
Airsports like paragliding used to be regulated by the Civil Aviation Authority of Nepal before changing hands to the Nepal Airsports Association, which has been the regulatory body since April 2019. Both bodies have tried their best in ensuring that pilots are adequately monitored and only the licensed ones are allowed. 
Still, the two deaths and usual cases of injuries are important events that the paragliding companies cannot ignore in Pokhara. On paper, there aren't any laws for adventure sports in Nepal and mostly recreation aviation companies provide insurance packages for passengers in the case of any mishap.
Despite the lack of legal clarity in such situations, a lawsuit can be filed regarding negligence, the provisions for which are laid out in the country's Criminal Code. Depending upon the extremity of the negligence, culprits can be jailed for anywhere between three to ten years along with monetary fines up to Rs 1,00,000.