5 myths Ranveer Singh and Alia Bhatt's 'Gully Boy' burst
It's 2019, and we should have learnt these yesterday.

DailyBite
If you haven't woken up to Ranveer Singh and Alia Bhat yet — individually, as two phenomenal actors, especially after they delivered the way they did at the box office last year — you are who they're referring to when they say 'those living under a rock.'
Padmaavat.

Raazi.

Simmba.
Seriously, welcome to the movies.
2019, however, is different for both these actors.
If Ranveer shone as Alauddin Khilji in Padmaavat and Sangram Bhalerao in Simmba, it was probably because some of his inherent flamboyant persona rubbed off against these roles. Ranveer brought his wacky self with him on the sets and into the camera, and that added the extra tang to these characters.
Alia, too, played the docile girl — capable of cooking up a storm, but would much rather stay cocooned in her demure self.
But when Zoya Akhtar's Gully Boy trailer dropped, these images were shattered.
We, admittedly, had our doubts if Ranveer would be able to shed the 'quirky' image he so proudly wears on his sleeve — that if it's not him wearing the image, but the image wearing him. We wondered if Alia's 'good girl' looks would come in the way of her portraying the role of a hijaban girl from the hood. We know she has fire, but could she be foul-mouthed enough?
And that's the first myth the Gully Boy trailer burst.
Thank you, Zoya.
This, and several other stereotypes were burst in that three minute-off trailer. Here's looking at them through memes:
Bursting the 'arrange marriage' myth: Kya tum khana bana leti ho?
(Source: Twitter)
Or I could just cut into you and forget about it — let you bleed out for this misogynistic question.
Be afraid, be very afraid.
Bursting the 'rap' myth
(Source: Twitter)
With all due respect, the Honey Singhs and the Badshahs of the world are not the only ones rapping.
Not everything has to be about the 'haves' — even the 'have-nots' can make music.
Bursting the 'kha meri kasam' myth
(Source: Twitter)
Let's be frank, as a nation, we love popping 'kasams' like pani puri — but most of the time, we don't mean a word we say. Here's ending all that 'kha meri kasam' debate — dobara mat poochhna!
Bursting the 'log kya kahenge' myth
(Source: Twitter)
It's 2019 and we should have stopped worrying about 'log kya kahenge' yesterday. Like, seriously. No one is going to tell us what we deserve or what we don't — except we, ourselves.
Bursting the 'damsel in distress' myth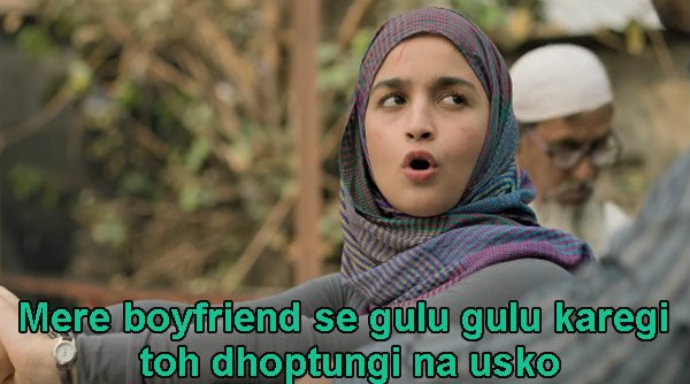 (Source: Twitter)
Enough with the damsel in distress image. We're putting the 'stress' in distress.
Also read: Why I feel Ranveer Singh's 'Asli Hip Hop' from 'Gully Boy' is absolutely Divine!