Passion & compassion
Every 'chatori' girl needs a 'fine-dining-type' of guy to take her out for street food!
Because when it comes to men, ladies, remember this very famous adage: "Tell me what you eat, and I will tell you what you are!" So, pick well.
When it comes to dating a man, his taste buds matter. As cheeky as that sounds, this can hold true for many things. But, I'm talking about food here, just in case your mind wandered off elsewhere.
Food is passion. Food is yummy. Food is a mood lifter. It's an ice breaker. It also has an ability to hit the hot spot in your brain that makes you go 'mmmmmm...' It's a phenomenon in itself if you really think about it. Meetings, dates, weddings or get-togethers are never complete without a meal. And when it comes to picking a restaurant, we all naturally want to eat something yummy. Not something that just looks and sounds fancy. I leave that flock to figure their taste buds out.
There are plenty of beautiful fine-dining restaurants for the people who love the finer things in life, or for times when you want to dress up and go on a date night. Don't get me wrong, I love some of them too as long as the food tastes good and doesn't just look fancy.
Fine-dining during a date can be a rather stressful exercise. (Photo: Reuters)
So, if the guy puts his best foot forward by taking you to one of them, you are measured — from eating well, using the right cutlery, ordering the canapés or hors d'oeuvre, main course, dessert or picking the right grape from the right vineyard or ordering the perfect-bodied wine that goes with what you have ordered.
The same holds true even if your date is at a place that has 'table d'hôte' (just another word for eating what we give you). Sure, these date nights are a winner but one too many a times I do find myself thinking if the man is actually capable of having some fun in his life.
At some point it has to get real, and real for me is street food.
You can agree to disagree but this is just the way I look at it. I welcome your disagreement and trolling, but here is where I stand. When it is time to get real, my choice of food and restaurant goes through a change. Just like a relationship loses all pretences after a while, your food must eliminate it too.
For 'chatoras' such as me, pani puris, sev puris, dahi puri, ragda pattis, baraf golas are the epitome of yummy for my taste buds. And, a fine-dining guy should be able to fit into this world too or else, where's the fun?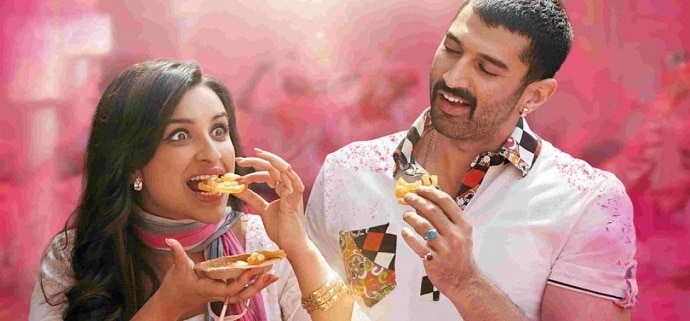 Gorging on Indian street food is a popular date idea in Bollywood movies. (Photo: Movie poster)
Chaat is a world of its own. I find it more real, fun and enjoyable as compared to some 'braised fennel, tomato preserve with organic baby spinach' antipasto which is basically saunf with tomato jam and palak. Ugh! Bon appétit to you, too.
Do you really have fun when you worry about the 'amuse bouches' (palate cleansers), artisan loaves that are just basically bread or getting the lemon 'foam' right on white sesame and apple with risotto? Long story short — you will be eating some shtick that never cleanses your palette that is eerily similar to bread lying in your fridge and rice mixed with apple and sesame seeds.
And what's with antipasto? Just say starter!
For the ones who love their delusional sense of grandeur and reek of self-importance, there's always béchamel sauce (that is just heated flour and butter!). You get the drift.
It's surely not yum and surely something you don't want to eat with a man who you have been with for a while.
Care to sample some amuse bouches with a lover? (Photo: Reuters)
I can cook all of these to show off my culinary skills (which I'm guilty of doing when friends come over). But, I don't want to show off and get bored eating something drab with someone I see my future with.
I want food that tastes really good (at the cost of sounding like a broken record). I want to be able to lick my fingers and have a foodgasm followed by a burp and soda.
I want my food to be honest to goodness and not to the manor born! Figuratively speaking.
Some of you must be thinking that I do not possess the 'acquired taste' to appreciate such fine cuisines. But, I do and my point is — if I want to really satiate my taste buds, a chaat thela will win over a place full of fancy serve-ware and artistically placed food on a ceramic plate, any day.
At the same time, will I be able to date or marry a man who cannot fine dine? Obviously not, but only because he should be able to do that once in a while and the rest of the time, be able to have fun with me (and belch!) after a great, genuinely tasty meal.
The guilty pleasure of sev puri and sukha bhel with kaccha aam on it made on Altamont road or Breach Candy chaat wallah for 15 whole bucks is incomparable to well, béchamel sauce and some silly sesame apple risotto!
Bhelpuri wins over béchamel sauce any day! (Photo: India Today)
The colours, the texture, the chatpata chutneys, the extra puris in the pani puri marathon, the grilled sandwich on the streets with sauce and sev on top is heaven on earth. Freshly made garam garam jalebis on the streets of Delhi, chola bhaturas and matar kulcha sound more like a plan than a stew laced with 'bouquet garni' which is nothing but some Italian herbs off the shelf, wrapped in cheesecloth.
Not only Indian rude food, but the streets of Manhattan also have the best shawarma rolls, while Europe offers the best mulled wine and curly potato fries. In fact, anywhere you go in the world, be it Singapore or Thailand, the street food is to die for because the local food spells love on a plate and some of them are really good 'street gourmet.' Indian chaat is actually quite 'glocal' now. People world over have latched on to it. When I used to roam the streets of Italy, I would snack on the local roadside pizza slices that were way tastier than Michelin star restaurant pizzas or sample falafel at Edgeware Road in London and eat the yummiest tacos I have ever tasted from a food truck in Manhattan.
Anthony Bourdain, in his last book, questioned some chefs on what would their last supper be? Most of them said it would be something popular, non-luxurious and inexpensive. So you see, even renowned chefs, who spend their life creating the perfectly 'braised sea bass' or 'smoked honey quail' would rather opt for popular street food that makes them go 'mmmm'!
Gourmand Anthony Bourdain documented the 'rude food' choices of many famous chefs in his last book. (Photo: Facebook/Anthony Bourdain)
I understand these gourmands. There is unostentatious, sincere contentment to devouring this kind of a meal that the man in my life needs to be able to savour to establish a real connection with me. Because otherwise, it's all by-the-book fluff that I refuse to sign up for.
Don't get me wrong. I can make all the bouquet garnis, mulled wine to some fancy malted custard French toast (which is the laziest thing in the world to cook) but when you actually have it, it is not the same as pav bhaji or momos off the street. And, can you even be in Mumbai or call yourself a Mumbaikar if you can't stand vada pav or dabeli? Even when you get together with a group of friends the orgasmic sounds they make while eating all of these could give a tantric sex couple a run for their money.
What really binds a long-lasting relationship with a man is really simple pleasures of life outside of the career aspirations, spiritual realms and sexual compatibility. Once all of that is established, you need to have a good time together, and for me, it comes down to eating well together at that stage, things you enjoy together and the passions that are common to you both.
I cannot imagine sharing my life with someone who is not excited about exploring a satisfying meal i.e. chat and street food. You eat 3 times a day, you eat on occasions, you eat when you're hungry — that should be something that you must enjoy together! Sharing experience and getting messy together eating a golgappa has its way of binding you. It adds comfort.
And after that, don't forget to find a guy who works out after all the foodie fun you have had. So, my next piece maybe will be on working out goals?
In the meanwhile, go eat something to your heart's content. And when it comes to men, ladies, remember this very famous quote: "Tell me what you eat, and I will tell you what you are!"
Pick well.
Also read: No Rampuri's Eid is complete without feasting on Attu Bhai's rich, sugary Qimami Sewain
The views and opinions expressed in this article are those of the authors and do not necessarily reflect the official policy or position of DailyO.in or the India Today Group. The writers are solely responsible for any claims arising out of the contents of this article.