Tarar Square
A giant happy face: This is what might be missing in your life
Many of those who seem to have it all live with a melancholy that is so often so well concealed that it is indiscernible to even those who are around that person.
On April 5, 2019, in a beautiful ceremony in New York, fashion designer Marc Jacobs married his longtime love Char Defrancesco. There was something about their wedding vows that deeply moved me...
Jacobs said to Defrancesco: "Char, my love, in my darkest, loneliest moment you came into my life like some giant happy face, and made me laugh and smile. In that moment I felt safe and loved...what you have given me is...the dream of the happy forever."
Defrancesco said to Jacobs: "I vow to try my best to make you smile every day, and make you the happiest man you deserve to be."
That one image of life's "darkest, loneliest moment" lighting up with the beauty of life's best gifts of love, safety and happiness" as that one person becomes "a giant happy face." That irreplaceable feeling of being able to make someone "smile every day", making the beloved "the happiest you deserve to be." That simple act of loving someone so much, and with that absoluteness that fills up all spaces of darkness, sadness, insecurity, fear and loneliness.
Not many people are lucky to have that. Not many people are fortunate to recognise it even when they have it. Not many people are blessed to value it even when they recognise it.
In a world full of pain that is immense, loneliness that gnaws on the parts of heart that one thought were fiercely off-limits, the state of being unloved, not loved the way one wishes to be loved, the inability to bear the noisy silence of being alone, the despair that is so overwhelming it puts a wall between the real and the unreal, there is much that is to be said to those who feel this way or worse. Seldom is that done.
Reason to laugh out loud: Not many people are lucky to have that. (Photo: DailyO)
Many of those who seem to have it all live with a melancholy that is so often so well concealed that it is indiscernible to even those who are around that person, thinking their love for and knowledge of that person are enough to make them aware of what goes inside their mind. It is not just when you are shocked about the untimely death of someone you thought you knew very well, or someone you barely knew; it also hits you hard when you see love that is glorious that makes you think of those who left the world feeling lonely, enveloped in a darkness that threatened to be never-ending, full of scary things that made them curl up within themselves. Like a foetus. Unwilling to leave the protective walls of a watery womb.
It made me think of those who killed themselves. Young people who apparently had everything going for them, but no one knew it wasn't enough. No words would be enough to describe the pain of those whose loved ones left them, taking their own life. There are many of those around us. Some we hear about. Some we knew. Some we talk about in whispers. Some we discuss, shaking our head in sorrow.
Then there are some who become global headlines. When we read about their death, their suicide, we are jolted, once again, deeply aware of our own mortality, of our lack of awareness of those who we claim to know, and some we even love, unable to accept that we don't see even when we think we do. Those famous people who are a part of our life through their huge talent and work, and that one final act that made them unforgettable beyond the immortality of their contribution to the world...
On August 11, 2014, Robin Williams, 63, dressed in a black T-shirt and belted black jeans, was found hanging in a closet doorframe at his home in Paradise Cay, California. There was a nylon belt tied around his neck. A highly acclaimed, multiple award-winning artist and a globally loved actor, Williams, in the words of Peter Bradshaw for The Guardian "clearly suffered from depression — these were symptoms hiding in plain sight — and his brilliance assumes a deeply sad aspect."
During the shooting of 2014's Night at the Museum: Secret of the Tomb, of Williams' last on-screen role, Cheri Minns, a member of the film's makeup team said: "He was sobbing in my arms at the end of every day. It was horrible. Horrible."
On November 3, 2015, during an interview with Good Morning America, his widow, Susan Williams, in her first on-camera appearance since his death, said that Williams had full awareness that he was losing his mind, even while trying to keep it together until he reached a breaking point in the last month of his life: "It was like the dam broke." Susan said that it was because of a debilitating brain disease called diffuse Lewy body dementia or dementia with Lewy bodies (DLB). "It was not depression that killed Robin. Depression was one of let's call it 50 symptoms, and it was a small one."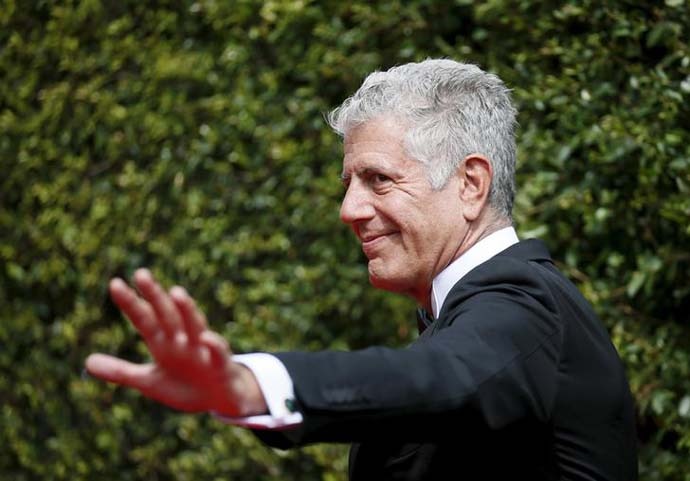 Bourdain was in a "dark mood" in the days leading up to his suicide. Who could have thought? (Photo: Reuters)
On February 11, 2010, in Mayfair, London, one of the greatest fashion designers of his generation, Lee Alexander McQueen, 40, took a concoction of cocaine, sleeping pills and tranquillisers, and hanged himself. He was said to be suffering from depression. His mother, whom he loved deeply, was to be buried the next day.
Dr Paul Knapman, the Westminster coroner, said: "It's such a pity for a man who, from a modest start, climbed to the top of his profession only to die in such tragedy. He killed himself while the balance of his mind was disturbed."
Dr Stephen Pereira, McQueen's psychiatrist, said that he suffered from "mixed anxiety and depressive disorder for at least three years" and had twice overdosed as "cries for help."
Dr Pereira also said: "He was a very secretive person. Over a period of time he had been let down by various friends who he felt were taking advantage of who he was. For that reason he was very guarded. He had been terribly let down in long-standing close relationships. He was very close to his mother. I think on top of the grief he felt there was that one link that had gone from his life and there was very little to live for."
McQueen, on the back of an art book in his Mayfair flat had scrawled a tiny note: "Please look after my dogs."
On June 8, 2018, Anthony Michael Bourdain, 61, host of CNN's Anthony Bourdain: Parts Unknown, hanged himself. It was in the bathroom of a room at the hotel Le Chambard in Kaysersberg, a village in the Alsace region of France. Bourdain was in France to film an episode for Parts Unknown.
According to E-News, Bourdain was in a "dark mood" in the days leading up to his suicide. That is what Éric Ripert, best friend, fellow chef and travelling companion of the acclaimed chef, told his mother, Gladys Bourdain.
Gladys said about her son: "He had everything. Success beyond his wildest dreams. Money beyond his wildest dreams. He is absolutely the last person in the world I would have ever dreamed would do something like this."
On June 6, 2018, the globally known handbag designer Kate Spade, 55, hanged herself in her New York apartment. As per her sister, Reta Saffo, Kate suffered from manic depression "but refused to get help in case it damaged her brand." Saffo said that Kate had "a mental illness for the last three or four years," and her suicide "was not unexpected by me." Despite the insistence of her family members, she refused to seek treatment in fear of damaging the image of her "happy-go-lucky" Kate Spade brand.
Kate left behind a heartbreaking suicide note addressed to her 13-year-old daughter, Frances Beatrix Spade: "Bea, I have always loved you. This is not your fault. Ask Daddy!"
On July 2, 1961, Ernest Hemingway, 61, in his home in Ketchum, Idaho, United States, shot himself in the head. The world lost one of its most acclaimed literary geniuses with that one fatal shot. Why Hemingway killed himself, there are still questions that pained those who knew and loved him, and those who read and love him.
Those who shone like stars but were invisible: (Hemingway photo: BBC)
Not just those who didn't know Hemingway, but even those close to him like his friend, AE Hotchner wondered why someone "whom many critics call the greatest writer of his century, a man who had a zest for life and adventure as big as his genius, a winner of the Nobel Prize and the Pulitzer Prize, a soldier of fortune with a home in Idaho's Sawtooth Mountains, where he hunted in the winter, an apartment in New York, a specially rigged yacht to fish the Gulf Stream, an available apartment at the Ritz in Paris and the Gritti in Venice, a solid marriage...good friends everywhere...put a shotgun to his head and [kill] himself?"
Hemingway was said to be suffering "from physical and mental deterioration in the years and months leading up to his death, and seems to have been quite sick at the time he pulled the trigger."
One story after the other...
Of those who shone like stars, whom the world loved and idolised. And one day, they killed themselves. Alone. Feeling unloved. Invisible. Unheard. Utterly lonely. In the dark. Undeserving of love.
Without the presence of a giant happy face.
Also Read: Hatred on social media and elsewhere: Is it all worth it? Ask yourself
The views and opinions expressed in this article are those of the authors and do not necessarily reflect the official policy or position of DailyO.in or the India Today Group. The writers are solely responsible for any claims arising out of the contents of this article.