Jennifer Aniston 'slaying' too little, too late
I don't see any sincerity in the 'Friends' star suddenly becoming the poster girl of feminism.
Jennifer Aniston has been on countless lists through her life - best dressed, world's sexiest, highest paid, the celebrity A-list et al.
But when she appeared on my Twitter India trends list for a few minutes on Wednesday, I did a double take.
I was in the middle of work, looking for a "fun" story to end the news bulletin with and thought to myself, "There, that might just be it."
So I clicked on to the second but last trend on my Twitter page and discovered that Jennifer Aniston was being hailed for "slaying it" and "taking on the media over body shaming".
So far, so good.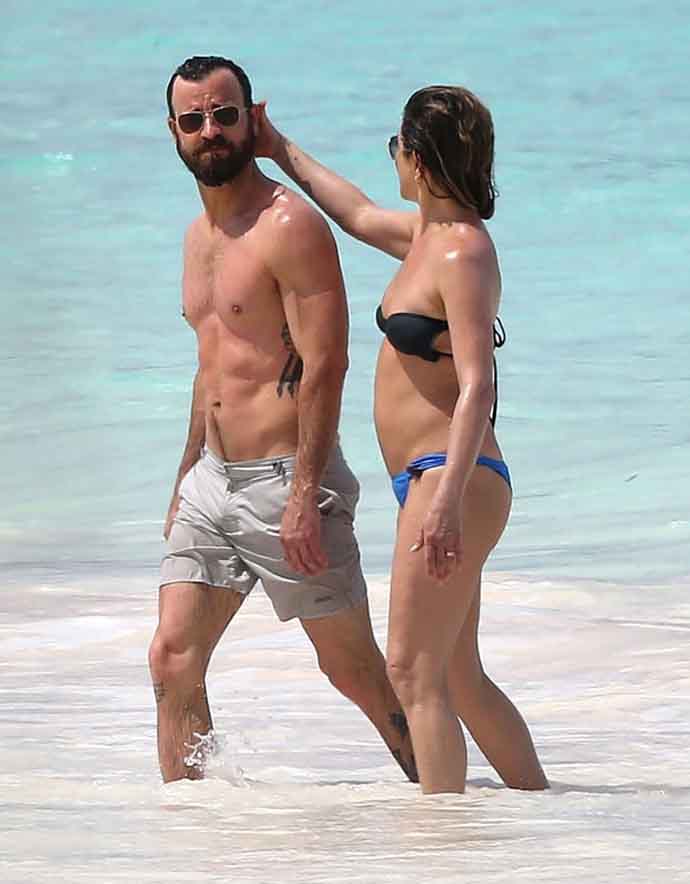 Jennifer Aniston with husband Justin Theroux on a beach.
The perils of the job however struck, and I got distracted by the slightly more significant "breaking news".
Jennifer and her awesomeness would have to wait.
So the link to her Huffington Post piece, "For The Record" was bookmarked and kept away to be read later.
I returned to the link hours after and read Aniston's rant.
At the beginning I was rolling my eyes at the Hollywood celebrity's First World problems and by the end, I was shaking my head in disappointment and wondering what a big hypocrite one of our favourite Friends had been.
While I agreed completely with her where Aniston wrote about "the warped way we calculate a woman's worth" and that "we are complete with or without a mate, with or without a child", I couldn't, just couldn't put up with her groaning about being caught in a certain narrative.
Because for years, Jennifer Aniston has not just been a silent party to it, but has also actively helped perpetuate it.
Also read - Jennifer Aniston: Since when has childbirth become compulsory?
She talks of being complete with or without a mate while she revelled in being a "complete woman" as she posed pretty with her former husband Brad Pitt - highlighted hair and designer outfits perfectly in place.
Even when the Hollywood fairytale went bust in 2005 and for years after that, Aniston did not once say she was "fed up" with the media and the tabloids projecting Angelina Jolie as the husband snatcher, the seductive, evil whore who had trampled all over the angel's perfect home.
She was happy being portrayed as the damsel in distress while the press portrayed Jolie as the stereotypical "sexual other woman".
How Aniston posed for countless airbrushed magazine covers with her tiny waist, non-flabby thighs and perfectly flawless skin on display without any concern for sending out a positive message to young girls for all these years beats me.
As for the tabloids and the media, we all know when it comes to celebrities, it's a symbiotic relationship; one cannot exist without the other.
So forgive me if I don't see any sincerity in Jennifer Aniston suddenly becoming the poster girl of feminism.
She may be saying it "for the record" but she's said it almost two decades too late.
The views and opinions expressed in this article are those of the authors and do not necessarily reflect the official policy or position of DailyO.in or the India Today Group. The writers are solely responsible for any claims arising out of the contents of this article.