Why we think mapping sexual violence can help prevent it
Are there ways to use our skills and ideas together to create means of preventing abuse and ending rape culture?
In November, I visited schools in Bangalore to help publicise Eat the Sky, Drink the Ocean - a young adults' anthology. What troubled me, at these schools, was that girls were silent, unwilling to talk. When we finally got them to open up, they spoke about their fears. They were scared of going out. Scared, too, of being confined and restricted. They wished for courage to take risks.
The previous month, a number of rapes had been reported in schools in Bangalore newspapers. The media attention was necessary, but for a girl or boy who is facing abuse, this can be even more frightening. Is that what makes these girls so scared? Was it the fear of rape? Were some of them being sexually abused, as I had been as a child?
I've never, myself, spoken about this publicly. My mother suggested that perhaps it was time that I did, if this is what some of these girls were facing - it could encourage them to talk about it openly and at least tell someone who could help them.
Two weeks later, I was invited to the Times of India Literary Festival in Mumbai. Tarun Tejpal, out on bail, had also been invited to speak, though his trial for sexual assault was sub-judice. I was placed in a difficult decision, as a feminist and a writer concerned with these issues - should I attend? Or should I not? If I didn't - this was self-silencing of a different kind. Fortunately, the organisers withdrew Tejpal's invitation, and I did not have to make a choice. But behind the scenes, at the festival – the controversy continued, with arguments about whose side of the story you believed.
It struck me then that a woman, if she is subjected to sexual harassment or violence, takes a great risk in coming forward. One of my dearest friends, the writer and poet Meena Kandasamy, has spoken out about her own experience of sexual violence - and I have seen her receive flak and criticism, been subject to continuous harassment, for speaking out.
It is not easy to speak out. It requires great courage. It's not just you who is affected - your family is too. You risk being called a "whore". Your credibility is judged by the clothes you wear. Your entire past is put out for public scrutiny.
But silence, too, exacts a price. For years, after experiencing sexual abuse, I couldn't bear to be touched. I cringed even when my father, the gentlest man I know, tried to hug me. Five years passed before I could tell my family.
So how do we talk about sexual violence? How do we encourage more openess and discussion?
Could fiction offer a way?
I started to discuss this idea with Meena and another dear friend (and aunt) Indira Chandrashekhar, who runs Out of Print, an online literary magazine. We put out a call for fiction and non-fiction writing about sexual and gender violence.
We were stunned by the overwhelming response we recieved. The huge generosity of writers and others to contribute to this project astounded us. Out of Print can not afford to pay writers or editors - everyone gave their work for free.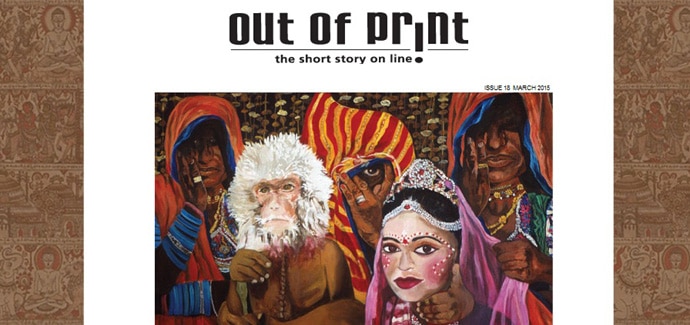 Farah Ghuznavi, whose story depicts child sexual abuse, told us that she originally wrote her story to remind adults to listen to children - "To catch what is NOT being said out loud. And above all, to discern what can be heard, sometimes faintly, in between the rhythms of the words being spoken."
It's not just women and children who are affected by sexual violence, as Kannada writer Vasudhendra's story "Bed Bug" reveals, it also happens to men.
By working collectively, I realised we can achieve so much more. Meena contacted the brilliant Hindi writer, Ajay Navaria - who gave us "Honour", about the rape of a Dalit woman. But how do we get it translated? I got in touch with one of the best Hindi translators I knew, Sudarshan Purohit, a software engineer based in Bangalore. Ajay's story was more than 8,000 words long - and Sudarshan had just a fortnight to translate it. He did it on his long commutes to and from his workplace, on his laptop in an office cab.
The pieces in this issue, we hope, will provoke much discussion and insight. Reading Urvashi Butalia's and Navsharan Singh's paper on impunity just at the time that India's Daughter was banned was revelatory.
It was interesting to read this paper in conjunction with Pavithra Srinvasan's story "The Good Wife", which draws upon an ancient Tamil folk tale. Set centuries in the past, the story is about issues that still resonate today - sexual violence and impunity, and the social destruction that results if impunity persists.
Meena and I began to realise the need for extending the conversation out. Meena proposed the idea of "Mapping Sexual Violence" - a map where all can post their stories of sexual violence. Along with Indira, we also started to think about the ways that infrastructure, architecture and geography interact to prevent or enable sexual violence. At the same time - I spoke to a friend from Turkey about Kuzhali Manickavel's story about sexual abuse on board a bus - and we started to notice a pattern. The Nirbhaya rape, the rape and murder of Ozegan Aslan in Turkey, the rape in an Uber cab in Delhi in December, the sexual harassment the Rohtak sisters faced - all happened aboard cabs and buses.
Is this a pattern? It made me start to wonder that if, as Kejriwal suggests, 15 lakh cameras are one way of countering sexual violence; perhaps, some of these cameras should also be placed onboard public transport.
We didn't think that "Mapping Sexual Violence" would be possible at first, but I got in touch with a software engineer friend in the US, Punyashloka Biswal, to discuss the feasibility of creating this map. He generously volunteered his time after work, into the wee hours of the morning, to create this site.
This also made me start thinking about ways in which we can start a constructive, proactive dialogue on sexual violence. My friend Punyashloka devoted his time to the website because he wanted to contribute in some way to tackling this issue. Are there ways we can combine our skills and ideas to create means of preventing sexual violence and ending rape culture?
Sometimes it's just about making the right contacts and bridges. I spoke to my own father who, as a retired bureaucrat, has decades of experience dealing with government machinery and has given advice when my own friends have had to deal with the police, registering domestic or sexual violence cases. We have started thinking about ways in which he can advise more women facing such issues.
Perhaps it might be time for all of us to bring our skills and expertise together - writers, retired government officials, urban planners, software engineers, activists, editors, graphic designers – and to think of ways to prevent and tackle sexual violence head-on, and start shaping cultural change.
I may be over-ambitious and naive. But perhaps it is time to dream big.
The views and opinions expressed in this article are those of the authors and do not necessarily reflect the official policy or position of DailyO.in or the India Today Group. The writers are solely responsible for any claims arising out of the contents of this article.