Life
[Photo essay] How gallant porters of Zanskar Valley wade through icy chaadar
They are a sturdy lot on the job that is hard and gruelling.
Eirliani Abdul Rahman
"Kyunki tum hi ho
Ab tum hi ho Zindagi,
Ab tum hi ho..."
(Translation from the Hindi: "Because you alone are/Now you only are/ Life. You're my life.")
Searing words, courtesy of our driver's personal music collection. The porters - our porters - revelled in the music after a week's exertion. They sang, their rough voices mixing with the wind coursing through our white mini-van.
We were in the Zanskar Valley, parts of which are considered some of the oldest continually inhabited places in the world. The Zanskar covers some 7,000sqkm (2,700 square miles), at an elevation of between 3,500 to 7,000m (11,500 to 23,000 feet).
There are some 200 porters in the Zanskar Valley, inhabited by about a thousand people. They work in January and February of every year, when the frozen Zanskar river forms the "chaadar" (Hindi for "blanket"). For the adventuresome: the only way to see the former Tibetan Buddhist kingdom, otherwise cut off from the rest of the world.
They are a sturdy lot, the porters. Here, Rinchen (left), Chamba (centre) and Nawang are unloading their sleds, packed with camping material, kitchen paraphernalia, food and trekkers' personal items.
A close-up of Nawang and Chamba. They start young: usually at the age of 15, assisting their fathers. Most of the men are in their mid-to-late 20s. We had ten porters and two cooks for our team of nine people.
The sleds the porters used to ride over the icy chaadar. Where the chaadar is not fully formed, the porters would have to carry these sleds and the accompanying baggage on their backs up treacherous slopes and switchback trails.
Lobzang, the head cook. All of 28-years-old, he hails from the village of Sani, of the yellow mustard flowers and gleaming white stupas, photos of which he proudly showed me on his phone, from the halcyon summer days.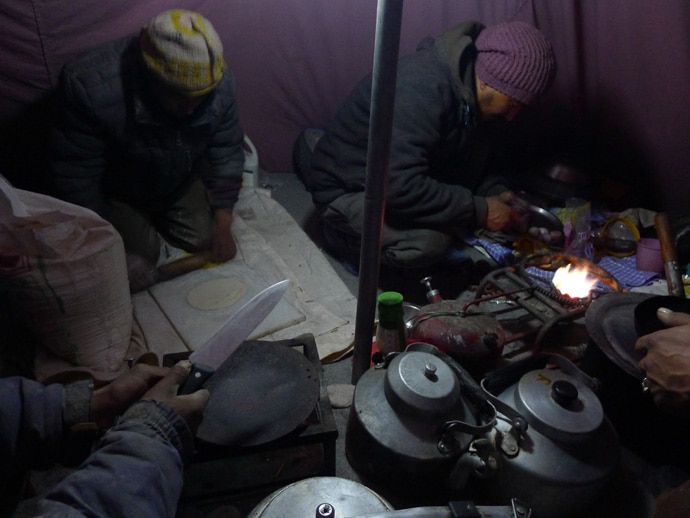 Cooking is a serious affair, with Kunzang as assistant cook, and other porters pitching in. Breakfast varies from "puri" (deep fried unleavened bread) eaten with spicy "chhole" (chickpea curry), omelettes and pancakes, to cornflakes and milk, to oat porridge. Lunch is a simpler affair of either Maggi noodles, soup or fried rice. Dinner is elaborate: popcorn or "papad" accompanied by vegetable soup for starters, followed by rice, curried vegetables and "paneer" (cottage cheese), or roti/chapati and curry, and dessert: "halwa" or custard.
Our water used for cooking and drinking came directly from the Zanskar river itself. Here, a porter is collecting water from a hole he had broken in the icy chaadar.
A porter's job is hard and gruelling. With the wind chill factor, daytime temperature at this time of year can range from between minus 15 to minus 24 degree Celsius, whilst night time temperature can drop to minus 30 degree Celsius.
Two porters testing the sturdiness of the ice using a rock. They are out to procure water from the river to cook our lunch.
Lobzang, head cook, at a temporary camp as he set about preparing lunch for us. Most of the porters practice Tibetan Buddhism. Islam has spread to the town of Padum, but Muslims are still a minority in this Valley.
Lunch over, all hands on deck as the porters load up the sleds ready to move off ahead of us, to scour a suitable spot for setting up camp for the night. The porters have an uncanny sense of movement and balance on the sometimes treacherous ice. There has been only one fatality so far in recent years when a young local fell through the ice six years ago. His body was found several miles downstream, at the confluence of the Indus and Zanskari rivers.
It is not all work and no play. Here, 28-year-old Norbu is washing his feet, a respite from the day's labour.
Stenzin and Dorje breaking into an impromptu song, beating on a makeshift drum, as Kunzang, Lobzang and Norbu (not in picture) attempted to show me their local dance form, called "floksam" in Zanskari. A delightful performance, completely unexpected, as I waited with them in my usual spot in the kitchen tent in the frigid weather, waiting for dinner to be ready.
Lobzang and his men would have to return to their villages of Sani and Lingshad upriver. And soon: before the chaadar melts again.
The views and opinions expressed in this article are those of the authors and do not necessarily reflect the official policy or position of DailyO.in or the India Today Group. The writers are solely responsible for any claims arising out of the contents of this article.