Shame how ABVP goons got away assaulting DU teachers, students
Violence in universities is getting state sanction as the RSS-affiliate students union gets covert backing from the top.
In a terrible turn of events, Delhi University's prestigious Ramjas College became a site of siege as members of ABVP, the students union body affiliated with the RSS and the ruling BJP, pelted stones, assaulted and injured students, teachers and onlookers at the college who had come to attend a talk by JNU scholar Umar Khalid. The talk was called off eventually and Khalid couldn't even enter the college premises because of the ruckus.
ABVP, accusing Khalid and his supporters of being anti-nationals, violently attacked a number of teachers and students, including DU professor of English Prasanta Chakravarty, former JNUSU vice president Shehla Rashid, JNUSU president Kanhaiya Kumar, among others.
Prof. Prasanta Chakravarty, English Dept. DU attacked by #ABVP, admitted to Hindu Rao hospital. #Ramjas@kanhaiyajnusu @kavita_krishnan pic.twitter.com/g4kVjJUYhP

— Shehla Rashid (@Shehla_Rashid) February 22, 2017
At #Ramjas where it's ABVP versus protesters who are against the way the student party stopped #UmarKhalid from speaking yesterday @TheQuint pic.twitter.com/R37ELuLWeV

— Taruni Kumar (@TaruniKumar) February 22, 2017
Ridiculous. ABVP goons must be punished. Free Speech must prevail. #Ramjas #FreeSpeech https://t.co/8jSezm1QcG

— Saumya Baijal (@saumyabaijal) February 22, 2017
ABVP lynch mob attacked women today outside #Ramjas. In broad daylight in India's capital city. #FootstepsOfFascism https://t.co/omYkU64GpG

— Kavita Krishnan (@kavita_krishnan) February 22, 2017
Dear Press my humble appeal to you is to stop reporting ABVP violence in Ramjas as "clashes"There was no "clash"ABVP attacked; We suffered

— Shehla Rashid (@Shehla_Rashid) February 22, 2017
A number of journalists covering the event were also attacked, as well as students, left activists and others who were there to express solidarity with Khalid despite cancelled talks. Khalid had been accused of sedition last year. Even Shehla Rashid had a talk on Tuesday, February 21, at Ramjas College, which was called off because of violent opposition from ABVP members. It has also been alleged by those present at Ramjas college that Delhi Police didn't stop the ABVP from assaulting the teachers and students, and were most of the time acting like mute spectators of the unfolding shame.
#Ramjas students allege ABVP members entered college today and beat up students who were about take out a silent march against them@htdelhi pic.twitter.com/M1ZYr0LM4V

— Heena Kausar (@heenakausar19) February 22, 2017
Students were threatened, manhandled, while ABVP members tried clicking photos and videos of instigation, in a bid to spread on social media malignant rumours about supposed "anti-national activities" in the college premises. PG homes of women students were raided, and threats were issued, while students were identified for later-day intimidation, eyewitnesses said.
More disturbing report from #Ramjas college, DU, today.Students locked inside college, being beaten and threatened, while police watches.

— Yogendra Yadav (@_YogendraYadav) February 22, 2017
#ABVP protestors clash with the Delhi Police outside the #Ramjas college. pic.twitter.com/gO0MqcjgCK

— Friends of Congress (@friendscongress) February 22, 2017
It is extremely sad that one of the biggest and most prestigious universities in the country has become the private fiefdom of a students union body that is doing the ruling party's bidding and giving vent to its communalised agenda at every opportunity.
ABVP is instrumental in deteriorating the educational environment in every major university with a sizeable liberal arts and humanities departments and such subjects on offer, decimating these subjects of inquiry systematically, while vitiating the atmosphere with their rabid attempts to saffronise education.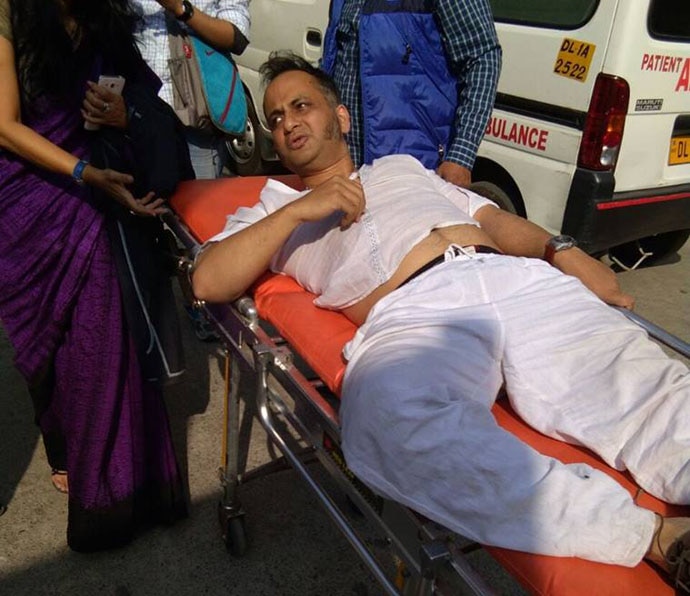 Professor Prasanta Chakravarty of Arts Fcaulty, Delhi University, was injured by assaults from ABVP members at Ramjas College this afternoon. [Photo: @IndianExpress/Twitter]
The deafening silence from the administration as well as the complete non-cooperation with the affected teachers and students in DU is a testament to the compromised nature of law and order in the national capital.
Delhi Police allowed the ABVP to assault the innocent teachers and students, internationally respected professors who are much loved by their students. Journalists doing their job at the spot found themselves brutalised, their phones snatched and smashed, their hair pulled and faces punched.
Heavy police deployment at Ramjas College in anticipation of JNU student Umar Khalid's talk, which was cancelled. [Photo: India Today]
The complicity of Delhi Police and ABVP, who seemed to be in cahoots with each other, came to light more clearly when later the cops refused to lodge an FIR at the Maurice Nagar police station in North Campus, DU. Even the university administration refused to take any action. There have been no official condemnation from the Union home minister since law and order in Delhi is a central subject.
DUTA president assures full support to us,has called a protest condemning ABVP hooliganism outside Police head quarters on 24th Feb. #Ramjas

— Ratnpriya. (@jimmy9_girl) February 22, 2017
ABVP-AISA students clash: Police removing students seated outside Maurice Nagar police station pic.twitter.com/4kRS22CTz1

— ANI (@ANI_news) February 22, 2017
This disgusting display of political power by the attache of a ruling party is quite unprecedented in its blase and unapologetic brutalisation of the university community. Whether it's JNU, Jadavpur University, Hyderabad Central University, Jodhpur University, IITs, BHU, among other institutions of learning, the presence of ABVP and its gaining foothold into these spaces of learning has turned the climate of intellectual inquiry into a toxic game of oneupmanship and brazen powerplay.
More texts from North Campus. #Ramjas pic.twitter.com/jOrZKco2ZA

— Jugal Mody (@omfgthelife) February 22, 2017
When the government fails to answer uncomfortable questions, it sends hooligans in the garb of #ABVP activists to curb #dissent? #Ramjas

— Neha Dixit (@nehadixit123) February 22, 2017
To set record straight: ABVP louts attacked female activist in front of me. I intervened & was assaulted. If thats partisan so be it #Ramjas

— Aditya Menon (@AdityaMenon22) February 22, 2017
With more and more incidences of violence happening at university campuses, and the involvement of ABVP in each and every one of these instances, we need to ask why this state sanction of violence on students and teachers not being taken into account by the central government? If this isn't systematic destabilisation of higher education in India, if this isn't stymying of intellectual inquiry in the country, then what is?
Also read: How can Delhi Police use doctored videos for another crackdown on JNU?
Watch: