What BJP IT cell head Amit Malviya doesn't get about defending PM Modi following trolls on Twitter
His regrettable dive into a pool of whataboutery is cringe-worthy but expected.
A recent article on Huffington Post by Sandip Roy raised a question that we are grappling with today: "Is Amit Malviya BJP's biggest liability right now?" Malviya's latest statement, as the head of BJP's IT cell, on behalf of the party, answers that question without us having to reach an exact conclusion. It's not either a "yes" or "no".
The September 5 assassination of the senior journalist, rationalist, activist and vocal Hindutva opponent - Gauri Lankesh - was met with something more than the obvious emotions that are shock, grief, horror and rage. It was also met with glee and vindication from a sizable chunk of the self-identified "Hindu Right" on the internet.
Several Twitter accounts, a few of which are also followed by Prime Minister Narendra Modi, and other Union ministers as well, celebrated Lankesh's murder, called her names (like "Naxal" and "bitch"), and rationalised her death by pointing out that she was no different from Burhan Wani – the Kashmiri Hizbul militant who was killed in an encounter in July 2016.
Photo: Screengrab
In the aftermath of such toxicity, some of it unofficially sanctioned, by virtue of a digital aashirwaad from Narendra Modi because of a "follow back", led to several Twitter users blocking the prime minister's personal Twitter handle – an account that has more than 33.7 million followers.
Arguments can be, and have been, made about the merits and the demerits of this fascinating form of peaceful online protest. On the one hand, one can hardly deny that Twitter (among other social media streams) is how the prime minister chooses to interact with his voters. Narendra Modi, perhaps being disdainful of the traditional, liberal media, has practically eliminated it as the mediator between him and his voters.
Hence, a very public and visible form of protest, in which citizens of India post screenshots of them blocking Narendra Modi's personal Twitter handle, while trending #BlockNarendraModi, can be a huge embarrassment for the PM and his government.
On the other hand, it is imperative that a close watch be kept on his social media activity, given that it is the only point of contact the press has with the most important elected office in this country. As Meghnad S argues in his DailyO column: "It is a good thing to keep a channel of communication open with the prime minister of India. No matter how useless or pointless it may seem, just keep the option open."
Demand for unfollowing trolls is justified
Whichever side of the argument one subscribes to, it will ultimately be the more rational side, given how the Bharatiya Janata Party (BJP) has chosen to react to it, which is vintage bhakt illogic. The aforementioned BJP "liability" Amit Malviya, in a statement (again released on social media - via BJP's official Twitter handle), chose to forego reason and dive into a pool of whataboutery that is cringe-worthy at best, but hardly unexpected.
The statement reads:
The controversy over Prime Minister (PM) following people on Twitter is mischievous and contorted. PM Modi is the only leader who freely engages with people on social media platforms. He follows normal people and frequently interacts with them on various issues. He is a rare leader who truly believes in freedom of speech and has never blocked or unfollowed anyone on Twitter. We have multiple examples of leaders curbing free speech on social media, including the previous PMO handle.
PM following someone is not a character certificate of a person and is not in any way a guarantee of how a person would conduct himself. However, PM also follows Rahul Gandhi, who is accused in loot and fraud. PM also follows Arvind Kejriwal, who abused him on Twitter, and told a woman, "settle kar lo," when she complained of a party member molesting her. PM still follows Parthesh Patel, a former BJP volunteer who joined Congress and abused PM in the worst possible language.
This debate is also a one-way street. Rahul is never questioned for the abuse by Tehseen Poonawala, who also happens to be his relative. Kejriwal is never the abuse and rape threat his supports shower on others. Thus, this debate is not only farcical and fake, but also an exhibit of selective right to freedom of expression.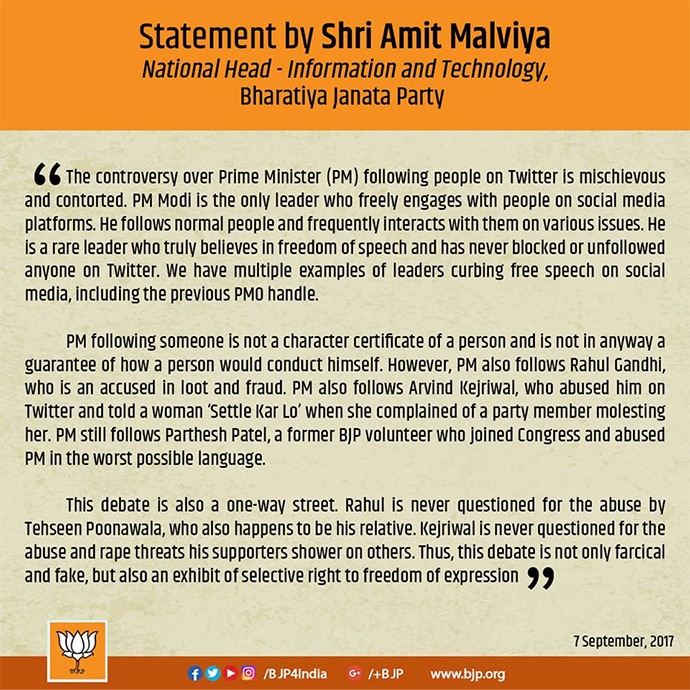 Photo: Twitter
There are several arguments and assertions in his statement that are more than questionable.
Malviya's sham defence
First and foremost, is the use of rampant whataboutery. This is classic BJP/BJP supporters/Nationalists/troll/bhakt logic. From the makers of "What about 1984?", "What about killing fields of Kerala?" and "What about Malda?" comes their latest production: "What about Rahul Gandhi and Arvind Kejriwal?"
Just because Rahul Gandhi and Arvind Kejriwal are supposedly wrong in BJP's rationale, that does not make Narendra Modi right.
Second, comparing Rahul Gandhi to Narendra Modi makes less than zero sense, considering that the former is a low-hanging-fruit in the form of the Congress vice-president, and the latter is a man who was elected into the office of the prime minister with a massive mandate, that of development.
Third, the bit about Narendra Modi being a "rare leader who truly believes in freedom of speech and has never blocked or unfollowed anyone on Twitter"; Pratik Sinha, the co-founder of Alt News, a fact-checking website/media watchdog, pointed out that Narendra Modi had, in fact, unfollowed Dr Jwala Gurunath, after she accused Tajinder Bagga, a BJP spokesperson, of unethical behaviour – ironically something he blames Arvind Kejriwal of doing, in his statement.
Where @malviyamit lies about PM not unfollowing anyone coz he did unfollow @DrJwalaG after she accused @TajinderBagga of unethical behaviour https://t.co/xnARcFe1tX

— Pratik Sinha (@free_thinker) September 7, 2017
SS from April'15 of @DrJwalaG's profile when she used to be followed by PM Modi. Not anymore. @malviyamit bluffs via @BJP4India handle. pic.twitter.com/ODGKeaxnSm

— Pratik Sinha (@free_thinker) September 7, 2017
But Amit Malviya has never shied away from intentionally spreading misinformation to better the cause of BJP, has he? Recently, after the riots that followed the CBI court's rape verdict on Dera Sacha Sauda chief Gurmeet Ram Rahim Singh Insan, Malviya tweeted a picture of Rahul Gandhi saying, "Rahul Gandhi visited Dera Sacha Sauda as recently as Jan 2017 to seek support... Congress rules Punjab. What quid pro quo did they promise?"
Amit Malviya. [Photo: Screengrab/YouTube]
It's, of course, of no consequence that the photo did not have a single DSS member in it. In fact, almost immediately after the tweet, it was pointed out to him by various Twitter users that the picture was from an Indian Express article about the Congress leader visiting Dera Sach Khand Ballan, to meet its head Sant Niranjan Dass.
That tweet by Malviya still remains firmly in place, with no clarification having been issued whatsoever.
Incidentally, Malviya's disdain for the liberal media has been open knowledge for a while now. In November 2016, when Lankesh was convicted in a defamation case against a BJP MP Prahlad Joshi by a judicial magistrate, Malviya tweeted, "Prahlad Joshi, BJP MP from Dharwad, gets Gouri Lankesh convicted in a defamation case. Hope other journos take note."
Amit Malviya's statement, which was then shared both on Facebook and Twitter, was "well received". It should be noted that unlike RS Prasad, the Union minister for law and justice, and information technology, Malviya's statement does not even try to condemn the toxic behaviour of trolls who are followed by Narendra Modi.
But of course, "[the] PM following someone is not a character certificate of a person".
Dear @PMOIndia hate speech, communal incitement, death threats are not FoE. You appear to be confused. And, are egging on criminals. pic.twitter.com/ROU1ODRbJ6

— Swati Chaturvedi (@bainjal) September 7, 2017
This is the most savage self-own I have ever seen on this glorious website. Please read every word of it. Amit Malviya is a legend. https://t.co/a1O57GRL1w

— Vinay Aravind (@vinayaravind) September 7, 2017
Man the limits modi is willing to go to continue following trolls. He must love them a lot. So much for caring about women. https://t.co/oyymfTG8E9

— Dushyant (@atti_cus) September 7, 2017
Hey @malviyamit are you sure @narendramodi ACTUALLY AGREES with this bilge? Aren't you ashamed peddling such tripe using @PMOIndia's name? https://t.co/wJXS8i1VGr

— #DestroyTheAadhaar (@godavar) September 7, 2017
So @narendramodi following bigots and those who incite communal violence is just imagination?Or is this acceptance that he won't unfollow https://t.co/GUwi8vPxni

— Ankit Lal (@AnkitLal) September 7, 2017
Q: Why does PM follow abusive handlesA: What about Rahul Gandhi?Well done Amit Malviya. Acted liked a true troll https://t.co/W84p5ppZJu

— SamSays (@samjawed65) September 7, 2017
"PM follows normal people"....As opposed to? Either way, where is need for PM's twitter handlers to follow people glorifying violence? https://t.co/QLxfImn4MR

— Suhasini Haidar (@suhasinih) September 7, 2017
Amit Malviya's ineptitude is mind boggling. https://t.co/s5Ykm0oqga

— अंशुल (@Ghair_Kanooni) September 7, 2017
What a disgusting justification for India's Prime Minister following some of the most abusive & vile trolls on @Twitter. How low can you go? https://t.co/TwScGmnGh6

— Salman Anees Soz (@SalmanSoz) September 7, 2017
Wow! @rsprasad condemns the celebration of #GauriLankeshMurder on SM, BJP IT cell calls it 'normal', says PM follows 'normal people'! https://t.co/NmOKZVg1Re

— Dipankar (@Dipankar_cpiml) September 7, 2017
Amit Malviya may look like a liability from where the liberal media and the urban elites stand. But Amit Malviya continues to direct BJP's social media strategy because of his stubborn insistence to keep repeating ad nauseam these exercises of overt and covert support to the BJP troll base. That is why, even his official defence of the PM following trolls, is so churlish, like a school bully hatching an elaborate apologia for his incessant bullying and shifting the blame on the recipients of the abuse.
Malviya, like the garden variety troll on the internet, knows how to transfer blame on to those who criticise. He knows the language these trolls speak. And most of all, Malviya knows how to send a message to his target audience, without upsetting his boss, PM Modi himself.
From the BJP's point of view, especially in light of the public relations trainwreck of a couple of months they are having, Malviya is an asset who will help them alienate the dissenters further, while creating the even more perfect echo chamber for the BJP and its supporters.
Also read: Why I disagree with people wanting to block Narendra Modi on Twitter
The views and opinions expressed in this article are those of the authors and do not necessarily reflect the official policy or position of DailyO.in or the India Today Group. The writers are solely responsible for any claims arising out of the contents of this article.