Why India is looking stronger in Greater Asia more than ever
New Delhi has many aces up its sleeve.
Three recent developments have transformed the region's geopolitics.
First, United States secretary of state John Kerry in Delhi last week announced a US-India-Afghanistan trilateral axis to protect regional security. Pakistan was pointedly left out.
Second, the Indian government reaffirmed its clear-sighted new policy on Balochistan and Pakistan-occupied Kashmir (POK). A firm but nuanced policy on Balochistan, which comprises 44 per cent of Pakistan's territory, will yield strategic dividends.
Third, the G-20 meeting in Hangzhou, China, earlier this week re-emphasised India's pivotal role in "Greater Asia".
From Egypt to Vietnam, India's geopolitical arc of influence now rises up from the Middle East to the Central Asian Republics, dips through the Indian Ocean, and sweeps across the South China Sea.
US support
The US is fully on board with this strategy of Greater Asia and India's pivotal role. Washington has little choice. China presents a growing threat to US economic and military hegemony.
China's GDP is already larger than America's in Purchasing Power Parity (PPP) terms. Even at current exchange rates, China's economy is well over half of America's and will surpass it within the next decade.
China's defence budget ($146 billion) is dwarfed by America's $600 billion annual military spending but Beijing is catching up fast. Washington needs a strong counter to China in Greater Asia.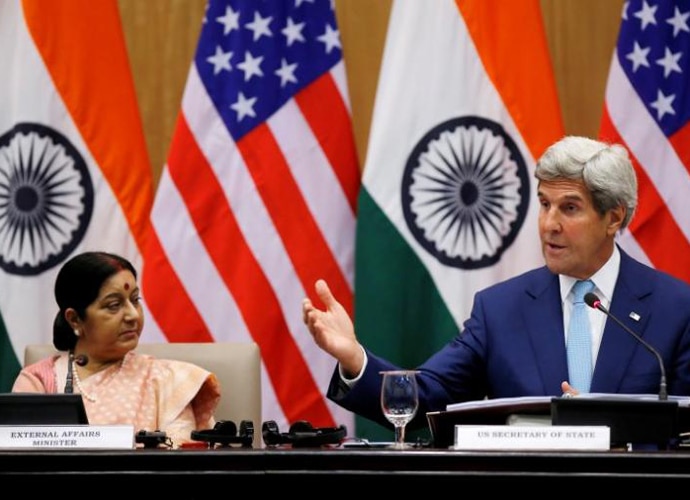 Minister of external affairs Sushma Swaraj and US secretary of state John Kerry in Delhi last week. (Photo credit: Reuters)
India alone fits the bill. That is why Kerry repeated President Barack Obama's homily in Delhi: "The India-US relationship is the defining partnership of the 21st century."
China is relatively isolated. Its neighbours distrust it. That is a predicament it shares with Pakistan. Islamabad is distrusted by virtually all its neighbours:
Iran, Afghanistan, India and, though it doesn't share a border, Bangladesh. China is similarly distrusted by its neighbours: Vietnam, Japan, the Philippines and other littoral states.
Beijing's cavalier disregard of the award against it by the Permanent Court of Arbitration (PCA) based in the Hague, Netherlands, in its maritime dispute with the Philippines shows the contempt with which it treats international law.
China's rhetoric against the award under the United Nations Convention on the Law of the Sea (UNCLOS) has damaged its international reputation.
In Pakistan, it has a like-minded ally. Countering the China-Pakistan axis needs a calibrated strategy by Indian policymakers.
The first step was to ring fence and neutralise traditional Pakistan allies like Saudi Arabia and the United Arab Emirates (UAE) following Prime Minister Narendra Modi's visits to both counties.
The unity of the Organisation of Islamic Cooperation (OIC) over Kashmir too has been broken. Syria recently rejected the OIC line favouring Pakistan and publicly declared that India should solve "Kashmir in any way it wants".
This was the outcome of a successful visit to Damascus by the minister of state for external affairs, MJ Akbar.
Anxious Pak
The visit of Egyptian President Abdel Fateh el-Sisi to India on his way to the G-20 summit in China last week demonstrates the success the Indian government has had in eroding the support Pakistan traditionally sought and received from the Middle East over Kashmir.
Pakistan is anxious that the lifeline to its economy, the $46-billion China-Pakistan Economic Corridor (CPEC), goes through without a hitch.
But there are two problems.
The first is the mounting insurgency in Balochistan where the CPEC begins at Gwadar port and traverses through several hundred miles of hostile Baloch territory.
Pakistan has committed 10,000 security personnel to guard the corridor in Balochistan to allay Chinese fears of terror attacks by the Taliban.
Over 8,100 of these men are already in place guarding an estimated 9,000 Chinese working on CPEC projects in Balochistan.
The second problem is Gilgit-Baltistan, formerly known as the Northern Areas. It is six times larger than the rest of POK. Its people are constitutionally citizens of India.
The CPEC passes through Gilgit-Baltistan on its way to Xinjiang, China's large restive province. The people of Gilgit-Baltistan have been protesting the appalling conditions in which they live. They have little infrastructure and no freedom.
China concern
The Chinese are hyper-sensitive about Islamist terrorism being exported to Xinjiang which has a significant Muslim population.
China has warned Islamabad that most of the terrorists infiltrating into Xinjiang are trained in POK and receive sanctuaries there.
Foreign secretary S Jaishankar (a former ambassador to China and the US) has recognised the need to recalibrate India's foreign policy.
The Prime Minister's Office has endorsed a proactive strategy on Balochistan, POK and Gilgit-Baltistan. Pressure on China can now be built in two ways:
One, from the rapidly evolving India-US strategic partnership; and two, from India's growing influence with littoral countries in the South China Sea, especially Vietnam, which the PM pointedly visited a day before the G-20 Summit in China.
India has many other aces up its sleeve, including building closer economic ties with the first anti-Beijing government in Taiwan since the mid-1990s (led by the country's first woman prime minister, Tsai Ing-wen) as well as hosting more free-Tibet conferences in India.
Pakistan, as a vendor state with terrorism as its principal regional export, and China, as a violator of international legal strictures, form a natural axis.
It is an axis that is both brittle and disruptive. A sophisticated counter-strategy must fully use that brittleness to enhance India's pivotal role in shaping Greater Asia.
(Courtesy of Mail Today.)
Also read - Why Modi and Xi need to bring India-China ties back on track
Also read - Modi has raised Balochistan's hopes. Now he must deliver
The views and opinions expressed in this article are those of the authors and do not necessarily reflect the official policy or position of DailyO.in or the India Today Group. The writers are solely responsible for any claims arising out of the contents of this article.