No, India is not suddenly a communal 'Lynchistan'
There are attempts to portray every instance of mob violence not as law and order breakdowns, but religious bigotry.
For the past few days, the headlines across most national media portals have been dominated by the news of the lynching of a Muslim man in Alwar, Rajasthan.
Police at the site of Rakbar Khan's lynching. (Photo: ANI)
This is not the first time that the news of 'lynching' has engulfed the news cycle – the chances of it being the last are slim to none.
The reason I say this is not that we might not have deaths where a mob mentality would take over a certain group of people to indulge in sheer madness, or that I wouldn't want humanity to show some restraint towards their fellow human beings. I say this because of the subtle, and at times, the abrasive manner in which parts of the media paint such acts of violence with religious connotations. The manner in which only those instances of lynching where Muslims were attacked in connection with cattle or beef influence the headlines - as opposed to 'other' instances, horrific as they might be, such as the recent one in Barmer, Rajasthan where a Dalit man was beaten to death for an alleged affair with a Muslim woman. Such events leave little doubt in one's mind that this apparently selective focus could be an attempt to polarise Indians.
Recently, a harmless tribal man was beaten to death in Kerala. But the outrage seemed relatively muted. (Photo: Screengrab)
There has been a slow build-up in sections of the mainstream media to underscore a point that India has turned into 'Lynchistan', specifically from the time the Narendra Modi-led NDA II government came to power in May 2014. The main reason for such lynchings occurring across all India has been given a colour of religion and rarely points to any other sort of lynching, be this related to honour killing, dowry, property and many other such criminally motivated acts. If one were to go purely by the headlines, then it would appear that under the aegis of this government, the majority Hindus are running amok targetting Muslims across India, and the central government is but indulging this as it would help strengthen its vote bank for the upcoming 2019 elections.
Nothing could be more absurd or further from the truth – and such an argument can never find a place in India as our very foundation is diversity.
To give such crimes, all of which are breakdowns of order, a religious or communal shade shows that the media in sections is playing a divisive, diabolical role where it is looking to polarise India. One of the major aims of such politicising is also to suggest that the Modi government is 'non-secular'. A narrative such as this cunningly enough helps shift focus from some of the important issues. The cases of corruption against a retinue of opposition leaders that are sub-judice, or a complete disregard of the faulty fiscal policies of the previous government that ensured only a trickle reached the poor and the needy, the lack of electrification or sanitation as a national policy up until just a few years ago – all nearly get a pass-over at the mere mention that the incumbent government is out there to appease the majority.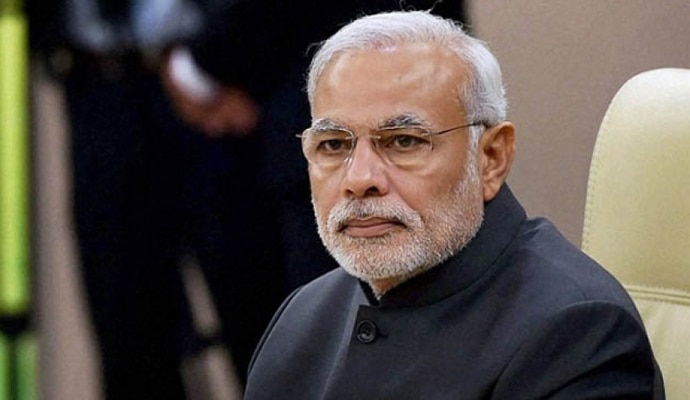 It's also at times about targetting him: Prime Minister Narendra Modi. (Photo: PTI)
The strength of India lies in our multicultural identity. Yet, since 2014 to the present times (read, the run-up to the 2019 elections), the only thing that is belligerently hammered into the conscious minds of the 'voter' is the BJP's right-wing identity – not because of its economic policies, but on the basis of religion and radicalism.
Time and again, these stories have been shown to be either fake or misreported by some media – but by then, great harm has been done.
This harm is not at the cost of the BJP – it's at the cost of the citizens of India who are being forced into a space of polarisation.
The majority community is constantly being tagged under 'Hindutva', which translates in this narrative into the targetting of all Muslims and minorities across India because the BJP government apparently gives them some sort of impetus. This narrative is completely false and doesn't hold as the majority of India doesn't think this way. The majority of India is cohesive, pluralistic and diverse. Therefore, to believe that there has been a rise in lynching to appease this very majority ratifies the suggestion that the majority is a 'killer' lot, which, of course, it isn't – thus the very argument doesn't stand.
But, in a bid to brand the majority of 1.3 billion Indians as people who thrive on polarisation, sections of the media have routinely overlooked the manner in which the menace of meat mafias has seeped into the lives of common people. People on all sides of the spectrum, be it cattle owners, and 'gau rakshaks', including Muslims such as the Meerut-based Aasif, who believes his brother Dilshad was killed by the meat mafia, are at their wits' ends on how to protect the lives of their livestock and their own. One of the most lucrative businesses in the world, the meat mafia has little regard for people and the rule of law – thus, attacks, on animal activists and common citizens have increased manifold, and also on security forces as well. Just last year, cow smugglers entered the NSG camp in Manesar and opened fire.
The fight for cows is actually seen across countries. It is not unique to India. (Photo: Reuters)
It's not just in India that cattle smuggling is life-threatening but also in the United States where, in Texas, the country's largest beef-producing state, "rustling" cattle from their rightful owners is a high-paying activity as the black market offers $1000 for a cow and close to $3000 for a bull. Cattle rustling or smuggling continues to be treated as a grave crime, not because of the love for cattle, but because it affects livelihoods. This is in no way meant to justify 'lynching' – it is only being pointed out to highlight that this isn't a religious or 'India-centric' issue.
Hailing from an agrarian background, I can assure you that cattle smuggling is not a new phenomenon either. In the late 1930s, in his village in Gujranwala, now in Pakistan, my late grandfather nearly lost his life when one night, he noticed unidentified assailants taking off with his livestock. He was attacked by a sword and it was only when he pretended to ask his non-existing aide to 'fetch the gun' did the thieves run away. Had it not been for his presence of mind, he would have been 'lynched' that day.
The media, much like ordinary citizens, is well within its right to question the government and the administration – but it is not their prerogative to polarise and communalise incidents by stressing on only those cases that can be used to achieve this end. There may be a mob mentality at a certain time for a certain issue at hand – but overall, there aren't any communities in India that are into lynching on the basis of religion. The last lynching that happened on the basis of religion was a targeted genocide against the Sikhs in 1984 – it was not by 'Hindutva' or an 'Islamist' brigade but a political pogrom.
1984 still haunts India. (Photo: Facebook)
Lynching is a subject of argument; but I believe that the time when it actually was based on religious identity needs to be brought out. Additionally, no instance of lynching can be ignored till justice has been served. Now, who should be responsible for bringing the perpetrators to book points to the obvious – it should be as much the government in power today as it was the government in power back then. The authorities need to bring to book cow smugglers, people who form a raging mob that takes the law in its own hands, and also those who propagate fake news to fuel such vigilantism, without any favouritism, under any circumstance.
One can't tell whether such an impression of India, and more pointedly, this government as being non-pluralistic is being formed by some sections for the consumption of Indians or an international platform. But the idea clearly is to polarise the common citizens of this country. There are more than enough pointers in much of the media's headlines highlighting how the Congress is a party that appeases the Muslims or the BJP one that appeases the Hindutva brigade. There is very little to highlight how the policies of the government are benefiting all Indians.
How often do we hear their stories? A beneficiary of PM Modi's Ujjawala Bharat Yojana. (Photo: PTI)
I'd thus urge the citizens of India to have it in themselves to take a leap of faith, despite the headlines flashing across their TV screens. There are enough oddballs on either side of the political divide, Hindu and Muslim leaders making statements that fuel the media's urge to fill their 24x7 news cycle. If one were to suggest controlling them, it would be tantamount to curbing freedom of speech, but perhaps the time has come for a diktat to be issued by the powers that be to their leaders to curb their tactics to remain in the 'news'. Any elected leader, now more than ever, needs to be made accountable for any communal statement.
In the end, whoever wins the 2019 elections shouldn't arrive at the cost of a bigger threat – of polarising a people known for their unity in diversity.
Also read: Alwar lynching: How on July 20, India turned into one big lynch mob
The views and opinions expressed in this article are those of the authors and do not necessarily reflect the official policy or position of DailyO.in or the India Today Group. The writers are solely responsible for any claims arising out of the contents of this article.