What does it mean when Census says 42.7% Muslims illiterate in India
It is hard to believe that prejudice is the main reason that the community is so underrepresented.
Newly released data from the 2011 Census reveals that 42.7 per cent of Indian Muslims are illiterate. This is the highest proportion of people mapped by religion who are illiterate by any specific religion, and substantially higher than the Indian average of 36.9 per cent. The women are the most illiterate at 48 per cent (not that much higher than the average 44 per cent), while the men get along at 37.6 per cent (with the Indian average being 30.2 per cent).
To be blunt, I am not at all surprised. All too often among my contemporaries at work, I have been the one of the very few Muslim present – whether as a writer, a journalist or as a policy analyst.
It has rarely impinged on my work, except of the few times when people are discussing holidays, and I find that the few religious holidays I observe – Eid ul-Fitr and Eid ul-Azha – are left out of the holiday schedule.
Nevertheless, at such times, it becomes obvious that Muslims are desperately under-represented in areas where higher education is the main requirement.
As I have been rarely on the receiving end of religious prejudice, I find it hard to believe that such prejudice is the main reason that Muslims are so underrepresented. On the whole, my experience has been that Indian Muslims are just not studying the subjects necessary to have such jobs.
For example, in my class of 60-70 students during my Masters in International Relations, there was one other Muslim students.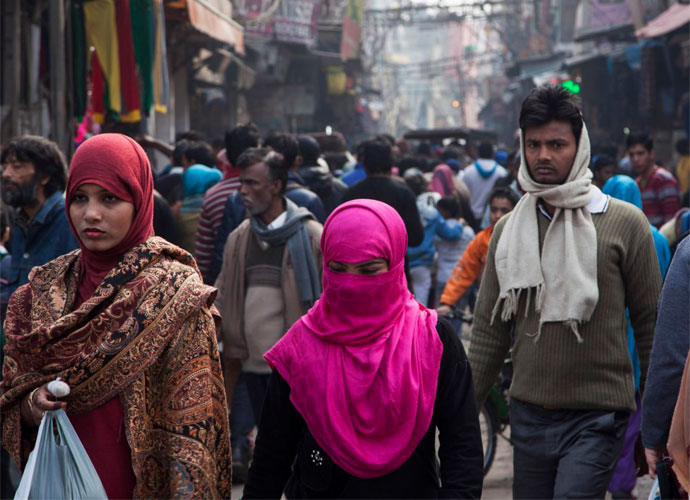 Among Muslims, women are the most illiterate at 48 per cent.
Is it, then, any surprise that there are very few Indian Muslims who are involved in foreign policy, or can try and explain the complexities of the great challenge of Islamic radicalism and its relevance to India at a time when this is a key issue worldwide?
There is another aspect to this lack of education, which is that it is very narrow in scope. Almost every senior journalist or policy analyst that I meet knows somebody in my family on a personal level.
In a country of 1.2 billion people, and with an Indian Muslim population of about 180 million, this should be impossible. Unfortunately it is not, because Indian society is so deeply marked by class and caste. Because my family was one of the few that had achieved the level of education it had, I had the access to a social network that most people did not.
This is what the Census data does not show, but which the Sachar Commission report did. Education levels seem to be an indicator of wealth, and the Indian Muslim community is one of the poorest in the country – marginally better than the SC and ST communities.
It is therefore no surprise that the percentage of people of the SC community who have never attended school is 40.9 per cent, very close to that of the total Muslim illiterate rate.
The one community in the Census with a higher rate of illiteracy than Muslims is the category of "Other religions and persuasions", which is at 49.65 per cent, and includes largely the marginalised tribal communities from various states.
This clear caste/class divide when it comes to education is blurred when we only look at religion as a factor. For both Indian Muslims and those prejudiced against them, this is an uncomfortable fact that is best ignored.
Most Indian Muslims will not acknowledge that caste plays a role in their lives, but it is true. Professions, marriages, and where you live is often an outcome of which family you belong to.
In my father's hometown of Gorakhpur, my family is one of the better off, and therefore there is always somebody at our door asking for financial help. My mother, who is a former teacher herself, started asking about the social conditions of the women who would come to seek her help.
It turned out that many of the women were well educated, but because their husbands either drank away their money, or had died, or were in some way unable to earn, they were not able to make ends meet.
My mother therefore set up a charitable institution, Anjuman-Faiz-e-Aam (the society for the good of all), which included people like her – women who had been, or currently were, teachers. They prepared curricula, provided training and equipment, and a small salary to the women that wanted it, and helped these women to set up small schools in their homes. (The society also set up a stitching centre and extended zero interest loans to buy sewing machines – or gifted them.)
An earlier generation of Muslim leaders understood clearly that without appropriate education Indian Muslims would be left behind. (In picture: Jamia Millia Islamia, New Delhi.)
These women, in turn, ended up teaching the children of the urban poor who would normally skip school. Over time, such neighbourhood schools would become established (they required a good deal of monitoring) and the women would start charging a small fee, and the society would go on to support another young woman.
During the time I helped my mother do this work I learned how clearly society was divided, and how those of us, privileged like me, did little or nothing for the rest. In the grand scheme of things my family, those poor women, and the children they taught, were all part of Gorakhpur's Muslim community, but our social realities were totally different.
I, whose mother, and mother's mother, both had MA degrees, could understand and find a use of education. For those coming from underprivileged families, the education was generally a waste of time because it did not lead to prospects of employment, and delivered no concrete good. Why, then, waste precious time and money on it?
As with many other statistics based on religious denomination, these Census figures are likely to be trotted out as "proof" of either Muslim backwardness or discrimination. In reality they tell us something a little more complex, that the poorer off in India, those marginalised on the basis of class and caste (among whom Muslims are over-represented according to the data in the Sachar Commission Report), are deriving little benefit from education. They are also generally ignored, or abandoned, by the elite of their own communities, as is my experience among Indian Muslims.
This was not always the case. An earlier generation of Muslim leaders understood clearly that without appropriate education Indian Muslims would be left behind. This was the vision behind Syed Ahmad Mohammedan Anglo-Oriental College, now called the Aligarh Muslim University.
It was also the work of Dr Zakir Hussain, the co-founder of Jamia Millia Islamia and, of course, our first minister of education, who not only oversaw the founding of the first Indian Institute of Technology, but also placed particular emphasis on rural education, and the education of girls.
It is a matter of shame that a community that produced such leaders is represented today by such geniuses as Azam Khan, more interested in buffaloes than any progress that education can bring.
Also read: Why are Muslims so backward in India?
Also read: Data proves RSS fearmongering on Muslim population is a big fat lie
The views and opinions expressed in this article are those of the authors and do not necessarily reflect the official policy or position of DailyO.in or the India Today Group. The writers are solely responsible for any claims arising out of the contents of this article.