In Indian 'spy' case, Pakistan made a fool of itself
In a hurry to drag New Delhi and Iran into a scandal, the army ended up with egg on its face.
Pakistan bit off more than it could chew in the alleged Indian spy, Kulbhushan Jadhav case. In a hurry to drag India and Iran in one scandal with a larger aim, the Pakistani army ended up with egg on its face.
By some strange coincidence, Pakistan announced the arrest of Jadhav allegedly working for the RAW in Balochistan around the time the Iranian president Hassan Rouhani was visiting Islamabad.
Having already lodged a protest with India accusing it of fomenting subversive activities in Balochistan, Pakistan made a blunder in dragging Iran in the controversy and landed itself in a hot soup.
Also read: Pakistan is lying about arrest of Indian 'spy'
Before we set the chronology in order, here is how Pakistan is trying to get out of the soup.
On Sunday, Pakistan's interior minister Nisar Ali Khan issued an appeal to the press to avoid linking Jadhav's arrest to Iran. "Iran has nothing to do with the activities of Indian intelligence network," he said.
But the lesson that Iran was not linked with the activities of "Indian intelligence network" was learnt the hard way by Pakistan: Only after Iran warned Pakistan.
Nawaz Sharif with Iranian president Hassan Rouhani in Islamabad, Pakistan.
The Iranian embassy in Islamabad issued a terse warning. It said, "During past days some section of Pakistani media has spread contents regarding detention of an Indian agent and the matter related to it, which could have negatives implications on the fraternal and friendly atmosphere of Iran and Pakistan."
Pakistani hurriedly backed off and began paying homilies to its relations with Iran.
Now the chronology: On March 24, Pakistan announced it had arrested an Indian "spy" working for the RAW in Balochistan.
On March 26, Pakistan's Chief of Army Staff (COAS) Raheel Sharif met Rouhani. According to Pakistani press, military's media wing claimed that the army chief had raised the issue of RAW's involvement in Pakistan's internal affairs, especially Balochistan, with Rouhani.
A statement issued by the Pakistan's director general of Inter-Services Public Relations (ISPR) Lt Gen Asim Bajwa said, "There is one concern that RAW is involved in Pakistan, especially in Balochistan, and sometimes it also uses the soil of our brother country Iran."
Part Text COAS's conversation with Iran's President in today's mtng;"There is one concern that RAW is involved in Pak,spec Bln&sometimes-1

— Gen Asim Bajwa (@AsimBajwaISPR) March 26, 2016
Bajwa further said in a tweet that General Raheel Sharif had asked Rouhani to convey to "them [RAW] that they should stop these activities and allow Pakistan to achieve stability."
also use the soil of our brother country,Iran.I request,they should be told to stop these activities &allow Pakistan to achieve stability"-2

— Gen Asim Bajwa (@AsimBajwaISPR) March 26, 2016
On March 27, the very next day, the Iranian president denied having discussed the matter with Gen Sharif. He told a press conference in Islamabad, "There was no discussion about Indian spy during my meeting with General Raheel."
Bizarre and careless as the Pakistani army's decision to drag Iran may sound, it was a well-planned move.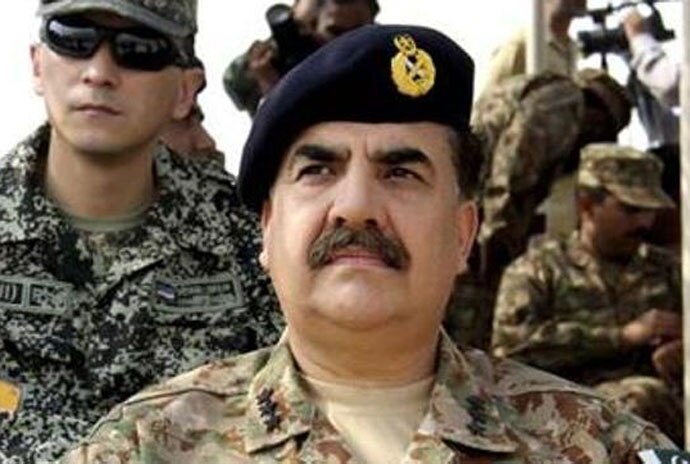 Pakistan's chief of army staff Raheel Sharif.
Firstly, the alleged RAW spy had been arrested weeks before Pakistan decided to make it public and inform India. The reason was the Pakistani army planned to break the news close to the arrival date of the Iranian president in Islamabad.
Secondly, the whole spy scandal is part of a much larger game being played in Balochistan. The region is at the centre of strategic interests of Pakistan, Iran, Saudi Arabia, India and China.
There is Pakistan's naval base at Gwadar port built by China, which is the proposed gateway for $46 billion China-Pakistan economic corridor.
Close to Gwadar is Iran's Chabahar port, which is being developed with assistance of India.
Chabahar, which is outside the choked Strait of Hormuz and lies in the Gulf of Oman with direct access to the Indian Ocean, is in a way India's answer to China's Gwadar.
Once operational, it will open a sea-land route for India to Afghanistan bypassing Pakistan. The redevelopment of Chabahar Port will facilitate supply of energy and gas from Iran to India and beyond.
The Balochistan, in Pakistan as well as in Iran (Sistan and Baluchestan Province) , is restive.
Pakistan is fighting an insurgency on its side whereas Iran too has been facing extremist violence within its border. Iran's Sistan-Baluchestan province bordering Pakistan is Sunni dominated, which works as a pressure point for Pakistan against Iran.
Gwadar port in Balochistan province of Pakistan.
Iran has been facing Sunni extremism with support from Pakistan's Balochistan. Iran and Pakistan have often exchanged fire on the border, which is a cause of perennial tension between the two countries.
It's safe to assume that the Pakistani army chief felt emboldened to take up the issue directly with Rouhani in Islamabad to convey a message that Iran's close links with India in the region will provoke a response from Pakistan that will destabilise the government in Tehran.
Having said that Pakistan too realises that it is home to a large Shia population over which Iran commands considerable sway.
Pakistan's own internal political dynamics, too, is a factor responsible for the blunt manner in which Gen Raheel Sharif conducted himself in dealing with the Iranian president. The Pakistani army handled the whole issue concerning Iran with little no role for the civilian government of prime minister Nawaz Sharif to play.
Pakistan has not yet allowed India consular access to Jadhav. India has to assess the internal dynamics of Pakistan and realise that Pakistan is not ready to give up its anti-India role.
The views and opinions expressed in this article are those of the authors and do not necessarily reflect the official policy or position of DailyO.in or the India Today Group. The writers are solely responsible for any claims arising out of the contents of this article.