Farooq Abdullah, Kashmir's own maverick, never disappoints
He can do anything from advocating 'bombing of Pakistan' to 'holding dialogue with Pakistan'.
Jammu and Kashmir's former chief minister Dr Farooq Abdullah is back to his very best. While in power, Abdullah becomes a loyalist of New Delhi (Indian by compulsion) who thinks Kashmir is a settled issue, but dons the robes of a "half-separatist (Aazadiwallah by conviction)", who favours a political resolution to the unresolved dispute when out of power.
No politician on earth is comparable to our very own Farooq Abdullah Sahib. Neither George W Bush nor Donald Trump from the United States. Not even Lalu Prasad Yadavji from Bihar.
On October 25, the senior Abdullah called on Jammu and Kashmir's governor NN Vohra to impress upon the latter that "relevant quarters should open doors for dialogue and political engagement to end the ongoing political stalemate in the Kashmir Valley". He added that there was no alternative to a political initiative for which "New Delhi must not waste any further time".
About 10 days ago, on October 14, Abdullah dropped a bombshell during a press conference in Srinagar by advocating a friendlier relationship between Pakistan and India. He also urged New Delhi to hold talks with the Hurriyat. After listening to his latest remarks on the Kashmir uprising on television channels, many in Kashmir were left speechless.
After all, Dr Abdullah never ceases to amaze you.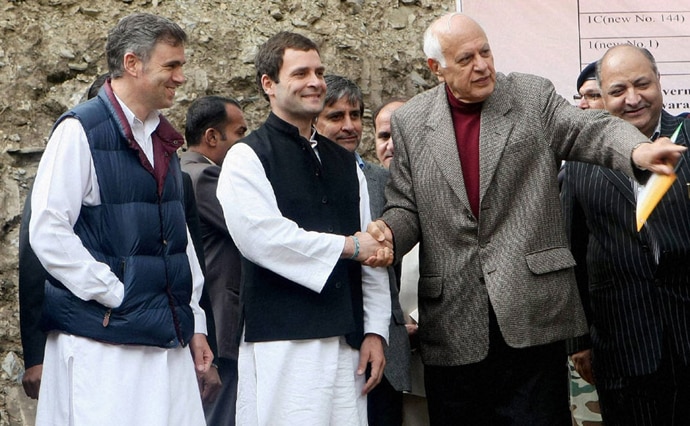 When in power, Dr Abdullah becomes a loyalist of New Delhi who thinks Kashmir is a settled issue. Photo credit: PTI
What did Farooq Abdullah say and why? Talking to the media after chairing a meeting of Opposition leaders from Jammu and Kashmir at his official residence in Srinagar's Gupkar, Dr Abdullah said: "…It is imperative that New Delhi talks with stakeholders within Jammu and Kashmir, including the Hurriyat, and also resume a meaningful dialogue with Pakistan to resolve Kashmir."
He conceded that Kashmir is an internationally recognised dispute for it involves Pakistan, India and stakeholders from Jammu and Kashmir.
Abdullah, Jammu and Kashmir's former chief minister and president of the National Conference (NC), batted for a dialogue between Pakistan and India on Kashmir, on both external as well as internal fronts, to save the region from a flare-up.
Taking a dig at the ruling People's Democratic Party (PDP), he said that they cannot escape their responsibility to initiate the political process. "What has been the progress on this front? We want to know."
He further said that the PDP-BJP alliance document (Agenda of Alliance) also promises a dialogue between New Delhi and Islamabad and all stakeholders, including the Hurriyat.
On the face of it, it appears a very sensible, mature and realistic statement. Pro-peace and anti-war!
A message of this nature coming from a peacenik would not have ruffled any feathers or raised eyebrows, but because it comes from someone like Farooq Sahib, it is bound to stir up a debate. Why now? Why Farooq Sahib?
After all, it was him who not that long ago had advocated "bombing Pakistan".
In power, Dr Abdullah speaks an aggressive language like a warmonger, very identical to that employed by Bharatiya Janata Party (BJP) leaders. Out of power, he becomes a "peacenik" to bat for peace and dialogue.
There is a certain pattern to the statements of Kashmir's so-called mainstream politicians that tells you whether they are in power or out. The most influential political dynasties, the Abdullahs and the Muftis, often speak the language of the Hurriyat out of power, and sing paeans to New Delhi when they assume the chair. They are "soft separatists" when not ruling and turn "patriotic Indians" after winning the elections.
It is precisely why there is a deep-rooted perception in Kashmir that they (the Abdullahs and the Muftis) represent New Delhi in Kashmir, not Kashmir in New Delhi.
Amarjit Singh Dulat, India's former spymaster and chief of the RAW, in his memoir Kashmir: The Vajpayee Years notes that Farooq Abdullah had told KM Singh, then the top IB man in Srinagar, that he had agreed to contest the 1996 Assembly elections for the government of India wanted him to contest, and at the time, he had made it known to the government in New Delhi that he needed a plank to fight an election. "Autonomy had been that plank."
LK Advani, former deputy prime minister and senior BJP leader, in his memoir My Country, My Life, writes how Dr Farooq Abdullah had allowed the issue of Jammu and Kashmir's autonomy to lapse after "Atalji (AB Vajpayee) told Dr Abdullah to decide whether to continue in the NDA at the Centre following the Union Cabinet's rejection of the state assembly's autonomy resolution."
"To his credit, Dr Abdullah allowed the issue to lapse," Advaniji notes.
In a recent seminar "Good Relations Between India and Pakistan Vital for Peace in South Asia", Dr Abdullah said that "even if the entire Indian army is deployed in the state (Jammu and Kashmir), it cannot defend the people against militants and terrorists".
Favouring talks and friendly relations between the two countries, he said, "If it's not done, even Farooq Abdullah, who is speaking in front of you today, will not be there tomorrow. One or the other terrorist will come and kill me." That's not all.
Previously, the news agency ANI quoted him as saying that "Pakistan Administered Kashmir is in Pakistan and will remain. Jammu and Kashmir is in India and will remain. We need to understand this."
The statement essentially challenged India's position on Kashmir. On February 22, 1994, the Parliament of India had adopted a resolution declaring that "the state of Jammu and Kashmir has been, is and shall be an integral part of India and any attempts to separate it from the rest of the country will be resisted by all necessary means."
Abdullah's statement starkly contrasts the stand he had articulated as chief minister of Jammu and Kashmir: "India should bomb militant camps inside Pakistan Administered Kashmir."
Like the West Indies cricket team, Farooq Sahib can come up with any kind of performance to entertain or shock you. Depending on his rhythm, interest, in-power or out-of-power scenarios, he can do anything from advocating "bombing of Pakistan" to " holding dialogue with Pakistan".
I thought of many politicians from Tony Blair to Donald Trump, but couldn't find anyone comparable to Dr Farooq Abdullah!
The views and opinions expressed in this article are those of the authors and do not necessarily reflect the official policy or position of DailyO.in or the India Today Group. The writers are solely responsible for any claims arising out of the contents of this article.