Kashmir's walking dead
If the identity of the Kashmiri Pandits was compromised two decades ago, should I wish the same for the Muslims in the Valley invoking providence?
Let me begin by introducing myself. I am no intellectual, pseudo or otherwise; nor am I an armchair analyst - a term that I use for some television prime time experts.
I can also not qualify as a troll on either side trying to serve a particular ideology because I follow none.
And, it was long ago that politics lost my respect. So I carry no political baggage - Left, Right or Centre.
In fact, I really am just a thoroughly bred Kashmiri Pandit and what I am about to express will not exactly be palatable to many of my Kashmiri Pandit (KP) friends. Due apologies.
Also read: India is seeing a new Kashmir today
But, let the truth be told, for two wrongs never make a right.
If the identity of the KPs was compromised two decades ago, their sons mutilated, women humiliated, their homes taken away, should I wish the same for the Muslims in the Valley invoking providence?
That is not the Hinduism that I was taught or made to practise.
My experience in Kashmir is divided into two phases - pre '80s when honeymoon couples landed in Kashmir (including most distant acquaintances in our own house) and the locals made it memorable for them.
Post '90s, the honeymooners stopped going but I never did. I have visited the Valley every year since, multiple times... terrorism or no terrorism. And I have many stories to share on why the locals may have no strings left attached to India.
One that comes to mind is an evening where I was held up near Hotel Centaur for two and a half hours with a wailing infant (my son) because it was way past his feeding time and they would not let us go to our hotel that was only three minutes away.
The home minister was to arrive for a meeting at Centaur. But arrive he wouldn't and the traffic was snaking up for over three hours. I did what any mother would do... walked up to the front of the line and gave the officer-in-command what I would call "hell" by my own standards of civility.
The disregard and insensitivity being shown in handling the situation was appalling with a long caravan of vehicles carrying children, women and old citizens waiting endlessly.
He was courteous enough and offered to send my car to the other side along with an escort. In the moment, something came over me and I refused.
My deal was that he must allow all the cars to move to the other side or I would personally meet the home minister to apprise him of how to manage his visits to the Valley.
Also read: India needs a referendum more than Kashmiris do
There was some back and forth with his seniors on the walkie talkie, as I was introduced not as an affected mother, but a member of the national media and bingo in the next few minutes, we were all snaking past Hotel Centaur.
Interestingly, the officer gave me the warmest handshake and a telling smile which conveyed a lot that was left unsaid between us. I must have forced him to do what he may have wanted to do personally but was beyond the call of duty.
That was only one example of living with the locals. One winter, I decided to start living in my family house to introduce my children to the local lifestyle that we had cherished as children.
They did experience the beauty of sitting and eating on the floor, wearing a "pheran" with a "kangri" on the side, but my experience as a house keeper was close to being ugly.
The power supply was next to nothing. There were always mile long queues, of mostly women, waiting for basics like kerosene and LPG cylinders. Cooking coal was also in short supply to be bought only in the black market.
Effectively, there were homes and hearths without any means to cook a single meal in a terrain where even water seems to need more than 100 degrees to boil.
Over the years, I saw many acquaintances suffer medical emergencies that could not be handled locally. Many poorer friends died in vain.
I have seen the smartest children in my neighbourhood suffering at the hands of sub-standard schools and local bandh calls. I have seen respectable businessmen go under due to lack of tourism revenue.
And yes, I did see the floods add fury to the lives of thousands of people without means to rebuild a life.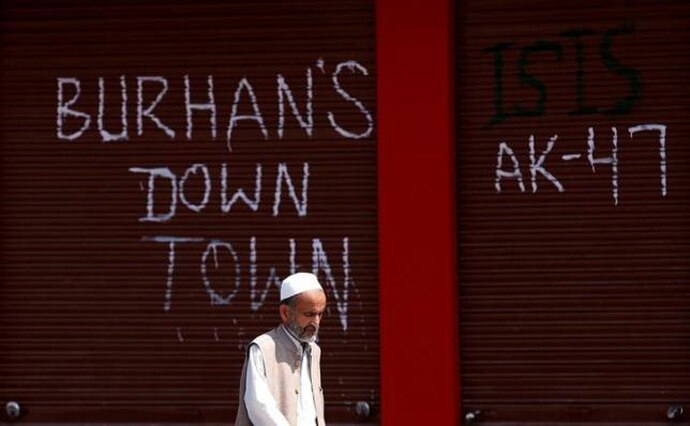 A man walks past closed shops painted with graffiti during a curfew in Srinagar. Photo: Reuters
All I want to submit here to my esteemed friends in Delhi who have taken 5-star holidays to Kashmir and found it "normal", you too would have perhaps come out on the streets pelting stones out of an existential crisis.
For, all these years, you haven't seen Kashmir's stinking underbelly or have conveniently looked the other way. You come back with pashmina shawls and saffron, but no real local experiences.
Remember how we react to the potholes on Delhi roads. To that I can only say, Kashmir has been one big neglected pothole for years that unfortunately neither Delhi nor the local leaders have found a way to fill.
So if by any chance, you would like to romanticise patriotism in Kashmir, living a comfortable life in other parts of India, let me tell you that there is no love lost between Kashmiri locals and the system.
Disengagement and disenchantment of more than 60 years has hardened them to insensitivity.
Also read: India must grant Kashmir azadi from oppressive Army
For those of you asking why children pelt stones, what makes them do it, I would make the extreme argument that if my children do not get the gift of education, health, prosperity and civility in their ecosystem, they would find the prospect of hitting back at an unyielding and indifferent system very tempting.
So collectively, while merit came to the rescue of the Kashmiri Pandits who were always dedicated to their academic and fruitful pursuits (both while being in Kashmir and even after the exodus), the leftover populace of the Valley has suffered at the hands of neglect and terror politics.
Despite the system's apathy, the Pandits survived history but those left behind in Kashmir are the walking dead.
And every passing day, as we drive bullets and pellets into the ailing soul of the Valley, the hope for Kashmir is dying a gradual death.
Foxes like Hafiz Sayeed will send "get well soon" messages from across the border and get more youngsters killed on our streets.
The views and opinions expressed in this article are those of the authors and do not necessarily reflect the official policy or position of DailyO.in or the India Today Group. The writers are solely responsible for any claims arising out of the contents of this article.