Why the BJP looks set to retain its Midas touch in Maharashtra and Haryana
Exit polls suggest BJP will retain power in the two states. But what do the numbers portend for the Congress?
A day after polls in Maharashtra and Haryana, the morning news is dominated by exit polls. While some variation in the predictions, as might be expected, is evident, the polls are unanimous in forecasting the victory of Bhartiya Janata Party (BJP)-Shiv Sena alliance in Maharashtra, and the BJP in Haryana.
The ruling party is all set not only to retain power in both states but also to improve its standing. The Opposition will not only fare poorly, reducing its numbers in both states, but also seems to be on the brink of an unprecedented rout.
Numbers in favour
According to some polls, the BJP may well be close to reaching the magic majority mark of 145 on its own in Maharashtra. For instance, News18-IPSOS gives BJP 141 in the 288-seat Maharashtra Assembly, an increase of nearly 20 seats from its tally of 122 in 2014. Its ally, the Shiv Sena, according to the same poll, will record a massive upturn, almost doubling its number from 63 to 122 seats.
BJP is all set to retain power in both states. (Photo: Reuters)
Both the Congress and the NCP will reduce their seats from 42 and 41 to 17 and 22, respectively. The Times Now poll gives 230 seats to the BJP-Shiv Sena. While the India Today-Axis exit poll furnishes more conservative margins of victory for the BJP-Shiv Sena at 166-194 seats.
In Haryana, the BJP is expected to get 75 out of the 90 seats according to News18-IPSOS, which translates into a two-thirds majority. The Indian National Lok Dal (INLD) once associated with stalwart former chief ministers like Devi Lal and his son, Om Prakash Chautala, faces a total wipeout. The ABP-C Voter forecasts 72 seats for the BJP and eight for the Congress. Times Now predicts 71 for BJP and 11 for the Congress. According to the Poll of Polls, BJP will get 66 and Congress 14 seats in Haryana and in Maharashtra, the BJP-Shiv Sena combine is expected to get 211 sets, while the Congress and NCP combine will just get 64 seats. While the exit polls will cause much cheer in the ranks of the ruling party, they also spell the coming of age and maturing of Maharashtra Chief Minister Devendra Fadnavis.
Being a Brahmin from Nagpur without top-level political experience, he began as an outsider to Mumbai politics. Fadnavis, however, has proved his mettle during his first term as CM. If not a visionary, he is recognised as a competent, even shrewd, politician. He not only managed difficult situations such as the farmers' march or the Bhima-Koregaon agitation but also navigated successfully the BJP's difficult alliance with the Shiv Sena.
Nursery of leaders
Haryana CM Manohar Lal Khattar, a former Rashtriya Swayamsevak Sangh (RSS) pracharak, is a Punjabi, the son of former refugees from Pakistan. He too was an outsider in the Jat-dominated politics of Haryana, to begin with, but has established himself as a solid and stable leader. What both these incumbents, now chief ministers-in waiting, prove is the BJP's ability to nurture and promote credible regional satraps that can complement outstanding national leaders like Narendra Modi and Amit Shah.
Even more importantly, the success of Fadnavis and Khattar show the capacity of the RSS to discover and produce leaders at every stage and state in India. Apart from all its other accomplishments, the Sangh is also a hugely effective and efficient talent scout and head-hunting establishment. Without question, it is the RSS that, in one way or another, is calling the shots in India today. This should be accepted as a reality by those who have sought to demonise its aims, underestimate its abilities, or doubt its determination to transform India.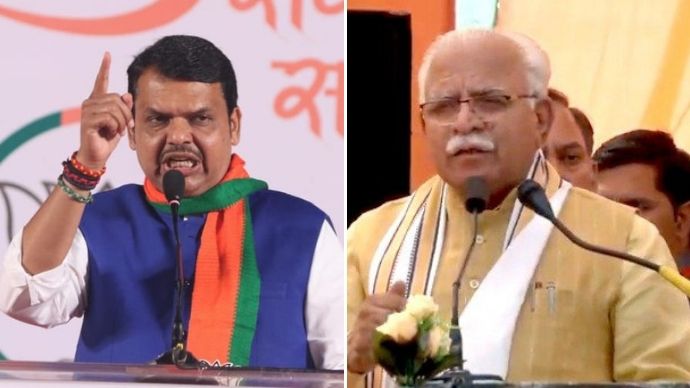 The success of leaders like Devendra Fadnavis and Manoharlal Khattar shows the capacity of RSS to produce leaders at every stage and state in India. (Photo: Twitter)
Opposition trailing
But what do the dismal numbers in the exit polls portend for the main Opposition party, the Congress? The only national party other than the BJP is in a sorry state. Far from providing an alternative to the BJP, it is plagued by internal conflicts, ideological bankruptcy, and organisational confusion. It is not that Congress is totally lacking either in leaders or resources. Nor is that it has entirely lost its place in the hearts of the Indian masses. But it must, if it is to survive, get its act together, sooner rather than later.
This involves, at the very least, resolving its leadership crisis. It remains to be seen whether this means a family supervised devolution of powers or disruption from within resulting out of true intra-party democracy.
But the choice for the Congress is clear: Transform or perish.
It also needs to re-examine and revise its ideological pitch or appeal to voters. Right now, apart from ineffective and blundering attacks on PM Modi, tired and divisive slogans of social justice, and poverty-mongering combined with sop-offering, the Congress seems to have little to offer.
Certainly, its appeal to aspirational the middle-class, which now numbers around 500 million, has diminished drastically. Finally, for regional parties, the news is really bad. Family feuds have squandered previous advantages and caste-pandering doesn't seem to work anymore. So, regional parties have been unable to encash on local issues, whether it is farmers' distress in Maharashtra or urban unemployment in Haryana. Even the Shiv Sena, with its unique place and plank in Maharashtra politics, will face trying times to keep itself afloat and relevant.
(Courtesy of Mail Today)
Also read: Takeaways from Maharashtra polls: Congress-NCP fought to save face, BJP like there is no tomorrow
The views and opinions expressed in this article are those of the authors and do not necessarily reflect the official policy or position of DailyO.in or the India Today Group. The writers are solely responsible for any claims arising out of the contents of this article.