Mahasweta Devi was mother to downtrodden and State's fiercest critic
Her editorials against police excesses in Nandigram and Singur facilitated poriborton (change) of the Left rule in West Bengal.

Romita Datta
"Writing is an activism for me," she once said to a query on whether her identity as a writer overshadowed her image as a social activist.
Always choosing to place herself as an activist fighting for the tribals, the downtrodden, the underprivileged and the marginalised section of the society, Mahasweta Devi, winner of Jnanpith, Magsaysay, Padmashree and Padma Vibhushan awards for her lifetime contribution to literature and social welfare, said that her goal in life would be to protest and fight against the injustice meted out to the oppressed and the tribals till her last breath.
Indeed, till the time she could prop herself up against the pillows on her bed or she could hold a pen between her fragile fingers, which was till the beginning of this year, Mahasweta Devi was engaged in a fierce battle against the system, which deprived, denied and distanced the tribals as outcast.
Also read - O to live again: Writer Mahasweta Devi in her own words
Her editorials in a Bengali daily, which came to be known as the precursor of the much needed change (poriborton) of the 34 years of Left Front rule, were scathing attacks against the government excesses in Nandigram and Singur.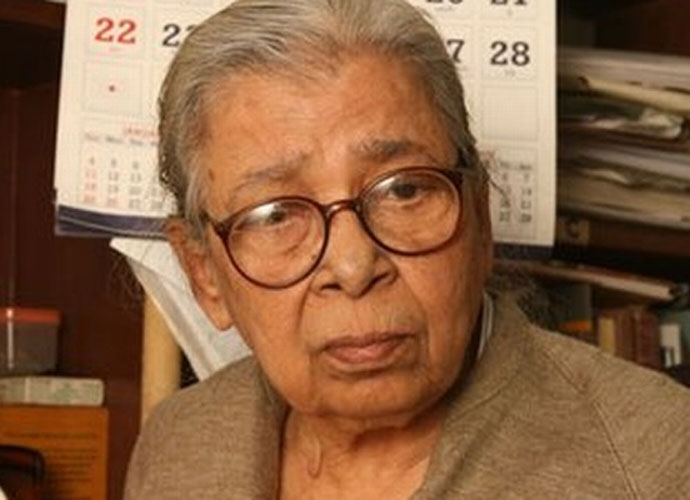 Mahasweta Devi was engaged in a fierce battle against the system, which deprived, denied and distanced the tribals as outcast.
Even though they were strongly rejected by the then Left Front government and there was mudslinging of the worst kind, Mahasweta Devi could not be stopped. She did what she loved doing: giving words to the mouths of the hapless and the helpless, who found it difficult to raise their voice and be heard.
Mahasweta Devi died of multiple organ failure at the age of 90 at a south Kolkata nursing home on July 28 after a prolonged illness for over two months. For the last fortnight she was on life support system after being detected with septicemia.
West Bengal chief minister Mamata Banerjee cancelled her dinner with the president and came back to Kolkata to personally supervise and monitor the funeral proceedings. She tweeted: "India has lost a great writer; Bengal has lost a glorious mother. I have lost a personal guide."
Born in Dhaka on January 14, 1926 to poet and novelist Manish Ghatak and writer Dharitri Devi, Mahasweta Devi moved to West Bengal after the Partition.
She studied at the Rabindranath Tagore-founded Viswa Bharati University in Santiniketan and completed her BA in English Honours from there.
She completed her MA from Calcutta University and took up a career in teaching at Bijoygarh College in 1964. She was married to noted Bengali dramatist and actor, Bijon Bhattacharya. It was a marriage in which the two individuals complemented each other. They resembled each other in their thoughts and their dreams.
Meanwhile, her first book Jhansir Rani (The Queen of Jhansi) was published in 1956 and her first novel Nati was published in 1957.
Mahasweta Devi was recognised for her literary acumen. There was no stopping her and her creativity. Among her masterpieces Hazar Churashir Ma, Rudali, Bioscoper Baksho, Chatti Munda O Tar Tir deserve mention.
She won the Sahitya Akademi award for her well known book Aranyer Adhikar in 1979.
Padmashree and Padma Vibhushan followed in 1986. The Jnanpith award, India's highest literary award, came to her in 1996 followed by the Magsaysay - the Asian equivalent of the Nobel Prize - in 1997 for her lifetime contribution in literature and social work.
She wrote close to 100 novels and 20 short story collections, but was equally prolific in writing editorial and journalistic pieces.
She travelled extensively in the remote tribal areas of the Purulia, Bankura and Midnapore districts of West Bengal. She would spend months on an end with the Sabars, Oraons, soaking in the pain and pleasures of tribal life.
Frank to the point of being ruthless and brazen, Mahasweta Devi, despite her strong liking for Mamata Banerjee and strongly batting for her for the top post of the state, never hesitated to point out the inefficiencies of the Trinamool Congress government.
She was a regular face at various government programmes of the Trinamool Congress regime, but it did not stop her from reacting sharply and calling the government "fascist" when the Park Street rape incident was rubbished by Mamata as fabricated and a professor was arrested for sharing a cartoon of Mamata.
Always choosing to lead her life on her own terms, she was fiercely independent till her last day, staying alone.
The author, hailed as the mother of the Sabars, Mahasweta Devi, however, refused to believe that she was speaking on behalf of the marginalised and the subaltern.
She would say that the subaltern always have their voices. The only thing was that the voices get subsumed and muffled in the mainstream discourse. "I am merely decoding the voices," she would say.
"I have read more books than I have eaten food. The matter of my writing comes from there."
Her humble abode had books on chairs, tables, drawers, dressing tables, lofts and cabinets. There would be many on the bedside table. In the quiet hours of the afternoon, when everyone settled to a summer siesta, Mahasweta Devi would brush away the dust, light her table lamp and adjusting her tortoise shell glasses would pore over and devour printed matter.
As she went on, she would be transported to a different realm of consciousness and understanding and feel at one with the 150 different tribes of the country.
The views and opinions expressed in this article are those of the authors and do not necessarily reflect the official policy or position of DailyO.in or the India Today Group. The writers are solely responsible for any claims arising out of the contents of this article.