Why $75-billion investment from UAE is so important for Modi government
India-UAE Strategic Dialogue is the first giant step in redefining the two nations' bilateral relationship.
This is the crunch time in triggering a paradigm shift in deepening ties between India and the United Arab Emirates (UAE) which has acquired a strategic hue of late.
The upcoming state visit of Abu Dhabi's crown prince Sheikh Mohammed bin Zayed Al Nahyan to India (January 25-27) will determine whether the two sides actually take a giant leap into the future bilateral ties or whether the event ends up as a one-step-forward-and-two-steps-backward kind of process.
The central theme of the foreign dignitary's upcoming India visit will be whether Abu Dhabi comes good on its one-and-a-half-year old pledge of investing US $ 75 billion in India because not a dime of the promised investment has come thus far.
In a way, the detractors can argue, and with some justification, that India itself has to be blamed for this.
The reason is that the promised investment fund from Abu Dhabi, United Arab Emirates, was meant to be in the infrastructure arena and till recently India was still busy in fastening the nuts and bolts of its nodal agency for the purpose, National Investment and Infrastructure Fund (NIIF).
However, this deficiency has now been taken care of as the architecture for receiving and managing any foreign investment, including from Abu Dhabi, has now been put in place. The NIIF is now in place with a corpus fund of Rs 40,000 crore.
NIIF is a fund created by the Indian government for enhancing infrastructure financing in the country and is different from the National Investment Fund. Its creation was announced in the Union Budget 2015-16 and its first chief executive officer (CEO), Sujoy Bose, was appointed on June 27, 2016.
The upcoming state visit to India by Abu Dhabi's crown prince, during which he will be the chief guest at the Republic Day parade marks a crescendo in India-UAE bilateral strategic ties.
A milestone in India-UAE bilateral relationship came about on January 20, five days before the crown prince's India visit, when the two sides held their first-ever strategic dialogue in New Delhi on Friday.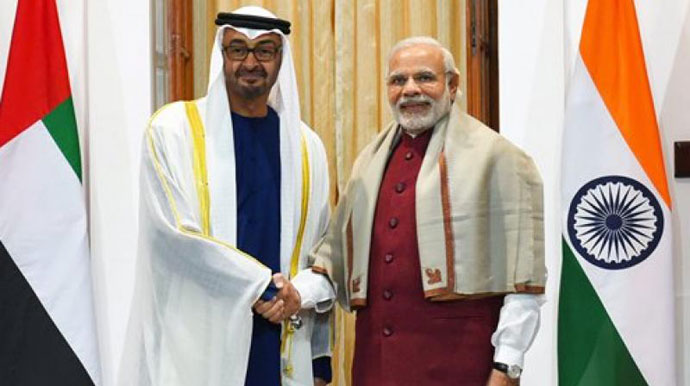 Abu Dhabi crown prince Sheikh Mohammed bin Zayed Al Nahyan will be the chief guest at the Republic Day parade. (Credit: PTI photo)
It signified how close the two countries have come to each other and taken their bilateral relationship to a new level.
India-UAE relationship thus far had revolved around two issues mainly: oil and diaspora. Since Prime Minister Narendra Modi's visit to the UAE in August 2015, the India-UAE relationship has acquired a strategic dimension as during that trip the two powers upgraded their relationship to a "strategic partnership".
The inaugural edition of the India-UAE Strategic Dialogue is the first demonstration of the two countries' foreign offices taking a giant step in redefining their bilateral relationship.
New issues, which have emerged between the two countries and came up for intensive discussions at the strategic dialogue were — (1) trade and investment, (2) defence and security and (3) cooperation in counter-terrorism and intelligence-sharing.
Needless to say that India's arch-rival Pakistan needs to worry a lot in view of such a rich agenda of the first India-UAE Strategic Dialogue. The event may well mark the beginning of the end of Pakistan's traditional strategic stranglehold over the UAE.
Strengthening of India's strategic relations with powers of the Arab world such as the UAE is part of a decade-old "Look West" foreign policy thrust of India for past one decade at least which started when India's relations with Saudi Arabia scripted new history.
India's ties with the UAE have gone from strength-to-strength in the strategic arena, especially with a marked uptick in bilateral cooperation in fields such as defence, intelligence and counter-terrorism. This has virtually put India's arch-rival Pakistan on notice and has caused consternation in the Pakistani civil and military establishments.
Now, let us return to the argument made at the outset: why it is a crunch time in India-UAE bilateral relations.
India and the UAE are yet to traverse quite a distance to realise the fullest potential of their strategic relationship. Their cooperation in energy and trade and investment spheres, for example, is still being fine-tuned, which may happen to some extent during the upcoming visit of Abu Dhabi's crown prince. The most important still-to-do aspect of this is the UAE pledge to invest $75 billion in India, nothing of which has materialised even after one-and-a-half years of that pledge. Prime Minister Modi is particularly restive about the fast fulfillment of the UAE promise as he has completed 32 months of his 60-month tenure.
Abu Dhabi has cleverly not given any time line for its proposed funding and has kept it open-ended.
It will depend on team Modi now to ensure how soon it can make Abu Dhabi walk its talk. If the Abu Dhabi crown prince were to fly out of India without coming up with a specific road map of its pledged investment, it will surely act as a dampener on bilateral ties.
Also read: Why UAE is an ally India can trust
The views and opinions expressed in this article are those of the authors and do not necessarily reflect the official policy or position of DailyO.in or the India Today Group. The writers are solely responsible for any claims arising out of the contents of this article.