Desert Dunes
Not everyone gets a third chance. Ashok Gehlot should not repeat his earlier mistakes
The greatest skills of Gehlot will be tested on how he can take Sachin Pilot along.
So finally, Ashok Gehlot has taken over as the chief minister of Rajasthan for the third time.
It is interesting how he kept the belief of his loyalists and fans that only he, and not PCC president Sachin Pilot, would be the chief minister.
Pilot is the only PCC president not to be elevated to the top office in the state as had happened in Punjab, Madhya Pradesh and Chhattisgarh.
It was Sonia Gandhi and Priyanka who reportedly stood for Gehlot, who also had the full backing of the famous coterie. Rahul Gandhi, the AICC president, ultimately made Pilot the deputy chief minister.
It is yet to be seen what kind of power equation will work out between the two. Gehlot can apparently be very brutal with his rivals, and has successfully cut them to size. Most deputy chief ministers have enjoyed powers that they exercised as a minister. It is yet undecided what ministries Pilot and Gehlot will keep for themselves.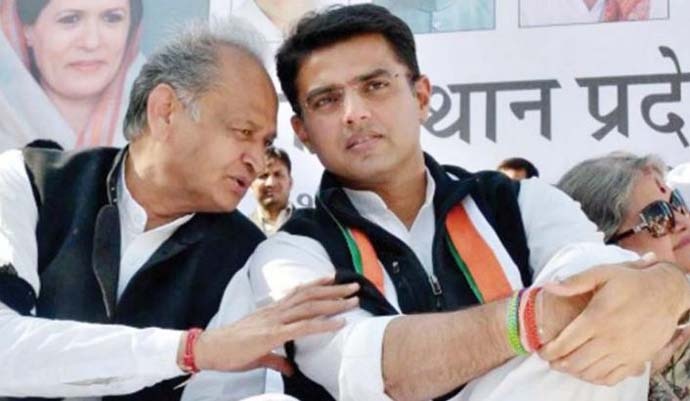 It is yet to be seen what kind of power equation will work out between the two. (India today)
But it is crucial for both to work together, if the party has to do well in general elections expected to be held in June next year.
Generally, people of the state vote for the same party which is in power in the state in the Parliamentary elections too. So, if the Congress doesn't do well, Gehlot will be answerable for it.
Gehlot has a few other challenges before him.
One is to push the Jaipur Metro, his dream project, for timely completion. The second is to speed up work on the Barmer refinery. Besides, he has to take care of the Bhamashah Health Insurance Scheme, along with his pet project of distributing free medicines. Meanwhile, he must worry about finances to fund loan waivers of farmers, where the previous BJP government has already waived certain amounts.
With a 'hostile' government at the Centre, he will find the going tough to generate finances for Centre-sponsored and aided projects. Besides, central agencies have been probing Robert Vadra for allegedly violating the law in the purchase of land in Bikaner, even when Vadra has denied any violation except exceeding the land ceiling, which too was rectified subsequently. Gehlot, it is alleged, is suspected of using inside information facilitating the purchase where solar parks were to come. Gehlot is also an alleged suspect in another case handled by both the CBI and the Enforcement Directorate, relating to 108 ambulance scheme. Pilot is also reportedly a suspect in this case.
But so far, nothing wrong has been found against the two.
Gehlot, hopefully, will learn from his past. He must have realised that election-year tokenism never pays. Given he has monopolised the Congress for three decades in Rajasthan, he has his channels and must create new independent sources by doing away with people with vested interests around him.
Since Gehlot has displayed that he cannot be written off easily, it is time he did something that he is remembered for as an effective chief minister who delivered and built a modern Rajasthan.
But the greatest skills of Gehlot will be tested on how he can take Pilot along. People in the state apprehend that the two centres of power will be detrimental for a state which lags behind other states on most parameters.
(Courtesy of Mail Today)
Also Read: Rajasthan Election Results: Credit for turning a lost battle into a close fight goes to Vasundhara Raje
The views and opinions expressed in this article are those of the authors and do not necessarily reflect the official policy or position of DailyO.in or the India Today Group. The writers are solely responsible for any claims arising out of the contents of this article.