The Bigger Picture
Foolish to even think China will support India's NSG bid
Far from offering something, Beijing believes it is seeing increased New Delhi's truculence.
Manoj Joshi
Foreign secretary S Jaishankar's visit to Beijing last week indicates that New Delhi is undertaking direct diplomacy to obtain China's support for India's membership into the Nuclear Suppliers Group.
This is as it should be. It was foolish and futile to try and somehow shame China into supporting the Indian case.
Actually the first round of diplomacy began earlier, with President Pranab Mukherjee's visit to Beijing last month.
Also read - How Pranab pulled off a balancing act in China
What is not widely known is that the foreign secretary, who was accompanying the president, took the opportunity to engage the Chinese foreign minister Wang Yi in a one-on-one meeting.
What transpired in either meeting will not be known, but the success or failure of the effort will soon become evident in the forthcoming NSG meeting in Seoul.
Trade
Suffice to say, it will make little difference. India has already sought and obtained a waiver to conduct civil nuclear trade from the body and also pledged to follow its rules, whether or not we are members.
However, it will be a dent in the prestige of the government which had hyped up India's efforts to enter the body to the point where being denied entry will be seen as a major setback for Indian diplomacy.
The NSG debate is a good primer of the manner in which world politics functions. To start with the NSG is itself a body that is not based in international law, but a cartel of the powerful, in this case, countries with the capacity to conduct nuclear trade, with whom the only language that talks is power and the only method of negotiation is give and take.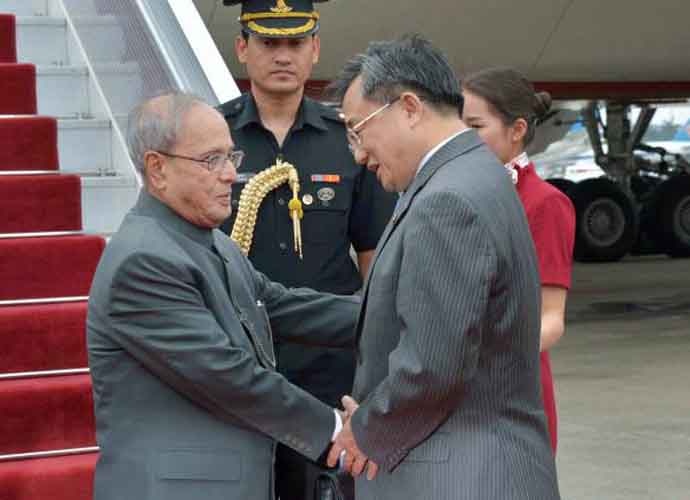 Pranab Mukherjee on China. (PTI)
There are other similar bodies, beginning with the G7/G8 - now somewhat chastened - but which once played the role of the arbiter of the rules of international economic system.
So there is the MTCR (Missile Technology Control Regime), a club of countries which have the knowhow of making missiles, space systems or their components, the Australia group which is a cartel of countries making chemicals and precursors of chemical weapons and the Wassenaar Arrangement with advanced conventional weapons technologies.
Also read - NYT ran an ignorant editorial attacking India's NSG claims
As part of the India-US nuclear agreement of 2008, America promised to ease our entry into all these groups and that was a big thing, because the only country that could achieve this goal was the US, the sole global superpower.
Being cartels and not international agreements, these regimes are not always universal, the major missile and arms exporting power China is not a member of the MTCR or the Wassenaar, though it claims to harmonise its rules with them.
Position
Given this perspective, China's formal position raising the issue of the Nuclear Non Proliferation Treaty was a red herring.
It was not India's refusal to join the NPT that led to the NSG's creation, but its first nuclear test. With the world more or less accepting India as "a state with nuclear weapons," and marking this by the 2008 waiver, that issue should no longer have any salience.
Neither should the Chinese need to assuage Pakistan's angst. Beijing has been a major beneficiary of Islamabad's obsession with India.
It is in its interest to prolong this situation, rather than bringing in Pakistan from the cold.
Also read - Why US senate failed to recognise India as major strategic partner
It is actually all about that oldest issue in diplomacy - give and take. What is India willing to offer to China, in exchange for its support for the Indian application for NSG membership?
Far from offering something, Beijing believes it is seeing increased Indian truculence. New Delhi has gone out of its way to connect freedom of navigation issues with the South China Sea; tried to shame China into placing Jaish-e-Mohammed chief Masood Azhar in the ISIS-al Qaeda sanctions list at the UN; Indian entities with government backing sought to organise a conference of the entire galaxy of Chinese dissidents, and that, too, at the headquarters of the Dalai Lama and the Tibetan government in exile. As it is India has been disdainful towards Beijing's pet initiative, the One Belt One Road.
Membership
New Delhi, however, believes that it has sought to balance its ties with China by participating in the New Development (BRICS) Bank and the Asia Infrastructure Development Bank. India has sought membership of the Shanghai Cooperation Organisation and sought to put an even spin on its position on maritime issues in the communiqué issued after the Russia-India-China meet in April upholding UNCLOS and addressing disputes through "negotiations and agreements" between the parties concerned.
Also read - Tragedy of Modi's India: Where doves don't fly
In June, it dropped references to South China Sea in relation to freedom of navigation issues. It has also indirectly signalled that were it to become a member of the NSG, it would consider the Pakistani application on its merits.
But what will clinch the issue is the deal Jaishankar will be seeking to strike with Beijing. Such deals are not made in public. We can only surmise their existence through the outcomes or in hindsight.
(Courtesy of Mail Today.)
The views and opinions expressed in this article are those of the authors and do not necessarily reflect the official policy or position of DailyO.in or the India Today Group. The writers are solely responsible for any claims arising out of the contents of this article.