Why is Pakistan wooing Bangladeshi journalists in its psy-war against India?
This is also an attempt to drive a wedge in the growing relations between India and Bangladesh.
In an apparent move to step up its propaganda blitz, possibly to target India as part of its sustained psychological war campaign through a third-country operation, Pakistan has identified a number of Bangladeshi journalists, who are gullible and anti-India, to work for Pakistani interests.
In pursuit of their objectives, Pakistan recently hosted a batch of such Bangladeshi mediapersons showering extraordinary hospitality on stay, sight-seeing etc. Their travel costs were met by Pakistan with in-flight entertainment and meals, normally not offered to anyone.
Such generous hospitality apart, the visiting Bangladesh group of journalists held extensive interactions with their hosts who are believed to have discussed the prevailing political scenario in Bangladesh with special focus on facets of the 1971 liberation struggle where India was equally involved.
Interestingly, they also conferred on the question of March 25 being declared as "Genocide Day". This topic for discussion by Pakistan is clearly a move to wean away the liberal , secular and pro-liberation lobbies in Bangladesh from the mainstream to weaken the momentum of pro-India and secular forces active in Bangladesh.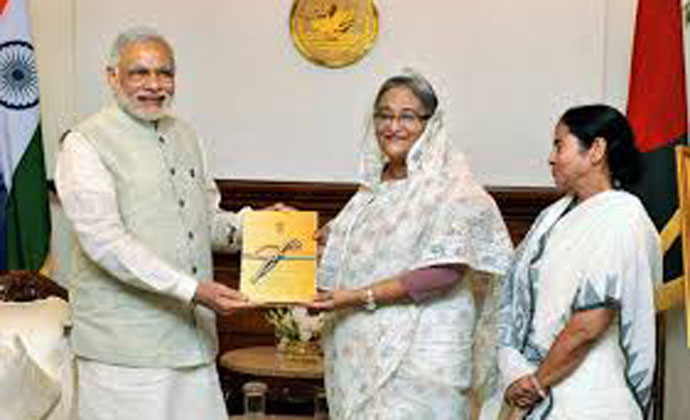 This is also an attempt to drive a wedge in the growing relations between India and Bangladesh.
More disturbingly, the visiting journalists were taken out to some "sensitive" areas in Pakistan not accessible to ordinary visitors. The purpose of this mission, therefore, looks more suspicious from India's point of view. As this group has since returned, another batch from Bangladesh is getting ready to go for the second mission. They too will be taken to some "sensitive" spots which looks further intriguing.
It clearly indicates the involvement of the intelligence component of the Pakistani establishment in executing the blueprint which in all likelihood may have been crafted in the Pakistan High Commission in Dhaka.
Visit to the "out-of-bound" areas must be the handiwork of the negatively professional Pakistani intelligence known for its unsavoury and anti-India plans.
It also needs to be pointed out in this context that Pakistan's ISI has always been very active in Dhaka in fuelling communal troubles and abetting all kinds of subversive activities. Numerous Pakistani diplomats and staffers, working in disguise as intelligence operators, have in the past been declared persona non grata taking the bilateral Pakistan-Bangladesh ties to an all time low.
Back in Dhaka, the government is obviously disturbed with this development. Legal luminary and MP Mahjabeen Khaled asked for tightened measures by the Bangladesh foreign ministry to contain the flow of such journalists to Pakistan.
Acting rather swiftly as a damage-control exercise before it's too late, the parliamentary committee attached to the foreign ministry, under the presidentship of former foreign minister Dipu Moni met with senior parliamentarians on April 27 in Parliament itself discussing the issue and expressing grave concern.
Importantly, agenda number 9 of the discussions focussed solely on the issue of the activities of the Pakistani High Commission in Dhaka. Foreign minister Abul Hassan Mahmud Ali, his deputy, Md Shahryar Alam and other MPs present at the meeting dwelt on the problem at length.
It also came up in the meeting that concerted efforts were on to try and target freedom fighters to bring them under the Pakistani fold with junkets and other lucrative offers so that there is an earmarked anti-India and pro-Pakistan media that remains readily available to target and pinprick New Delhi. This is also an attempt to drive a wedge in the growing relations between India and Bangladesh.
Meanwhile, the Bangladesh government doesn't want to antagonise its media without any clinching evidence, for responding to Pakistani overtures. Yet, an interim decision has been reportedly taken to mount strict and unobtrusive surveillance on those journalists who are suspected to have developed links with Pakistan. Perhaps they want to be dealt subtly without causing any alarm.
Pakistan will go to any extent covertly or overtly to see that Bangladesh does not warm up to India and vice versa. It's exactly the same what it is doing to undermine India-Afghanistan relations. Series of ISI-sponsored terror strikes on Indian facilities and Afghan critical infrastructures have been happening precisely to attain the same objective.
Meanwhile, much-talked about Pakistani journalist, Hamid Mir, has surprised the media fraternity by returning (on April 27) the award given to his father Waris Mir in 2013, by Bangladeshi prime minister Sheikh Hasina describing it as "given under a false pretence" besides alleging that the award was a "symbol of deceit". It would seem Pakistan is harnessing media within and outside the country to intensify a well-thoughtout psy-war move to vitiate public opinion in Bangladesh and in India. The timing of Hamid Mir's decision to return the award cannot be a mere coincidence and seen in isolation.
These developments call for a joint strategy on part of both India and Bangladesh to foil the nefarious designs of Pakistan. It's not impossible, and both the countries have the inclination and will to tackle this.
Also read: The conspiracy behind Pakistan's mutilation of Indian soldiers
The views and opinions expressed in this article are those of the authors and do not necessarily reflect the official policy or position of DailyO.in or the India Today Group. The writers are solely responsible for any claims arising out of the contents of this article.