Pravin Togadia's blink-and-miss hunger strike shows the Hindutva rabble-rouser's days are truly over
There, however, are still takers for the hardline 'mandir politics'.
Empty chairs, bored faces and defensive attitude of VHP karyakartas marked Pravin Togadia's indefinite fast that started on Tuesday (April 17) noon in Ahmedabad, and lasted for two-and-a-half days.
On Wednesday, Togadia spent a good few hours lying down, claiming weakness. And on Thursday, just after noon, it was announced that Togadia would break his fast after a talk with the religious leaders present there.
No further explanations were offered.
The national media cast a cursory glance at the venue of fast the day it started, pretty much like the residents of the housing society in the middle of which the venue was created.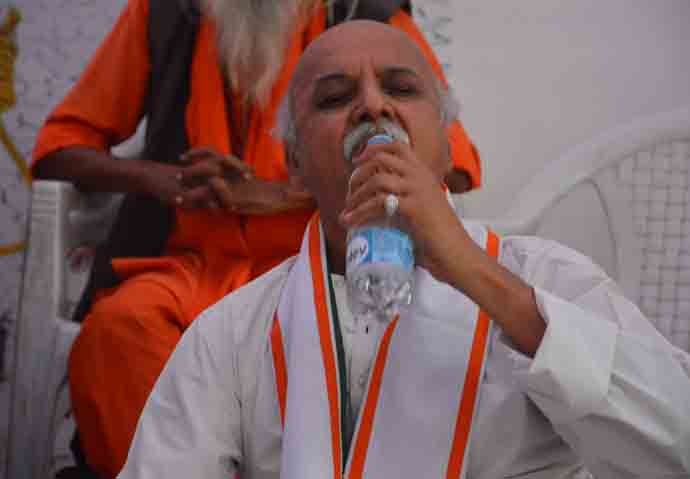 Pravin Togadia during his indefinite hunger strike that ended in two-and-a half day in Ahmedabad. (Photos: Jumana Shah)
Togadia staged the indefinite strike to press the following demands:
1) Ram Mandir at the disputed site in Ayodhya
2) Homes for displaced Hindus in Kashmir
3) Abolition of Article 370
4) Nation-wide ban on cow slaughter.
Understandably, that was a big ask, especially by an ousted leader. Good sense prevailed within 48 hours and Togadia broke his fast on Thursday afternoon while Modi was reviving the Commonwealth in UK, without batting an eyelid over the whole episode. And for good reason.
The most remarkable feature of this episode was the complete absence of supporters. Even though a few came on the first day, they did not return next day when they saw the poor turnout.
The makeshift tent, for which the police didn't grant permission, was pitched blocking about 100 metres of a public road in a residential society. The only rendering in the air was of "Jai Shri Ram", from people holding placards saying "Hindu First". But that was when the fast started on Tuesday morning. The placards and saffron caps were abandoned soon after. Every time someone on the stage would shout "Pravin bhai tum aage badho…" and wait for the crowd to respond with a "hum tumhare saath hai", the response was amusingly feeble.
There was no excitement or anticipation in the air. That the hunger strike would achieve nothing was a foregone conclusion, because it is this very crowd who has in the past operated with impunity due to the patronage of the powerful. Out of that umbrella, they know is a dangerous zone for their ilk.
Togadia was sitting pretty and looking on without expression when one of the "saints", who spoke before him, claimed the outcry over the Kathua rape case was unjustified. Such outcries are not raised when Hindu girls are treated similarly, he said, justifying the allegation on the accused as "fabricated" by "Narendra Modi's ally Mehbooba Mufti".
A lot of other foul language was heard on that nondescript stage in Paldi that Tuesday afternoon, which is not worth reproducing here.
This language, attitude and vitriol is something journalists working in Gujarat were hearing after a long time. There was a time when this used to a usual scene. But since 2007 roughly, the time Modi decided to take a plunge into national politics, this open vitriol slowly started fading.
The surgeon-turned-Hindutva activist, Togadia, claims he was offered the post of the chief minister of Gujarat in 2001 before Narendra Modi, but he refused because he was not interested in ceremonial posts and wanted to work for people.
In his speech during the indefinite hunger strike, the surgeon attacked Modi for unemployment of educated youths and farmer suicides - exactly the issues Congress and other Opposition parties have been raising. He even said he was earlier told not to criticise Modi, "but now Togadia has been unlocked".
The one line that he repeated was the death of VHP karyakartas on the Sabarmati Express in 2002. "I was guilty of asking them to go to Ayodhya," he said.
On Thursday, when he ended his fast, he thundered he will now form the "Akhand Hindu Rashtra".
When Togadia had gone missing and then resurfaced in January this year alleging threat to his life from the police, Patidar leader Hardik Patel and Congress leader Arjun Modhwadia had immediately found the time to meet him in the hospital where he was recovering.
This time, however, neither of them showed up.
A delegation of Hardik-led PAAS (Patidar Anamat Aandolan Samiti), which included Hardik's father, came to meet Togadia, though. When the media sought their reaction, they said they have nothing to do with "mandir-masjid politics", which left the handful of Togadia's supporters present there incensed.
"Saab (Togadia) is trying hard to create the right environment while these people come and say from the stage that they are supporting Togadia but have nothing to do with temple politics," a saffronist present there told India Today.
All of these things lead to a clear conclusion: Togadia is now a persona non grata. The clear outcome of this 48-hour charade is that unless he drastically reinvents himself, his nuisance value is fast diminishing.
A former VHP office-bearer said 90 per cent of 2.5 lakh VHP members in Gujarat would quit the organisation with Togadia. But the turnout at the venue did not support his ambitious claim.
That, however, doesn't mean there are no takers for the hardline mandir politics. Or that the foot soldiers are any less motivated. And that is the second outcome of this episode, that with another leader, and similar patronage, this brigade is rearing to go.
The disillusionment is with the man. In any case, unemployed youth with a weapon in a mob can wreak havoc.
A bored self-professed gau rakshak, who had come all the way from Delhi to be a part of Togadia's "indefinite fast", claimed to have been on the roads crying for a ban on cow slaughter. What he did not specify, and I suspect he implied, that he had done much more than just protested on the roads.
As we got into talking, the man, complete with a crimson tilak on his forehad and a bunch of golden and red hand bands, said: "Sau aadmi to madari bhi bean baja ke ekattha kar leta hai, par madari desh to nahi chala sakta na (Even a street performer can draw a crowd of hundred people when he plays his instrument, but he can't govern a country)."
But then he shocked me with his next pronouncement. "Cow slaughter policies are ineffective as cows are abused the most by those rearing the cattle who are not Muslims. Cows are not stolen; they are traded by people of our community. They are left to die on the roads."
At this moment, just as his words set me thinking, he said it out aloud, "Why am I even here? Really, why?"
Well, it's about time you get yourself a job, young man.
lso read: Tripura CM's claim of internet existing during Mahabharata can throw India back in Dark Ages
The views and opinions expressed in this article are those of the authors and do not necessarily reflect the official policy or position of DailyO.in or the India Today Group. The writers are solely responsible for any claims arising out of the contents of this article.