Presidential elections 2017: Ram Nath Kovind vs Meira Kumar rekindles Andhra-Telangana divide
The former Lok Sabha Speaker presided over the acrimonious bifurcation debate in Lok Sabha on February 13, 2014.
The Opposition's decision to field Meira Kumar as their presidential candidate has turned the clock back as far as two Telugu states are concerned. That's because she presided over the acrimonious bifurcation debate in the Lok Sabha as Speaker on February 13, 2014. That day saw a Congress MP from Andhra Pradesh, L Rajagopal, even using a pepper spray inside Parliament as the clash between Telangana and Andhra MPs became unruly.
"#MeiraKumar also presided over the most undemocratic act in Parliamentary history division of AP behind closed doors and manhandling of AP MPs. Shame," said one tweet from a resident of residuary Andhra Pradesh. Even three years later, people in Andhra have not quite got over the pain of division and the loss of Hyderabad, and blame the Congress for having forced it upon them.
This is good enough reason for Andhra, the sentiment goes, to reject Meira Kumar. Not that the two main political parties in Andhra Pradesh need any goading to do so. They have plumped for NDA's Ram Nath Kovind, but for reasons completely alien to what the common man thinks.
Andhra Pradesh chief minister Chandrababu Naidu is, of course, an NDA ally, sharing power both in New Delhi and Amaravati. Even before Kovind's name had been decided upon, he had announced his support to whoever the BJP leadership declares as its candidate.
2017, in that sense, is quite a comedown from 2002 for Naidu because 15 years back, he played a critical role in the selection of APJ Abdul Kalam as the presidential candidate. Naidu prided himself in thinking out of the box and giving India a "People's President". This time, however, Naidu was not even part of the consultation process.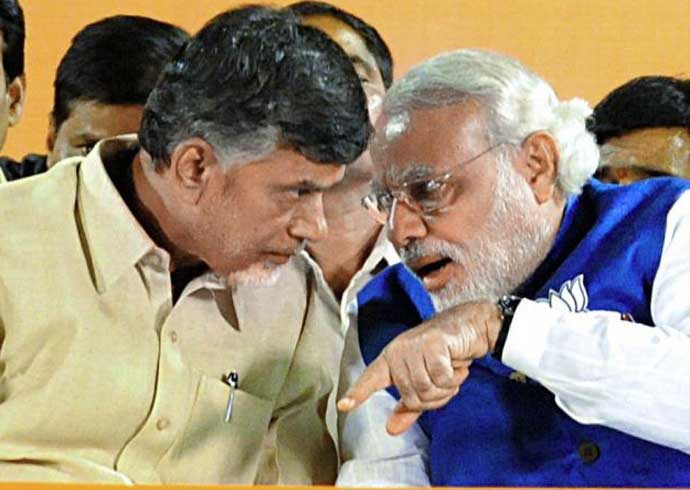 Even before Kovind's name had been decided upon, Naidu had announced his support for the BJP.
On July 17, the day of presidential election, interestingly Naidu and his bete noire, YS Jaganmohan Reddy, will be voting for the same person.
Despite his Congress pedigree, Jagan has decided to sail with NDA in this election. He is aware that even though the BJP is not much of a political force in Andhra, there is a certain Narendra Modi vote in every state and city. The election is therefore being used as an opportunity to build bridges with the BJP. This follows Jagan's meeting with Modi in Delhi in May.
Jagan's critics believe he has personal reasons to do so as well. He has the CBI and ED cases against him and this tainted reputation played its part in his loss in the 2014 elections. To stay relevant in Andhra politics, it is imperative for him to get the cases off his back, and win two years from now for which he needs to get his electoral arithmetic right.
In hindsight, Jagan must be feeling glad about his decision. Since supporting Meira Kumar in the context of the bifurcation debate would have been politically inappropriate.
The situation is quite the opposite in Telangana. M Krishank, a Congress leader in Hyderabad wrote on his Facebook page: "Well TRS and your dear ally MIM, straight question to you - A Chamar lady who stood up against pepper prays, attacks to pass the Telangana statehood Bill or an RSS backed Ram Nath Kovind who calls Indian Christians and Muslims as aliens. Who are you voting as President of India?"
In Telangana, the TRS has backed Kovind. The Congress barb is unlikely to make a difference to K Chandrasekhar Rao because over the last three years, the Telangana Rashtra Samiti has ensured the Congress got no credit for the creation of Telangana. In the public mind, it is KCR who ensured the creation of the state. So, the CM won't feel guilty for not backing Meira Kumar's candidature.
KCR has been claiming that he will vote for Kovind because he is a Dalit. The irony is not lost on anyone who has followed Telangana politics because before statehood was achieved, KCR had promised that the first CM of Telangana would be a Dalit. He conveniently forgot the promise once Telangana was achieved and proceeded to become CM himself.
How Asaduddin Owaisi and his seven MLAs in Telangana vote will be interesting to watch because it would be blasphemous for him to be seen voting for a BJP candidate. At the same time, there is no love lost between Owaisi and the Congress; he was not even a part of the Opposition meeting to decide the candidate, on June 22.
Would abstaining be an option? To not vote for either of the two Dalit candidates would be wrong optics and messaging because Owaisi, for the past many years, has been trying to stitch together a Muslim-plus-Dalit votebank, arguing that many of the issues both the communities face are common.
Barring a few votes for Meira Kumar in Telangana, Ram Nath Kovind will be in a winner takes all mode in the two Telugu states. But what this Kovind versus Meira contest has done is to rekindle old memories and a realisation that the wounds of separation haven't quite healed yet.
Also read: Presidential elections 2017: Meira Kumar is not just a Dalit, she is a woman, a diplomat
The views and opinions expressed in this article are those of the authors and do not necessarily reflect the official policy or position of DailyO.in or the India Today Group. The writers are solely responsible for any claims arising out of the contents of this article.