Bifurcation of Andhra Pradesh was about self-respect, not politics
[Book extract] All political parties concerned, barring the CPI(M), supported the creation of Telangana.

Jairam Ramesh
The first wave of the reorganisation of states - in the 1950s and 1960s-that created Andhra Pradesh, Kerala, Karnataka, Maharashtra, Gujarat, Punjab and Haryana was predominantly based on language considerations, although the rising aspirations of castes like the Reddys and Kammas in Andhra Pradesh, the Lingayats and Vokkaligas in Karnataka and the Marathas in Maharashtra also played a role.
The second wave - in the 1970s and 1980s - focused on the northeastern region where new states came into being on either an ethnic basis to fulfil the aspirations of hill tribes in some places like Meghalaya; or to deal with secessionist movements like in Mizoram; or on strategic considerations as in Arunachal Pradesh.
The third wave, in 2000, was driven by the larger social agenda of the RSS and the political strategy of the BJP, anchored in expanding their support base among tribal and other backward caste (OBC) communities.
NDA's state divisions
To be sure, there were long-standing movements, especially in Jharkhand, but the dominant stimulus for reorganising Bihar, Madhya Pradesh and Uttar Pradesh - with the BJP in power in New Delhi - came from the Hindutva ideology.
However, while the push for reorganisation may well have come from the BJP, there was support from other quarters as well. Digvijaya Singh of the Congress was chief minister of Madhya Pradesh in 2000 when that state was bifurcated by the Atal Bihari Vajpayee government. However, earlier, in 1994, he himself had got a resolution passed by the state assembly in favour of a separate Chhattisgarh state.
Other senior Congress leaders of the state like Arjun Singh, Shyama Charan Shukla and Motilal Vora were also supporters of a separate Chhattisgarh.
In Uttar Pradesh, the BJP was in power when it was bifurcated in 2000 and that made the process relatively easy. In any case, by the mid-1990s, Mulayam Singh Yadav, the UP strongman, had softened his opposition to the creation of a hill state and went to the extent of "provoking regional mobilisation in Uttarakhand as part of an attempt to hold together a political coalition in the plains of his state".
While there was opposition to the inclusion of Udham Singh Nagar and Haridwar districts in Uttarakhand during the actual bifurcation process, this opposition was soon overcome.
The case of Bihar is more complex. Lalu Prasad was chief minister when it was bifurcated to create Jharkhand. Why did he agree to it especially since Jharkhand contributed something like 70 per cent of undivided Bihar's revenues? To be sure, he did declare that Jharkhand would be formed over his dead body but that proved to be an empty threat.
It is possible that, embroiled in the fodder scam and at the mercy of the CBI (Central Bureau of Investigation), Lalu Prasad wanted to keep on the right side of the Vajpayee government. It is also possible that Lalu was influenced by his mentor Jayaprakash Narayan who had advocated the formation of Jharkhand way back in the mid-1970s to fulfil the aspirations of tribal communities.
Lalu Prasad may also have realised that the populous north Bihar region would have little scope for industrialisation if Jharkhand remained part of Bihar. The Bihar assembly finally agreed to the bifurcation of the state, subject to a Rs 1,79,900 crore financial package by the central government. That this package subsequently did not materialise is a separate point.
What is beyond doubt is that the disputes in Uttar Pradesh and Bihar over bifurcation were nothing like what was to be experienced in Andhra Pradesh. Perhaps the stakes in Andhra Pradesh were much higher. While the reasons for this certainly need to be analysed and understood, it is not for me to do so since I was, at once, too far from the scene when the decision was taken and too near the scene after the decision was taken.
Administrative compulsions behind bifurcation of Andhra Pradesh cannot be overlooked.
Shadow of Hyderabad
However, I am firmly convinced about one thing: the presence of Hyderabad and its indubitable attractions just did not allow other places in the undivided state to develop and flourish. Whatever the larger merits and demerits of the bifurcation may be, I strongly believe that other cities in the new state of Andhra Pradesh - like Visakhapatnam, Vijayawada, Guntur and Tirupati - now have a bright chance for a take-off.
All political parties concerned, barring the CPI(M), supported the creation of Telangana. In the face of such overwhelming backing, the question was not "whether Telangana" but "when Telangana".
The long history of the demand for Telangana discussed in the very first chapter should also not be forgotten. However, the creation of Telangana was certainly not based on language. It also had little to do with administrative efficiency.
There was definitely a Telangana movement launched by influential political leaders to give themselves relevance - like Chenna Reddy in the late 1960s and KCR in the first decade of this century. But a movement has to have some foundation. And that foundation in the case of Telangana, according to its protagonists, was its continued backwardness and neglect.
Rayalaseema, of course, is more backward than Telangana but there has been no strong separatist movement in that region like in Telangana. Ironically, Rayalaseema produced powerful chief ministers like N Sanjiva Reddy, D Sanjeevaiah, Kotla Vijayabhaskar Reddy, Chandrababu Naidu and YSR himself. Kiran Kumar Reddy, too, hails from Rayalaseema.
Economics as politics
Economic neglect, political marginalisation and domination by powerful and resourceful castes from the coastal areas were routinely given as reasons by Telangana leaders to justify their agitation for a separate state. However, there was something deeper at work as I discovered when I spent time with the charismatic balladeer, Gummadi Vittal Rao, popularly known as Gaddar.
Some scholars have pointed out that "cultural production in the form of song-performance and fiction" gave strength to historical memory and provided an impetus to the Telangana movement. It is indeed ironical that the Telangana movement of the late 1990s and the first decade of this century followed NTR's regime, which was based on the assertion of Telugu pride and self-respect.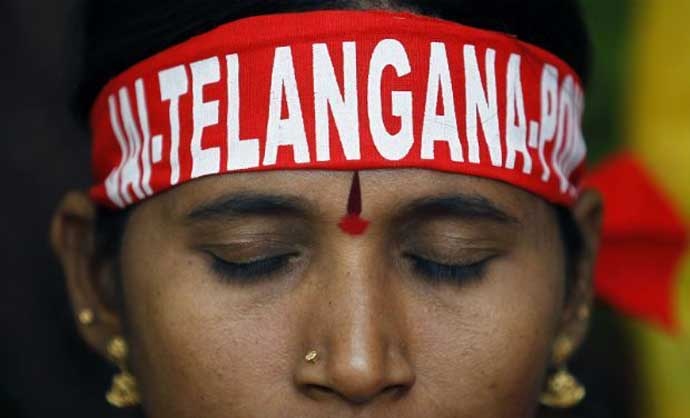 Telangana agitation had seen a long period of asserting linguistic self-respect.
Clearly that assertion came to be seen as "hegemonic" by large sections of Telugus living in Telangana who saw their distinctive identity as a being under assault.
The bifurcation of Andhra Pradesh proved hugely contentious and controversial. The dominant political party at that time in the state - the Congress - was itself deeply divided, with the chief minister aggressively opposing what his own national leadership had decided after a long period of consultations.
The issue of Hyderabad dominated the discourse with both sides laying claim to it. Once it became abundantly clear that it was not being shared but was being "given" to one of the two claimants, all hell broke loose. In this acrimonious atmosphere, political communication, outreach and trouble-shooting by Congress leaders from Delhi entrusted with that job did not seem to have had much impact.
With the benefit of hindsight, it could be argued that the stridently obstructionist chief minister should have been sacked but, truth be told, at that time there appeared no other option but to persist with him.
Consequences for Congress
What went into the decision to bifurcate Andhra Pradesh and also what determined its timing was, honestly, unknown to me. But one thing did become clear when the election results were announced in May 2014. The results proved catastrophic for the Congress in the new state of Telangana and cataclysmic in the new state of Andhra Pradesh, something that the champions of bifurcation in the party had not expected.
The results certainly traumatised me. It was especially painful as I had myself campaigned extensively across both Telangana and Seemandhra, touching each of the 23 districts and 42 Lok Sabha seats in both regions. For a while, I began to wonder whether I had erred grievously in taking the GoM assignment as seriously as I did and whether I should not have just allowed matters to be dragged along.
But such angst was momentary since I knew very well that the merits and demerits of bifurcation could not be judged by the Congress' electoral fortunes but had to be measured by more fundamental socio-economic concerns and political factors. The manner in which the bifurcation legislation was passed in Parliament in February 2014 did not portray our democracy in good light.
K Chandrashekhar Rao, Telangana's first chief minister.
Sure, Parliament has supreme powers under Articles 3 and 4 of the Constitution to reorganise states but the Constitution makers envisaged full-fledged debate and discussion on the floor of both Houses in the exercise of such powers. It would be unfortunate, however, if Parliament loses its appetite for further reorganisation of states as a result of the Andhra Pradesh experience - as Arun Jaitley observed might happen when we spoke after the 20 February 2014 vote.
Reorganisation in future
The fact is that the reorganisation of India's most populous state is long overdue.
Uttar Pradesh, with a current population of around 200 million, that is expected to more than double in the next three decades, is simply ungovernable in its present form. Personally, I think a strong case can also be made for Vidarbha, too.
I am not surprised that the Andhra Pradesh Reorganisation Act, 2014 has been bitterly criticised in both Telangana and Seemandhra. In fact, I would have been more than surprised if it hadn't been. But it seems to me that very often criticism is an alibi for the failure of the political process.
In fact, in the GoM report - perhaps anticipating the attacks on the legislation that were to come later - I had written: "The GoM would like to stress that, while the terms of reference are wide-ranging, there may well be issues arising out of the bifurcation that have not been dealt with as part of the recommendations.
Such issues must necessarily be dealt with as part of the political dialogue process between the two successor states for which it is absolutely essential to maintain a climate of amity and mutual understanding."
Chroniclers of contemporary events, especially if they are participants themselves, are not in the best position to foretell or judge the consequences of their actions. Maybe after five or ten years, a more objective and dispassionate assessment will be made of the bifurcation of Andhra Pradesh and what was accomplished by it. When such a balance sheet does get drawn up, I may or may not be around but I will have had the psychological satisfaction of having left behind my side of the story.
It is a story of trying to be fair to both sides under the most trying of circumstances, and with the knowledge that if both sides ended up being unhappy the objective of being fair had indeed been fulfilled.
Old History, New Georgraphy: Bifurcating Andhra Pradesh, Jairam Ramesh, Rupa Publications; Rs 500.
The views and opinions expressed in this article are those of the authors and do not necessarily reflect the official policy or position of DailyO.in or the India Today Group. The writers are solely responsible for any claims arising out of the contents of this article.