Why Amruta Fadnavis, Maharashtra's new first wife, is a role model
She's perhaps the first CM's wife to hold a job. The new first wife brings several firsts with her as she moves into Varsha.
When she walked into a Ghatkopar mall on Saturday with her five-year-old daughter, Amruta Fadnavis could well have passed off as yet another out-of-towner who wanted a taste of Mumbai's malls. While her daughter played in the children's area, Amruta, 35, checked in for a quick foot spa with a friend for company, without a large security detail clearing the way for her. The only difference, here, was that on hearing the CM's wife was around, the owner of the mall rushed to greet her.
For Mumbai and even Maharashtra, the new first wife brings several firsts with her as she moves into Varsha in the next few days. She's perhaps the first CM's wife to hold a job; and plans to seek a transfer from Nagpur to Mumbai, unwilling to merely bask in her husband's glory. Her determination to continue her corporate career even as she juggles her duties as the first lady of Varsha certainly makes her a role model for millions of young women in Maharashtra.
For long, political wives have always chosen to stay in the shadows of their powerful husbands, stepping out only for events such as supporting a social cause — lending their support for women's empowerment or children's education. The political wife was always seen as the homemaker, running bachat gats (women's groups) in her husband's constituency and being his eyes and ears while the minister was clocking long hours in mantralaya. If you look closely at the life of the Maharashtra politician's wife, most women draw their identity and power by "managing" the husband's constituency.
The wife - or vahini - to the people is meant to be the "soft power centre" who can apprise her husband of developments in his constituency. The vahini's only role is usually to connect with the women of the area who, particularly in rural parts, find it more comfortable to discuss their problems with their political leader's wife.
Mrs Fadnavis has played all these roles and more. She's actively campaigned for her husband in Nagpur while he was travelling across the state, conveyed his ideas and ideology to the people and picked up messages from the citizens of Nagpur to tell her husband. But what makes her different and endearing to people, especially the women, is that she feels just like one among them. She does exactly what millions of urban Indian women do — she goes to an office and comes back home to play wife, mother and homemaker with equal ease.
Daughter of two doctors, Amruta grew up in a household where education and independence for women was essential. Like most modern women, she nurtures other interests and passions; she's known to be a good singer who happily picks up the microphone at social gatherings.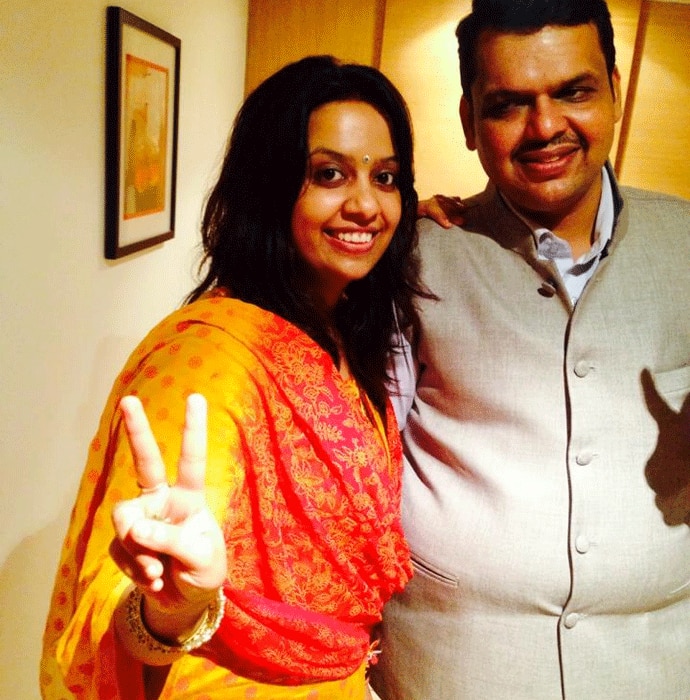 Just when people probably expected her to give up her job and busy herself only with social engagements on behalf of her husband, Amruta declared that she would seek a transfer to Mumbai and continue going to the Axis Bank office. An independent identity, she said, was important to her. That's the way most educated women in Maharashtra think irrespective of the comforts offered by their families.
And as she travels to office from Varsha, leaving fawning attendants behind, she promises to be a role model for the women of Maharashtra.
The views and opinions expressed in this article are those of the authors and do not necessarily reflect the official policy or position of DailyO.in or the India Today Group. The writers are solely responsible for any claims arising out of the contents of this article.