Because India is no cheap shot: Why we should shoot down the 2022 Commonwealth Games
With Brexit imminent, Britain wouldn't want India to abandon the CWG. But India derives little benefit from membership of a post-colonial club where shooting is replaced with beach volleyball.
The 71-nation General Assembly of the Commonwealth Games Federation (CGF) will be held in Rwanda on September 3-6. If it sticks to its decision to axe shooting as a sport in the 2022 Birmingham Commonwealth Games, should India boycott the event?
A decision is imminent.
Worried at the prospect of an Indian boycott, Britain's Sports Minister Nigel Adams said on August 15, 2019, "We want India to be here, no question."
The Commonwealth Games gathers athletes from 71 former British colonies in an event that serves no purpose except allowing Britain to engage in post-Imperial preening.
Given their huge sports budgets and facilities, athletes from England, Australia and Canada dominate the Games. Unlike at the Olympics, Britain competes in the Commonwealth Games as four separate countries that make up the United Kingdom — England, Scotland, Wales and Northern Ireland.
India won 16 of its 66 medals in shooting at the 2018 Commonwealth Games in Australia's Gold Coast. Apart from removing shooting from the 2022 schedule in Birmingham, the CGF has added women's cricket, beach volleyball and para table tennis.
Where exactly is this going? India and Australia are not pleased with the change to the sports line-up for 2022 CWG. (Photo: Reuters)
Shooting has been a part of every Commonwealth Games schedule for over 50 years except the 1986 Games held in Edinburgh, Scotland. Archery, another sport in which India has traditionally excelled, has also been kept out of the 2022 Games in Birmingham.
The Indian Olympic Association (IOA) is livid.
Its Secretary-General Rajeev Mehta warned, "Shooting is a big sport in India and for many shooters, CWG is a stepping stone to the Olympics two years later. It is a big setback for shooting as well as Indian sport as a whole. We have made representations to the CGF, and the government has also done that, but still shooting has been left out."
IOA President Narendra Batra reportedly wrote to Sports Minister Kiren Rijiju: 'We want to express our protest by not taking part in 2022 CWG in the UK to make the CWG understand that India is not prepared to take India bashing anymore and the people with a particular mindset in CWG need to understand that. We have been noticing over a period of time that wherever India seems to be performing well, then either the goalposts are shifted or rules are changed. We feel it is time for us in IOA/India to start asking tough questions and start taking tough positions.'
The government though will take the final decision on boycotting the Birmingham Games.
Indian ministers still hanker after international sports events, however irrelevant they have become over the years. Rijiju, on cue, declared, "If you have to boycott the Games, you have to ask the government because these decisions are not to be taken unilaterally, it has to be done through proper consultation."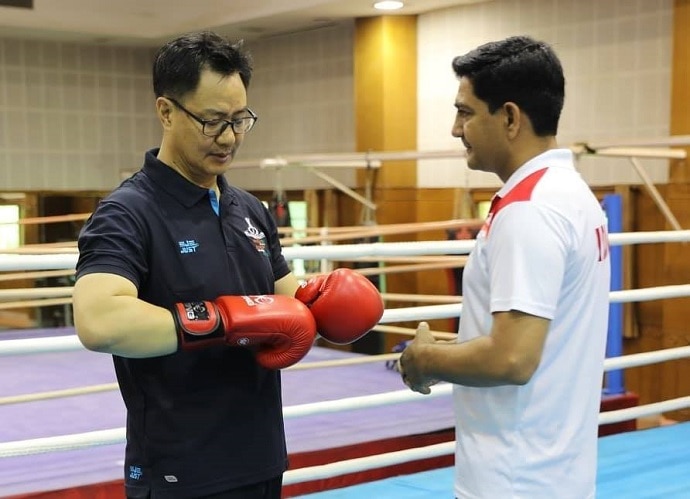 Will we hit home the point? Sports Minister Kiren Rijiju should take a stand. (Photo: Facebook/ Kiren Rijiju)
India's top shooter Heena Sidhu, however, puts the issue in perspective. "It's going to be quite a bad scenario for India. Our medals tally will be low without shooting. I believe the organisers have done it to strengthen Britain's position in the medals' tally and present a strong image of their country in front of the home crowd (in Birmingham). They have cut down on events where we were expected to fare better," she reportedly says.
She backed the IOA's call to boycott the Games, "so as to send a strong message to the CGF that India is no pushover." Others, like Olympic shooting gold medalist Abhinav Bindra and badminton star P Sindhu, though have demurred.
In the Olympics, Britain wins the vast bulk of its medals in three sports, none of them mainstream — rowing, equestrian and cycling.
If these were to be removed from the 2020 Tokyo Olympics, Britain would do everything in its power to have them reinstated. Its medals in athletics, both track and field, have dried up over the past decade. Without canoes, horses and bicycles, as one observer put it drily, Britain would go home nearly empty-handed at the Olympics.
The Commonwealth is itself a colonial relic. Prime Minister Narendra Modi has given it short shrift, declining to attend the 2015 Commonwealth Heads of Government Meeting (CHOGM) in Malta. Former Prime Minister Dr Manmohan Singh too skipped two Commonwealth summits, in Australia in 2011 and Sri Lanka in 2013.
India's first Prime Minister Jawaharlal Nehru was strongly opposed to the idea of India joining the Commonwealth.
Eye on target: Indian shooter Heena Sidhu's call for boycotting the Commonwealth Games is supported by Australia. (Photo: Reuters)
As the academic Y Rafeek Ahmed wrote in The Indian Journal of Political Science in the January-March 1991 issue, "India's decision to join and remain in the Commonwealth even after proclaiming herself a republic raised a political storm in India. The controversy around it was something to be expected because the decision itself had come against a background of denunciation and rejection of the Commonwealth by leading Indian nationalists before independence. Pandit Jawaharlal Nehru was one of the most prominent of the great leaders who in the 1930s and 1940s criticised the British Commonwealth and clearly indicated that independent India will have nothing to do with vestiges of British imperialism. Since Nehru happened to be the chief spokesman of the Indian National Congress on foreign policy matters, it was simply assumed that Nehru as the Prime Minister of the Indian Republic would keep the country clearly away from the British Commonwealth.
Nehru's startling decision to remain in the Commonwealth came as a shock to all those who had taken for granted that independent India would sever all connections with the Commonwealth. There was enough justification for them to believe that free India would reject any thoughts of seeking membership of the Commonwealth. In the 1930s and early 1940s, Nehru had considered India remaining a dominion of England ridiculous and humiliating. He had made this very clear in his Glimpses of World History. His hatred of imperialism was such that he knew very well that a true Commonwealth of nations was an impossibility under the aegis of the British empire. He had very vociferously asserted that 'Under no conceivable circumstances is India going to remain in the British Commonwealth.'"
Britain for its part was desperate India join the Commonwealth. It knew that without India the Commonwealth made little sense — the post-imperial grouping would then comprise mostly its invasive white settlements (Australia, Canada and New Zealand), a smattering of Caribbean islands and small African countries.
With Brexit imminent, the last thing Britain wants is India to abandon the Commonwealth.
India though derives little benefit from continuing membership of a post-colonial club.
It derives even less benefit from taking part in the Commonwealth Games where shooting is replaced by beach volleyball.
Rijiju should pay heed to India's sportsmen and women and walk away from the Birmingham Games if shooting is irrevocably dropped as a sport.
Also read: MS Dhoni bashers must know he takes charge of the team, not just his performance
The views and opinions expressed in this article are those of the authors and do not necessarily reflect the official policy or position of DailyO.in or the India Today Group. The writers are solely responsible for any claims arising out of the contents of this article.