India's Test batting line-up is flailing. Virat Kohli can't be the saving grace
The competition should not be with other teams. Look at our batting strength in 2000s: Sachin, Dravid, Laxman, Ganguly and Sehwag. Easy IPL money has ruined our skill.
As the Indian cricket team's domestic season has ended up on a high, after defeating West Indies comprehensively, the India team is again undertaking a gruelling tour to Australia, which is considered to be the toughest tour for any visiting side.
The main focus of this tour has always been the four Test match Boder-Gavaskar trophy. This time, India has the best chance to win the trophy for the first time ever, as the Australian side seems very unsettled — the reason being the absence of quality players, like Steve Smith and David Warner, who were shown the exit door from the national side, after being caught in the spot-fixing debacle in South Africa earlier this year.
But even this doesn't guarantee that India could improve its lacklustre performance in Test matches overseas, which has been a consistent trend since the last decade.
It seems that it has become a habit of the current Indian team to put up a fight in tough overseas conditions and then end up losing.
This has become a trademark of Kohli's captaincy overseas. The bad news is that this team is almost taking pride in losing after playing well, resulting in promotion of mediocrity in overseas performances.
The much-celebrated Indian Test batting line-up has been in deep trouble for quite some time now.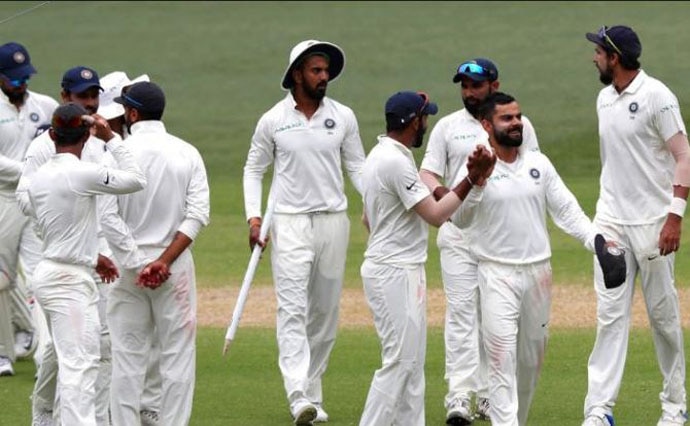 This team is almost taking pride in losing after playing well. (Photo: India Today)
If one analyses the reasons behind it, one finds an interesting correlation between the Indian team's poor performances overseas with the rise of the T20 leagues in the last 10 years.
For instance, since the IPL started in April 2008, the Indian side has toured Australia, New Zealand twice, and England, South Africa thrice. Out of these 10 series, India couldn't even win one, and got whitewashed 4-0 twice.
Our batsmen keep getting out by playing outrageous shots, which many argue is the result of a T20-style of batting. Earlier, the batsmen used to spend more time on the wicket and tried adjusting themselves to alien conditions.
The current lot of Indian cricketers has arrived on the scene in the era of T20's leagues.
While the IPL has given financial security and stability to many, it has taken away the urge from the young cricketers to perform in a Test cricket. Prior to IPL, the cricketers who failed to perform in testing conditions of Test cricket had no choice but to go back to domestic cricket and improve their game, because only Test matches could earn them both respect and money.
But now, IPL provides a shortcut to the young cricketers, where they can earn huge money as well as a fan following.
Therefore, the fire in the belly to perform in tough and alien conditions seems to be fading away.
The competition is not with other teams. It's with our predecessors. (Photo: Reuters)
When a young cricketer knows that he can become an overnight sensation by smacking each ball into the crowds, why would he want to refine his technique and put a prize on his wicket?
When performances in T20 cricket can provide the same respect, accolades from the fans who throng to the stadiums, big pay cheques, and other perks like advertisements, etc., who would want to perform in Test matches, which are highly demanding, and take a great deal out of a cricketer's body and mind?
Spending time on the wicket is an art which demands concentration, patience, technique and temperament. This art is under serious threat post-IPL. With the Australia series underway, the prospects of Indian batting unit doing well seems to be highly doubtful.
Now, one could argue that how come the same Indian team plays extremely well in home conditions. Does the IPL effect not make its mark in these conditions?
The answer is a big 'NO', because most of the Asian wickets are hard, placid tracks; almost a batting paradise, where the ball doesn't do much movement in the air and doesn't either swing or bounce like it does outside Asia.
Secondly, home victories don't prove the mettle of a side, which is currently ranked no 1 in Tests, because the champion sides in history have won both at home and abroad. Be it the West Indies back in the '70s and '80s or the Australian team of '90s and 2000s, they mastered the art to perform and win in alien conditions.
Test matches are the ultimate test for any cricketer, as it needs both technique as well as temperament. One needs to put a prize on their wicket on difficult conditions, which has not been seen, barring a few occasions, by the Indian batting unit in overseas conditions.
Most of the Test matches end up in three to four days now, because the batting standards in general have dropped, owing to the mushrooming of T20 cricket leagues all over the world, IPL being one of them.
The fast nature of the T20 cricket requires different skills for a cricketer to be good in that format. But the lure to perform for the franchises is taking away the strength of character, especially from the batsmen.
On the other hand, bowlers have improved, because they have to hone their skills with the ball on wickets, which are extremely adverse to bowlers. This has been reflected in India's overseas tours for the past couple of tours now, where the Indian bowlers have managed to take 20 wickets in a Test match consistently. It is said that bowlers win you Test matches, but what could bowlers do, if batsmen fail to do their job!
Kohli was never an IPL wonder. (Photo: India Today)
Prior to IPL, the scenario was completely reverse, where India had a solid batting unit comprising batsmen of calibre like Sachin Tendulkar, Rahul Dravid, VVS Laxman, Sourav Ganguly and Virendra Sehwag.
Here are some statistics to compare the scenario before IPL and post-IPL.
India's away records in 2000s comprised both 33.93% win and 33.93% loss. So, the win loss ratio was 1:1.
In 2010, the win percentage dropped to 30.43%, while the loss percentage went up to 43.48%.
Now, the win-loss ratio has gone down to 0.7.
So, the win percentage has dropped by more than 3% and the loss percentage has increased by around 10%. At the same time, other teams' away records suggest that their win percentage dropped from 29.09% to 27.25% (less than 2%) and their loss percentage went up just by 5%. (46.34% in 2000s to 51.5% in 2010)
The data points out that the Indian team of 2010 has been performing more poorly than the team of the 2000s.
One can be absolutely sure that if India's overseas performances outside Asia (except West Indies) are considered, the data would show even poorer depiction of India's performances in Australia, England, New Zealand and South Africa. One shouldn't consider India's victories in West Indies as something to celebrate, considering the poor quality of West Indies, or, for that matter, Sri Lanka as well, in the last few years.
One could argue that as compared to batsmen of other teams touring in India, our batsmen have been doing well.
But that's not the point.
The current Indian batting unit looks worse off when compared to its predecessors in the last decade. It was a much-settled batting unit than today, where apart from Virat Kohli, no other batsman is absolutely secure about his place in the batting line-up.
It was only after IPL that India got whitewashed twice by a 4-0 margin in England and Australia in this decade.
One can again give an argument that Kohli performs equally well in all three formats as well as in IPL.
Virat Kohli is an interesting case, because he just came into the scene along with IPL in April 2008.
If one looks deeply, Kohli's IPL record in 2008 was abysmal, while he was playing for RCB.
He showed his class in domestic performances and got picked for the Indian side for these performances, and not IPL performances.
While IPL has been a launching stage for many bowlers like Jasprit Bumrah, Ravichandran Ashwin, Ravindra Jadeja and Hardik Pandya, in the last 10 years, no batsman of high calibre has been produced by the IPLs.
Didn't Indian cricket team lose matches and series before IPL came into being?
The answer is both yes and no.
Yes, if one goes before 2000, when India did get whitewashed in Australia in 1999, or lost series in West Indies and South Africa.
No, because after Sourav Ganguly became the captain in 2000, except New Zealand where India got whitewashed 2-0, the Indian side always performed very well.
India drew against England in 2002 and won in 2007, against Australia; it drew in 2003 and lost by just 2-1 in 2008 (that too owing to extremely poor umpiring by Steve Bucknor in the Sydney Test) and lost to South Africa by 2-1 in 2006.
Yes, India lost matches and series before IPL too, but not in the manner in which Indian Test sides lost overseas post-IPL.
Also, if one goes back to the 1990s, India lost most of the overseas series because the quality of opposition was much better. For instance, the Indian team lost to Steve Waugh's side in 1999-2000, which was a much better side than Michael Clarke's side in 2011 or Steve Smith's side in 2015.
A similar argument can be given about the South African side under Hansie Cronje in the 1990s (to which India lost), which was a way better side than the one which India played earlier this year.
To conclude, the level of batting has gone down remarkably in away conditions in Test cricket, barring a few exceptions.
If not the entire blame, a large percentage of the blame should go to the rise of T20 and franchise cricket like IPL, which has made the game about "my bat versus your bat".
But, in my view, the batsmen are flailing here.
The ongoing series will now show whether we have learnt from their lacklustre performances overseas, or if the same mistakes are going to be repeated again.
Also Read: Virat Kohli is the new Sachin Tendulkar. He's just proved it in style
The views and opinions expressed in this article are those of the authors and do not necessarily reflect the official policy or position of DailyO.in or the India Today Group. The writers are solely responsible for any claims arising out of the contents of this article.