How liberalisation helped BCCI make superstars of Sachin, Dhoni and Kohli
[Book extract] This piece has been co-written by Harsha Bhogle and Kartik Kompella.
It's said, and rightly so, that cricket reflects the times in which it's played. Liberalisation created tumultuous changes in society, and this is amply demonstrated in Indian cricket too. Probably, the best way of making this point is through a comparison of the sides that won the 1983 Prudential World Cup and the 2007 ICC World T20 Cup.
The 1983 World Cup winning side had players who represented just five Ranji Trophy teams - Bombay, Delhi, Karnataka, Tamil Nadu and Haryana. The 2007 ICC World T20 Cup team had players who represented nine Ranji Trophy teams - Bombay, Delhi, Karnataka, Haryana, Kerala, Baroda, Jharkhand, Punjab, and Uttar Pradesh.
Given that there are only eleven players in a team, a representation across nine different teams is significant. Just as small cities like Surat, Pune and Vizag started contributing significantly to the GDP, small towns like Rae Bareilly and Ranchi started contributing to cricket.
Captain Kapil Dev with his World Cup-winning team in 1983.
Let's look at another dimension of this comparison. The 1983 World Cup victory was a staggering achievement. While the Indian team has had some truly great players over the years, it had never promised to bring such glory to the country.
In a cricket-crazy nation, winning the World Cup was the kind of feat that was inconceivable till it actually happened. When India won it, the occasion demanded a reward worthy of the euphoria it generated. Fittingly, Board of Control for Cricket in India (BCCI) president, NKP Salve, a true well-wisher of the game, promised each of the players in the squad a reward of Rs 1 lakh each.
It was soon discovered that making the announcement was easier than living up to it. The premier institution didn't have the required Rs 14.5 lakh to pay the players (Rs 50,000 was to go to the manager). Finally, Mr Salve had to request Lata Mangeshkar to sing at a fund-raising concert to make good his promise, which she graciously agreed to. Years later, history did not repeat itself for liberalisation literally brought with it a change in fortunes. Each player of the Indian team that won the 2007 ICC World T20 Cup received Rs 80 lakh.
By now, the BCCI was a global powerhouse and its coffers full.
Also read: Why it's sad to see Shashank Manohar abandoning BCCI
Often, the story of liberalisation's impact on cricket is reduced to a rags-to-riches story, but it's a little more than that, and some of the seeds of change were sown well before liberalisation.
In many ways, the 1983 World Cup couldn't have been played in a better place or at a better time for the game to grow in India.
Cricket on colour television
In 1982, colour broadcast was introduced in India to coincide with the Asian Games that were being held here. There was a rush for colour television sets and the scene was set for the 1983 World Cup to be viewed in colour. It made a huge difference to the viewing experience.
The 1983 Prudential World Cup was played in England as were the two preceding world cups. Many Indians grew up listening to BBC's cricket commentary on short-wave radios and the opportunity to watch cricket being played there was not to be missed. After all, this was where cricket was born.
This was also a place that held a lot of fascination for Indians due to the colonial hangover. It was only 37 years since the British had left. At a time when there were relatively few entertainment options, watching One Day Internationals (ODIs) played in England on colour television was hard to beat.
Also read: Why cleansing BCCI is much like cleaning Ganga
The timing, too, was perfect because the matches were being played in England. Much like today's Indian Premier League (IPL) matches, the games started around evening, allowing viewers to settle in quickly after work or school. With a lot of community viewing, as was common in those days, the '83 victory was watched by millions in India - leaving a permanent impression on them.
In 1984, the government looked at the rapid expansion of the television footprint across the country. Almost every day, a new transmitter was being set up, spreading the reach of television across the country. When the mini World Cup was played in Australia in 1985, a significantly larger audience was able to view these matches. This was another interesting spectacle with bouncy pitches and coloured clothing making for enthralling viewing.
Importantly, the '83 win made people watch the mini World Cup with belief. An India-Pakistan final, won by India, was another fairytale ending that proved to many that there was a god, and he was tuned in to the prayers of the Indian fans.
Cricket and television were growing in India at a gentle medium pace like most of our pace bowlers of the time.
BCCI versus Doordarshan
Liberalisation came to India in June 1991, soon followed by the South African team in November 1991. BCCI was quick to welcome the South Africans to international cricket after they had spent more than 20 years out in the cold due to the South African policy of apartheid. The first series after the team's re-admission was a historic one and bound to be viewed by millions of fans. These two sides had never played each other before and the prospect of such a match was mouth-watering.
A couple of weeks before the series, the South African Board wanted to know the cost of broadcast rights for the three ODI match series. BCCI was unsure of what to say as they weren't sure who owned the broadcast rights - the government or them.
The BCCI estimated a price of $10,000 per match, but to their surprise and delight got $1,20,000 for the three-match series.
This set BCCI thinking and the board decided to look at making money through the broadcast rights route. To exacerbate matters, in 1992, Doordarshan demanded Rs 5 lakh from BCCI for broadcasting matches in India. It was bizarre, but in those days Doordarshan actually charged BCCI for telecasting matches! This probably furthered BCCI's interest in converting telecast rights from being an expense to a source of revenue.
Also read: Kohli and others' salaries revealed: Now make your balance sheets public, BCCI
In 1992, the cricketing body sold the rights to a series with England to TransWorld International (TWI) and asked Doordarshan to pay TWI $1 million for the telecast rights. Taking a leaf from BCCI's book, the Cricket Association of Bengal invited Doordarshan to bid for the rights of the Hero Cup matches that it had sold to TWI.
Doordarshan, seemingly unaware that its monopoly was coming to an end, boycotted the matches. The dispute with BCCI escalated to a situation where the I&B ministry, quoting the Indian Telegraph Act, 1885, said that no agency other than that belonging to or appointed by the government of India, had a right to telecast any event live by uplinking signals from Indian soil.
In 1995, the Supreme Court ruled in favour of BCCI, declaring that telecasting of matches by its chosen broadcaster was part of the fundamental right to freedom of speech and expression. This was a landmark judgment that opened the revenue floodgates for Indian cricket.
Doordarshan was pushed into a position where it had to bid for the rights. For the broadcast rights from 2000 - 2004, Doordarshan paid BCCI a whopping $54 million. The value of the rights increased rapidly to $549 million in 2006.
Sachin and the cola wars
The TV rights may not have been as valuable as they were, but this was another significant aspect of liberalisation. Multi-national brands, lured by the temptation of access to a middle class the size of the entire American population, came into the country in droves. They came in with large budgets and wanted to quickly strike a chord with the vast Indian populace.
An easy way to reach out to the masses was through cricket or Bollywood.
An indication of how pivotal a role cricket played in brand marketing was demonstrated by Pepsi's ambush of Coke in the 1996 Wills World Cup. The two cola giants, as usual, were slugging it out in the marketplace. Coke had bid for and won the title of the official drink of the Wills World Cup. Pepsi's campaign "Nothing official about it" was smart, audacious and, above all, a huge talking point.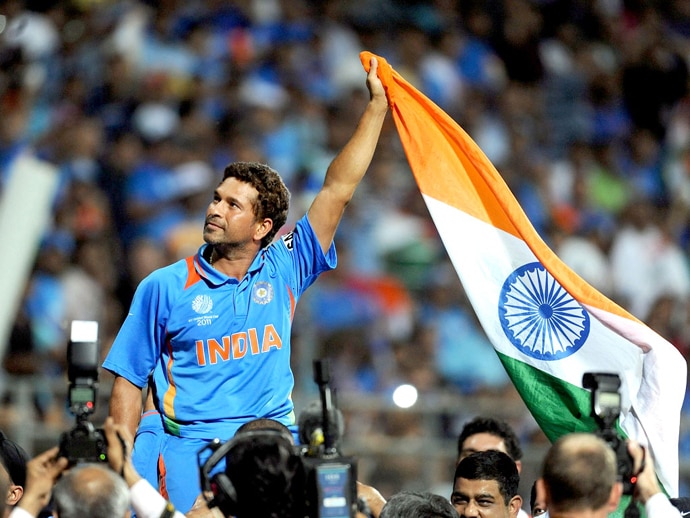 No one probably benefited more from the cola wars as much as Sachin Tendulkar.
The global cola wars came to India and came to a head through cricket. Many players benefited from this with the two brands picking players to bat for their respective sides. No one probably benefited more from the cola wars as much as Sachin Tendulkar, who by then was already a superstar and a Pepsi brand ambassador. As Michael Jackson had seen in the eighties, supporting Pepsi built not only the cola brand, but created an aura for the brand ambassador too.
Also read: As a Sachin fan I feel let down. Is this how we treat legends?
Sachin's arrival in the cricket scene a couple of years before liberalisation was an example of the kind of perfect timing his entire career and strokeplay were built around. Making his debut in a rare Test series against Pakistan, he captured the public's heart when he withstood a potent bowling attack comprising Imran Khan, Wasim Akram and the fast and furious Waqar Younis.
The 16-year-old Sachin took a fearsome blow on his helmet by the debutant Waqar but continued to bat resolutely in a bloodstained shirt to secure India a draw. By the time liberalisation had arrived, Sachin too had arrived as a prodigy who could take on the world's best and beat them in individual duels.
For a nation that had too few heroes, Sachin was the symbol of an India that could take on the world and win. With each match, his aura grew and people couldn't get enough of him. Whether it was his bowling the last over in the Hero Cup semi-final to win it for India or his Desert Storm innings in Sharjah, he lifted the confidence of a nation. And TV was the means through which the nation could feast their eyes on his magic.
Coach TV for moffusil Dhoni
One of the biggest contributions of TV to the game was that it made stars out of the players. If sport does one thing, it inspires people to be as good as they can be. A million kids played cricket in maidans pretending they were Sachin, just as kids today pretend they are Virat Kohli. Sachin's deeds inspired a variety of youngsters from the irrepressible Virender Sehwag to the admirable Kohli.
Kohli later confessed that when he watched Sachin play his Desert Storm innings, he swore to himself that he had become the kind of player who could bat like that. Anil Kumble, who emerged in 1990, inspired a generation of leg spinners. Kumble's perfect ten against archrivals Pakistan suddenly made leg spin sexy.
The role of TV was changing for youngsters; it had also become a coach for young cricketers. Kids sat by the TV and learned how to play. A young Sehwag batted in front of the TV, copying Sachin's every stroke. The Sehwag who blasted a century on his debut in Bloemfontein, batting alongside Sachin, looked every bit like him, not just in stature but in strokeplay too.
An ecstatic MS Dhoni at the ICC T20 World Cup 2007.
As more experts came into the studio and the commentary improved, youngsters were able to learn the million subtle aspects of the game that experience teaches. These were the finer points that they may never have learned otherwise. An array of former greats talked at length on TV about a variety of nuances from how a batsman is balanced while playing a shot to how bowlers need to make sure they are not falling away in their delivery stride. This was an education few coaches at a junior level could provide.
With former players talking about professionalism, preparation and expectations, young players got a glimpse of the attitude required to succeed at the highest level.
Also read: Lesson for Dhoni 'fans': Don't kick heroes when they're down
Television took the game into remote areas that rarely, if ever, produced international cricketers. Out of Jharkhand emerged MS Dhoni with flowing locks and a bat like Thor's mighty Mjölnir. The 2011 World Cup's unsung hero Munaf Patel hails from Ikhar in Gujarat, while RP Singh and Bhubaneshwar Kumar come from Rae Bareilly and Meerut respectively.
Dhoni became the icon of Indian cricket with his aggressive batting, calm demeanour, and strong middle class values. If Sachin provided the hope that a talented middle class Indian could dominate the world, then Dhoni took the story to the next level by hailing from a small town. Brands, like Titan's low-end watch brand Sonata, that were striving to reach out to small town India made him the poster boy of progress.
With TV sets present in even low-income families, it was educating and inspiring an audience of modest means to pursue their dreams of fame and fortune. Many players with humble backgrounds were able to search for a living in the game. This was in stark contrast to the pre-liberalisation days when players were forced out of the game because of the lack of money in the system.
There's a legendary tale of Budhi Kunderan being selected to play a Test match for India and not owning a pair of gloves for the job. He had to borrow a pair from Naren Tamhane whom he had displaced from the playing XI. Players received Rs 250 a day to play Test cricket and if the game was over in four days they received only Rs 200 a day. Talk of incentivising ruthlessness!
This situation could have continued but for liberalisation. And many players like Wasim Jaffer, Harbhajan Singh, the Pathan brothers, and even Rohit Sharma may never have had a chance to continue in the game because there wasn't enough money in it for them to make a decent living. The money went toward better payment for players, better facilities, better training across the board. Even a Ranji Trophy player could hope to make a living by playing the game, and if luck smiled on him he could become an IPL millionaire.
The Champions: Indian cricket team with the 2011 World Cup trophy.
India gets a premier league, and lots of money
Money for the players became even more widespread with the advent of the IPL. The IPL itself, it must be said, was the result of a fortuitous development. T20 cricket was developed by the England and Wales Cricket Board (ECB) as a means of getting bums on seats after turnout for longer format games was dwindling. T20 was a product of the times and configured to deliver high-octane entertainment in a time frame and at a time of day that suited its audience.
India who didn't have problems of how to draw crowds was not enamoured of T20. The pundits saw it as nothing but a crass form of cricket. It was mass entertainment and this immediately meant that it wasn't worthy of attention by the connoisseurs. BCCI was not interested in this new format, so much so that they were unwilling to send a team to take part in the T20 World Cup. The International Cricket Council (ICC) called for a vote on this and India grudgingly sent a team. A new team without Sachin, Dravid and Ganguly and with Dhoni as the inspired choice of captain left for South Africa to participate in the T20 World Cup. The nation watched enthralled as Yuvraj Singh hit Stuart Broad for six sixes in an over, demonstrating just how exciting the format could be.
Also read: How IPL should have changed Indian cricket (and what really happened)
India's lifting the Cup in a keenly contested final against Pakistan was the stuff dreams are made of and the nation fell in love with the new format. To their credit, BCCI put together the IPL in a manner that lifted the game experience. The IPL was staged with the kind of speed, professionalism, and scale that befitted BCCI's stature in international cricket.
Everything about the IPL from Shah Rukh Khan to player auctions, city based franchises, advertiser-sponsored strategic timeouts were lapped up by the game's many audiences. The inaugural match featured a breathtaking century by Brendon McCullum batting for the Kolkata Knight Riders and the IPL was here to stay.
The IPL brought more money into the game and with a larger player base, made the pot of gold accessible to more players. At the time of writing this piece we are eight editions into the IPL and despite some controversy it shows no signs of diminishing. The fans turn out in droves and cheer raucously. The IPL brought back passion for the game at a time when it seemed to be flagging. And for all that its detractors may say, T20 is probably financing Test cricket.
T20 is like Twitter
T20 can be likened to an app - a small piece of software that entertains you. If the app is boring, you will delete it as people could well do to Test cricket. People still follow Test cricket scores, but there aren't many who want to watch 24 runs scored in an hour when they can watch 24 runs scored in an over.
To continue the analogy, T20 is to cricket what Twitter is to communication - a short quick burst requiring great skill that is extremely addictive. It's perfect for an ADD-afflicted world, where people are looking at being entertained for a short period of time. Few can keep track of T20 matches the way one remembers Test cricket, but it entertains and that's what a sport should do.
T20 has reached a stage where some players have to choose between club and country. Some years back even considering a choice like that would have been unthinkable. Even as some are still sputtering with indignation at the thought, there is a fear we may someday reach a stage where franchise will mean everything to the player and to the fans. The national team itself could merely feel like a set of players assembled from franchises.
Virat Kohli at IPL 2016.
The English football team is an example of this with Wayne Rooney of Manchester United teaming up with Gary Cahill of Chelsea and James Milner of Liverpool. In an era of more powerful bats and shorter boundaries, T20 is ruling the roost. It provides youngsters with the choice of succeeding in cricket without ever playing the long version of the game.
Also read: A legend in making, Virat Kohli has shut all critics with his game
The amount of money in the game is encouraging more youngsters to play and persist despite obstacles. The money can at times be intoxicating, especially to young players from humble backgrounds. It's ironic that at one point of time players were driven out because the game lacked money; however, today some players are pushed out due to their inability to handle the fame, fortune, and glory.
Television with regional commentary is destined to provide the next level of empowerment in cricket, enabling youngsters to learn the nuances of the game in a language they understand well. Many of the upcoming players by virtue of their background don't have English comprehension skills commensurate with their cricketing skills.
The 2015 World Cup was broadcast in English, Hindi, Kannada, Tamil, Bengali and Malayalam, and provided a wealth of perspective to these youngsters. In keeping with their policy to reach out to the regional sports audiences, Star India has recently announced the launch of five regional sports channels in Malayalam, Telugu, Tamil, Bengali and Marathi.
The story of the impact of liberalisation on cricket will continue to be written. History is not static, for each day history is being created. Liberalisation set off a chain of events that will be etched not just in history books but in cricket books as well.
What's Changed: 25 Years of Liberalized India; edited by Kartik Kompella, Penguin Random House.
The views and opinions expressed in this article are those of the authors and do not necessarily reflect the official policy or position of DailyO.in or the India Today Group. The writers are solely responsible for any claims arising out of the contents of this article.