What makes PV Sindhu's victorious journey even more spectacular
The Hyderabad girl is on the verge of scripting history for India at the Olympics.
If you haven't seen Pusarla Venkata Sindhu smashing her way into the Olympics badminton final, let's just say you've missed out on something really really special.
Aggressive and dominant, jumping forward, ready to pounce, returning every smash with power, covering the court in those long strides, and then finishing it off with a roar, steely aggression writ large on her face - she has been a delight to watch.
The Hyderabad girl is on the verge of creating history by becoming the first Indian woman to win a gold at the Olympics. On Thursday night (August 18), Sindhu was at her aggressive best when she beat, rather decimated Japan's Nozomi Okuhara 21-19, 21-10.
PV Sindhu has been at her aggressive best in Rio.
The 21-year-old daughter of Vijaya and PV Ramana (volleyball players) has assured India a silver at the Games. Standing in her way for the gold is world number one, Spain's Carolina Marin, who hasn't dropped a single game at the Olympics yet. Marin has been the most dominant badminton player over the last two years. But such has been Sindhu's immaculate form that another upset seems in order.
Watch: PV Sindhu's family celebrating as she entered the Olympics final:
WATCH: First reaction of #PVSindhu's family after she entered the finals, to play for gold tomorrow #Rio2016https://t.co/hbtP1AxOk9

— ANI (@ANI_news) August 18, 2016
Here's what makes PV Sindhu's winning journey to the top even more spectacular:
1. Born in Hyderabad on July 5, 1996 to volleyball player parents - incidentally, Sindhu's father Ramana is an Arjuna awardee - the shuttler's fascination with sports was inevitable. But why badminton? Interestingly, it was after her father told her about current coach and mentor Pullela Gopichand's exploits on court that Sindhu took to the sport.
2. From a 16-year-old watching Saina Nehwal, India's predominant badminton star, win the London Olympics bronze in 2012 to being India's gold medal hope at Rio in 2016, Sindhu sure has come long way.
Prior to the games, she had said, "The biggest dream I am chasing now is an Olympic medal. I remember watching Saina in London. Then I was ranked world number 25. I always longed to be there and I am all excited to represent India in Rio."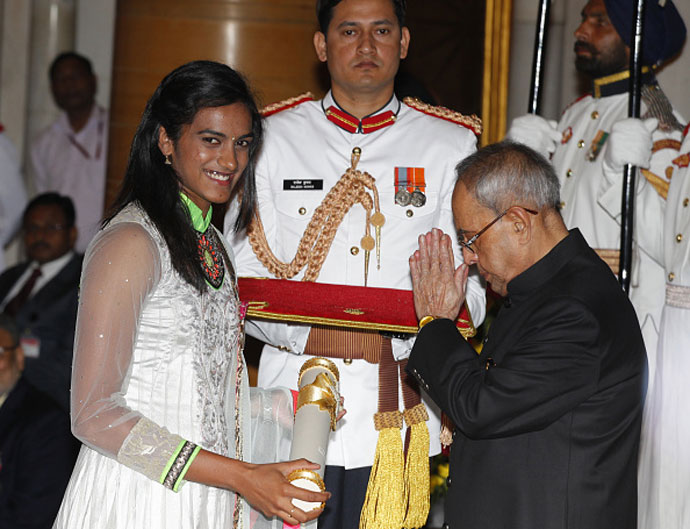 In 2015, Sindhu became the youngest recipient of the Padma Shri.
3. Hard working, tireless and never one to miss training, Sindhu had set aside all distractions before the Games, including her mobile phone. She has been off Twitter since the start of the Olympics, father Ramana said.
Sindhu's parents told the media after the victory that, from the time she was young, she would cry if she missed practice even for a day.
"She has been training from when she was 10 years old. The last twelve years or so have not been easy for us. The first few years, we used to come to the academy everyday from Secunderabad. She would cry if I could not bring her even for a day. But we are glad that we did all that and followed the rigour. I cannot think Gopi enough," Ramana said.
4. Sindhu broke into the international circuit winning her maiden grand prix at the Malaysian Open in 2013, and in the same year, completed a hat-trick of titles by winning the Macau Open and World Championships. She was awarded the Arjuna Award by the Indian government for her achievements.
PV Sindhu beat Japan's Nozomi Okuhara in the semi-final.
In March 2015, Sindhu became the youngest recipient of the Padma Shri, India's fourth highest civilian honour.
5. Tall, long-legged, and a powerhouse of energy, Sindhu is making the court look small with her long, agile strides this Olympics. She is currently ranked number 10 but she has made a mockery of the rankings - defeating world number two Yihan Wang of China in the quarter-finals before crushing world number six Nozomi Okahura in the semis.
PV Sindhu beat world number two Yihan Wang of China in the quarter-finals.
6. Without a doubt, her strongest asset and defining trait at Rio has been her aggression. Never one to hold back, always ready to smash, celebrating every single point won - many a times, Sindhu's opponents have been found looking dumbstruck as to what hit them.
A nation waits with bated breath as PV Sindhu goes for ultimate glory tonight. Let's hope she keeps the fire and the raw energy burning and plays with her natural fiery mindset, taking the game to her opponent.
Whether she wins the coveted gold or not, PV Sindhu is a champion for India already.
The views and opinions expressed in this article are those of the authors and do not necessarily reflect the official policy or position of DailyO.in or the India Today Group. The writers are solely responsible for any claims arising out of the contents of this article.