Another Tangent
Rio 2016: Take a bow, Dipa Karmakar. You made India proud
Hope the country doesn't disappoint its brave sportspersons when our contingent goes to Tokyo in 2020.
It was the perfect setting.
It was the eve of India's 70th Independence Day.
The whole world, let alone India, was glued to their TV sets as Dipa Karmakar, the Golden Girl from Tripura, was going to make India proud. Again.
Also read - Dipa Karmakar poised to vault into history books
And she did.
On paper, Dipa finished fourth with the final score of 15.066 in the women's vaults final at Rio Olympics 2016. But she left an imprint on the hearts of not only 1.3 billion cheering Indians but also put the northeastern state of Tripura on the gymnastics world map.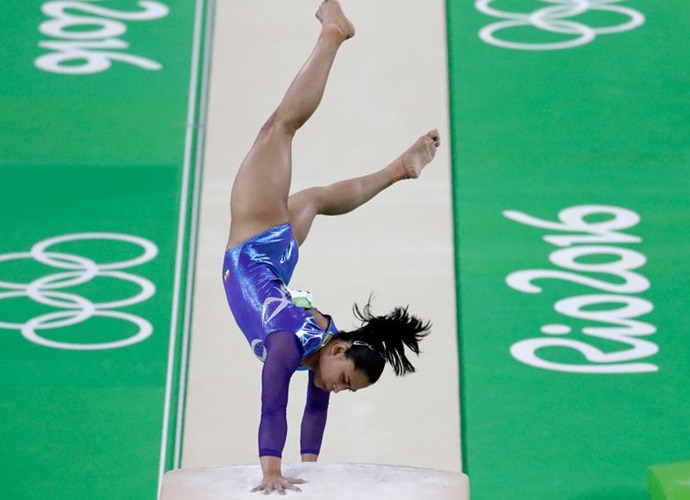 Dipa Karmakar is already a legend, hands down. (AP)
What may be a more than a heartbreak for an already-in-the-dumps Team India at the Olympics, there are no two ways about what Dipa displayed, (she missed out on the bronze medal by a whisker of 0.150!), a feat definitely not short of superhuman skill and strength.
#Rio2016 #DipaKarmakar does the Produnova (the vault of death)A beauty!Total score: 15.066@NewsX @India_at_Rio16 pic.twitter.com/AD21FwNRDD

— Geeta Mohan (@Geeta_Mohan) August 14, 2016
She took flight with the Tsukahara routine on which she scored 14.866.
In the next performance, she nailed the "death vault", Produnova, to achieve a score of 15.266, which shot her up to the then second position, firmly inserting her in the race for a cherished Olympic medal.
Also read - Dipa Karmakar will be challenging death to win India a medal at Olympics
But as fate would have it, the gymnasts from Russia and USA ended up having an edge. Since they were the last ones to go, their well-trained performance saw Dipa out of the top three positions.
But, here's how Twitter congratulated Dipa on this historic feat:
Dipa Karmakar you are my hero !

— Abhinav Bindra (@Abhinav_Bindra) August 14, 2016
Congratulations #DipaKarmakar you have made your country and your people proud Jai hind ??!

— yuvraj singh (@YUVSTRONG12) August 15, 2016
Frm a small state of Tripura n a young girl taking a 4th Plc in gymnastic at #Rio2016 is to be praise at the highest ?????? #DipaKarmakar

— Mary Kom (@MangteC) August 14, 2016
Thank u #DipaKarmakar fr getting us united at midnight cheering fr Gymnastics,in a country with no infrastructure for this sport.Super Proud

— Virender Sehwag (@virendersehwag) August 14, 2016
Dear #Dipa, so says the Gita... | A tribute to the brilliant #DipaKarmakar #Olympics #GymnastiqueArtistique pic.twitter.com/wzZgV2Lhhx

— Aaqib Raza Khan (@aaqibrk) August 14, 2016
Dipa Karmarkar: on a bleak day you lit up our hopes for the future of Indian sports despite not winning a medal. Thank you.

— Cricketwallah (@cricketwallah) August 14, 2016
I love you Dipa Karmakar, youre not a #gymnast.You're a flying manifestation of hope :).

— Sorabh Pant (@hankypanty) August 14, 2016
Dipa Karmakar: I salute you! Truly, yours has been the Standout Indian performance in Olympics! Proud of you.

— Rajdeep Sardesai (@sardesairajdeep) August 15, 2016
Almost all of India's *inspirational* athletes in the last few years are women: Mary Kom, Saina, Sindhu, Sania, Dipa, Phogat sisters, etc

— Sachin Kalbag (@SachinKalbag) August 14, 2016
Ladies & Gentlemen, this is Dipa Karmakar for you :) pic.twitter.com/rH53YFLvZc

— All India Bakchod (@AllIndiaBakchod) August 14, 2016
So so close Dipa! Will always be proud of you. You give hope to many young people who dare to dream!#DipaKarmakar #Rio2016

— Boman Irani (@bomanirani) August 14, 2016
Dipa, too, took to Twitter to extend greetings for the 70th Independence Day to her fans, followers and countrymen through her official handle.
Hello everyone, very happy to connect with you all today through my team. Happy Independence Day! pic.twitter.com/6AW11EPPRe

— Dipa Karmakar (@DipaKarmakar) August 15, 2016
Dipa may have lost at Rio 2016, but she has already made history for being the first Indian to reach the gymnastic vault finals in the Olympics ever.
She is hopeful for a medal in the next Games.
I am happy with my performance but I am very disappointed that I missed out on a medal: Dipa Karmakar #Rio2016 pic.twitter.com/K6PFmRfYA5

— ANI (@ANI_news) August 15, 2016
Hope gives you wings. And, India believes in Dipa Karmakar for Tripura's Golden Girl has allowed us to dream high, soar higher.
As we look forward to Tokyo Olympics 2020, here's a wish this Independence Day.
By outperforming themselves, our athletes have made us proud. It's time the country's authorities step up for self-made sportspersons like Dipa.
Only then can India dream of witnessing another revolution, this time in the international sporting arena, four years down the line.
The views and opinions expressed in this article are those of the authors and do not necessarily reflect the official policy or position of DailyO.in or the India Today Group. The writers are solely responsible for any claims arising out of the contents of this article.