From Tony Blair to Jackie Shroff! We have seen a whole new planet.
Even as Pakistan claims there was 'no surgical strike,' clearly there was a thud loud enough to have caused some serious damage to their brain cells!
Going by how some of us are displaying our valour, we'll soon have the neighbour saying 'tauba tauba' in a very different tone.
In an alternate universe, Robert Vadra could give the ED answers on fitness, style and fashion. They need it. He knows it.
Because, "apne bhai jaisa koi hard-ich nai hai".
Called Tudder, the application is essentially Tinder for cows, promising them virtually unlimited partners to breed (read: hook up). Culture police says, not cool.
We can't 'rap' our heads around Rajnath Singh's rapping. Can you?
Taimur looks more Kapoor than Pataudi — we know it, we believe it and we have adequate proof of it.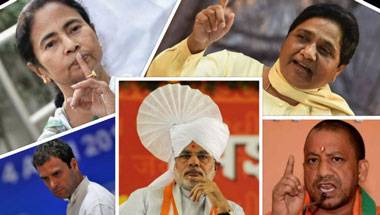 What if we tell you there is but one thing common between Narendra Modi, Rahul Gandhi, Mamata Banerjee, Mayawati and Yogi Adityanath? And what if we tell you THAT is the secret to success?
The PM likes advising students before their exams. Surely, at present, there is no greater 'exam warrior' in India than Rahul Gandhi? Hai na, Modi ji?