No hope for normalcy as state dances to delusional narrative of freedom.
The Dalit fury in Gujarat against terror unleashed by the cow mafia is a creation of skewed saffron policy.
Can the conflict be resolved by the man with a 56-inch chest who has single-handedly transformed India's global image?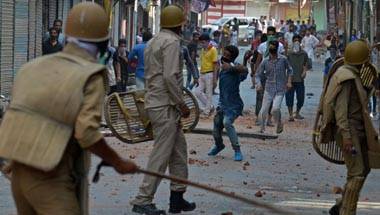 Violence on any side cannot be the answer.
Separatists like Mirwaiz Umar Farooq have ensured their own families don't get affected.
The youth promising to walk down Burhan's path are vital fuel for a grotesque, vicious insurgency machine.
When an ordinary village lad who smartly used social media is made a hero, it is not surprising that youth will try to emulate him.
From being a 'soft separatist' herself to taking that camp head on, the gritty CM of J&K is playing a new power game.
The evident truth today is that militancy has failed in the Valley.
If we were in the India of yore, nobody would have gone red in the face as a fat comic spoofed two icons.