In formally handing over the reins to new Congress chief Rahul Gandhi, his mother has also bequeathed to him a set of critical challenges.
The Congress's loss in state and recent local polls says it all.
A new regime would dismantle the edifice set up by the party with a heady mix of religious polarisation and development.
It will test whether the new set of subaltern leaders in the state have in them the power to hold on.
They constitute nearly 25 per cent of the state's population.
There are examples within the grand old party where an extensive yatra has helped a leader strengthen his base.
Optics of Sonia occupying centre-stage among leaders gladdens the hearts of battered Congressmen.
Where are the sustained field-level agitations? Where are the attempts to re-connect with workers, voters and masses?
Cast an eye on the recent events.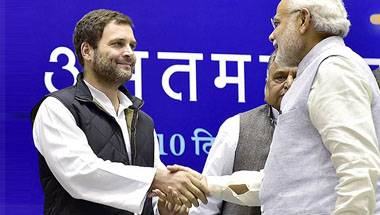 Dangerously for the Congress, it can be misconstrued as an attempt to soften the PM's stance in the AgustaWestland probe.