Uncles, doctors, professors, strangers — we've all had predators violating us time and again. I have, too. And we've often failed to retaliate the right way. I have, too. This is my story.
There are strong reasons why to many Priyanka appears a reluctant politician. And the Congress looks pushed to the wall, pushing her to head its political war.
From its location deep within the story of the grand Indian epic, to its charming old temples and heart-warming hospitality, Lakhmandal is a must on your to-explore list.
As women living in a sexist society, we have to learn to handle the three forceful Fs — fight, fright, flight — in the right combination and with tact. And the lessons begin at home.
We will live with our Iqbal and Imtiaz and Harsimran and Mark and Indra and Abhijeet and countless more whose names are diverse, but whose identity is simply 'Indian'.
Michael breathed his last in the early hours of Christmas morning of 2016.
He was canny, smart, honest, open. He's becoming crude, crass, caricature-ish — and very unfunny.
Here's the plain truth. With one we were simply 'dhaakad'-ed, and with the other blatantly 'thugged'!
You don't need money to buy you style; but you do need an inherent or acquired style to get your money to work for you.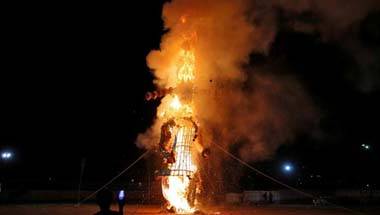 Let us please ask ourselves, who is to blame for what we breathe, what we drink and eat and where we tread!