Do patriots have a caste, creed or colour? Most certainly not. They are Indians and their loss, more than anything else, makes us realise that truth.
The BJP's victory could depend on the Congress party's ability to polarise the Muslim vote by invoking its favourite weapon, 'secularism'.
Mizoram is the only one in the Northeast with a Congress government, and the party is leaving no stone unturned to retain power in the state
The Congress' enthusiasm over Pathak suggests the party is not serious about voters' issues and is instead playing childish personality games.
The party's support to HD Kumaraswany has only added to the weight of the regional parties.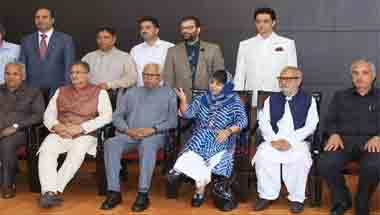 The coalition government is facing an uphill task to contain the deteriorating situation.
It seems the five-day session will be wasted in discussing the issue of alliance with the Congress.
Left liberal intellectuals are spreading canards to get Congress back in power.
Sensing the current political pulse of the country, the West Bengal CM has burst onto the national scene with her own ambitions in mind.
The saffron party's recent win in the communist stronghold of Tripura, a Bengali majority state, has added to Mamata Banerjee's headache.