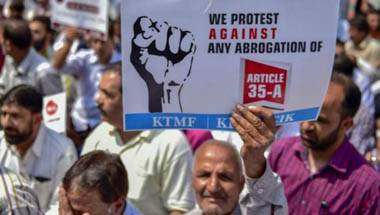 Article 370 stamped on the rights of Dalits and the LGBTQ community. It treated women as second-class and non-Muslims with total contempt. Why do so many 'liberals' support it?
The passing of the bill is a major decision which promises to put an end to decades of Left-wing perpetuated anarchy in the university system.
After Hardik Patel, Shehla Rashid, Kanhaiya Kumar and Atishi Marlena, Mahua Moitra is the latest gem in a long list of liberal heroes. None of them has much in common. Except one thing.
Pakistan has long peddled the fake narrative that India abhors military action and only its elites were warriors anyway. With PM Narendra Modi, Pakistan is now discovering how wrong it was.
Much like Mayawati, Priyanka has to prove her mettle in realpolitik. The only way for that is for her to forge a real connection with the voters on ground-level and stop being a Delhi-based star campaigner.
The self-anointed 'saviour of Dalits' raised reservation and the restoration of the Atrocities Act in its recent campaigns.
Campus communists and regressive leftists have always sought India's disintegration. No wonder this tribute irks them so much.
Does it behove the dignity of a legislative Assembly to go after an individual?
The controversy has now turned into a theatre of the absurd. It's utterly vacuous and unwarranted.
It may have won again in its stronghold, but it is doubtful that JNU and the Left itself will survive such anarchy for long.