Why it's perfectly logical for MS Dhoni to wear his special badge. After all, the ICC has changed its own rules many a time in the past.
Delhi govt proposes giving free rides to women in DTC buses and the Delhi Metro. Arvind Kejriwal, Delhi chief minister, says this will help the safety of women. I disagree, says Asha Devi.
And puts his nation's traditional outfit on the world map. After ages, Pakistan gets a tiny bit of good press.
Shehla Rashid, Kashmiri political leader and activist, spoke with Rohit E David on why she thinks PM Narendra Modi should have invited Pakistan's Prime Minister Imran Khan to his swearing-in.
After a crushing defeat, Rahul Gandhi has resigned but loyalists refuse to let him go. Given the state of the party and what Rahul Gandhi himself must be going through, this is the height of selfishness.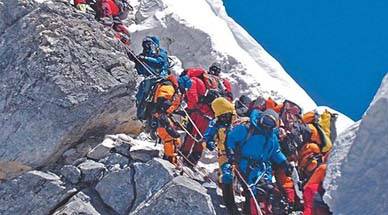 Jamling Tenzing Norgay, son of Tenzing Norgay, the legendary Sherpa who ascended Mt Everest in 1953 with Sir Edmund Hillary, spoke with Rohit E David on why there is such a dangerous rush to climb the peak.
May 28 is World Menstrual Hygiene Day. In India, girls still drop out of school owing to unprotected periods. A group of village women in Daula, Haryana, decided to change that, by making and selling simple sanitary pads.
Acclaimed actor Anupam Kher decodes the huge electoral win by Narendra Modi, addresses fears of rising Hindutva and shrinking freedom of expression, and outlines what the govt should do on Kashmir.
Delhi BJP vice-president Shazia Ilmi spoke with Rohit E David on Muslim women voting for Narendra Modi, appeasement politics, Left-liberal abuse and the future of AAP in Delhi.
This election is marked by two sad ironies. Sadhvi Pragya going to Parliament. And Atishi not going.