Virat's intensity makes him an excellent player, but not always a good captain. Rohit seems calmer and steadier. Instead of a new coach et al, the captaincy itself needs to be split up.
Even as we continue to debate if New Zealand should have won the World Cup instead of England, there are few players who will remain the undisputed masters of this year's tournament.
As unfair as it may seem to fans right now, India needs to win an ICC tournament at the earliest to ensure that this tag, that's been monopolised for decades by South Africa, does not stick to Virat's warriors.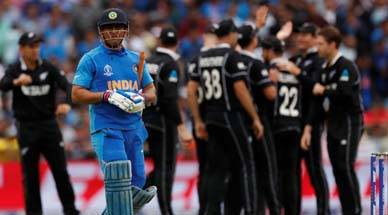 Questions will now be raised on India's line-up and why they were not able to achieve a modest total of 239.
Sharma has been in Kohli's shadow for a long, long time — but now, he is finally coming into his own and making a name for himself.
India is through to the semi-finals, but this was no smooth sailing for the Men In Blue, who found a feisty Bangladesh waiting to take them on! Here's why the Bengal team's bite is only getting sharper.
England won against India by 31 runs. Eoin Morgan's men made sure Virat's boys had a hard time in Birmingham. And Team India showed no intent to win.
The Men in Blue (and sometimes orange) continue the winning streak and snag the second spot in the points table.