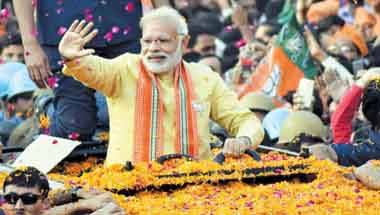 Early in the elections, Uttar Pradesh has mirrored many paradoxes. Modi has superstar status. That might not get him votes. The BJP has built a non-Yadav, non-Jat voter base. But many could swing back to familiar caste and community voting patterns.
Asaduddin Owaisi is arguably the most forceful and significant Indian Muslim voice today.
Godse was a Maharashtrian Brahmin. Indira Gandhi's assassins were Sikhs. Several terrorist attacks have been carried out by non-Muslims. Then why is one community singled out for the insult?
For the Congress, the announcement of the Minimum Income Guarantee symbolises that moment in Election 2019 when they set the narrative.
From Mughal emperors to Sufi saints, Holi has meant a great deal beyond tight religious boundaries. Its colours have made all of that melt away, so we could be 'us'.
By scheduling Lok Sabha elections and not Assembly Elections in Jammu and Kashmir, what message are we sending out to the separatists, the opposition and the allies?
After a suicide bomber set off a train of events, many voices, from netas to TV anchors, have been loudly demanding war with Pakistan. But is that really what most people want? And what India can truly afford?
Surgical strikes are the most optimum response. No one wants an outright war between two nuclear nations.
Beyond our immediate neighbours, the Asian continent is home to many countries, each with their own international conflicts and issues. Saudi Arabia and Iran are two such nations, both crucial for India as well.
The zikirs were short devotional songs composed by a Sufi known as Azan Fakir in the Assamese language.