The zikirs were short devotional songs composed by a Sufi known as Azan Fakir in the Assamese language.
The BJP has shrewdly moved beyond its own Mandir rhetoric. Priyanka must find a larger vocabulary than just talking about the victimisation of her family.
Is there a conflict of interest there?
Assembly election results are only a reflection of the chaos in the party's so-called 'planning'.
While other BJP leaders were militant about the Ayodhya movement, Atal Bihari Vajpayee both scorned, and used, it.
Even with continued obstacles, the 'anarchists' who run the Delhi government plod on. Will their efforts lead to a Modi versus Kejriwal face-off in upcoming elections?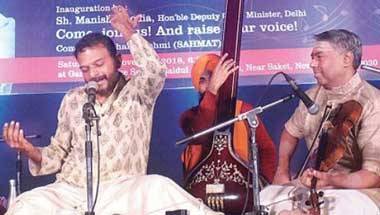 In choosing to sing of all gods with passion, Krishna has evoked an age-old Indian tradition. He's also left his critics fuming, which is a wonderful note to strike.
Now, as Faizabad becomes Ayodhya, the BJP has proven it is bereft of India's grand fusion traditions, of appreciating its melting poetry, its sharp syncretic wit.
The BJP needs to divert attention from real issues to Hindutva. The costs could be great. But when has the BJP cared about that?
The Japanese believe in quiet hard work and less argument just for the sake of noisy debate. The results show in well how they live.