MIM's impressive performance in the Aurangabad municipal elections is bad news for the Congress and NCP.
Shiv Sena's demand that Muslims be disenfranchised only reflects the triumph of the Hindu Right under Narendra Modi.
Even for the Devendra Fadnavis government in the state, protecting cows seems to be a bigger priority than saving farmers' lives.
Why stop at Narendra Modi's childhood, the state government can market places that shaped his political career as well.
Both the prime minister and King Khan are convinced that they know, better than anyone, "what sells" with the people.
How to keep calm and be occupied.
Like the AAP in Delhi, BJP under Amit Shah is building an army of supporters across the country. Will it translate into electoral success?
After Sangh's recent Pratinidhi Sabha, the Bharatiya Shikshan Mandal met to chart out a plan to saffronise the education system and make it "Bharat-centric".
The 14 party "Land Bill march" to Rashtrapati Bhawan shows that the Congress president is trying to make the party the fulcrum of a broad secular alliance.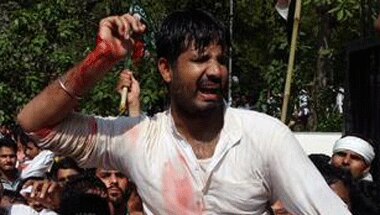 Having pushed the BJP to the back foot on the Land Acquisition Bill, why did Congress open another battle-front by raking up the snooping issue?