Kuldeep Sengar is finally expelled from the BJP and the UP authorities give the Unnao rape case sudden attention after the SC takes cognisance. The contrast with earlier is striking.
Despite the UP govt's efforts to garner Dalit votes ahead of the elections, the BJP MLA's daughter being hounded for marrying a Dalit man seems to evoke only silence from the CM.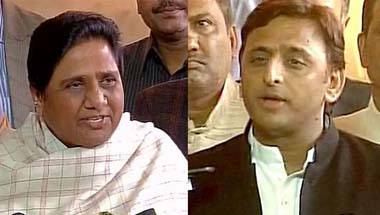 The 'gathbandhan' between 'bua' Maya and 'bhatija' Akhilesh was based on the shaky ground of mutual distrust and political desperation. It had to collapse, with Mayawati blaming Akhilesh.
UP CM's recent ordinance, banning 'anti-national' activities on campuses, has left many wondering just why such an order was needed when there are already sufficient laws on this?
If religion rode over caste in Uttar Pradesh, it was Yogi's doing. His success has only strengthened his personal political bastion now.
Not only does the gathbandhan stand decimated in Uttar Pradesh, but the Congress has also suffered its worst defeat here. That's despite the starry addition of Priyanka Gandhi.
Has Narendra Modi's key strategy been self-glorification, combined with the vilification of Pakistan and the Nehru-Gandhi dynasty?
Singh is reaching out to every section of society, including Muslims, despite knowing he stands a very easy chance at winning.
From communication to charisma and confidence, Priyanka has it all. Her arrival has rejuvenated the UP Congress and unsettled the saffron ranks.
The SP-BSP together have shown BJP defeat in earlier times. But what will happen to the Muslim vote in the face of this alliance? Will the Congress be a surprise beneficiary?